Do you stop for a while when a black cat crosses your way?
Can a sweet little black cat be a bad omen?
So, what do you call it SUPERSTITION or SUPERSENSE?
Even if you are not superstitious but your supersense always guides you to say, "Bless you" when someone sneezes or "Touch wood" to ward off the evil eye from a great happening. Believe it or not, India, the land where language changes after every kilometre, the superstitious beliefs changes with the speed of flash from one house to another.
So, this blog is special in its own way as it mixes up two broad, much talked about and the most controversial things, Fashion and Superstition completely different, but blending into one another to make you fall in love with the intimacy and the darkness of the outfits and what they reflect.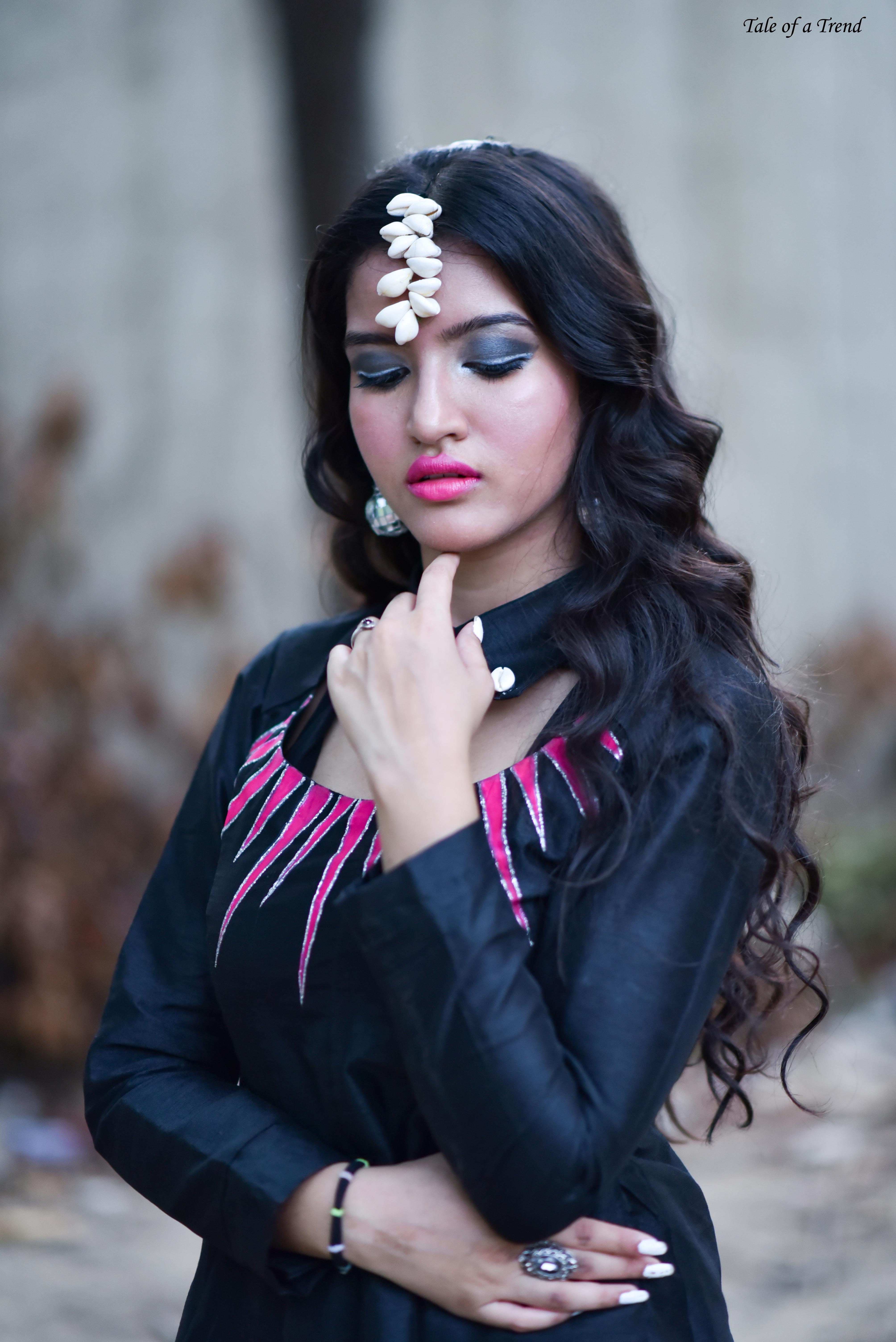 Growing up, do you remember hearing from your mom that, do not wear black on auspicious occasions. Some superstitious beliefs say, black is the colour of mourning, but we love black because it is the favourite colour of Goddess Kali, Lord Krishna and Lord Shani too. Hence all our outfits in this post are truly inspired from the magic of black. Hand painted with hot pink and fuchsia to demonstrate the power of mystery and intensity!
 The first attire emphasises the trinity of Gods in form of painted triangles at the neck. Flared top paired with shorts is always an awesome gateway to charming looks grabbing attention of every passer-by! The white conch shell forehead jewellery piece is just like a cherry on the cake.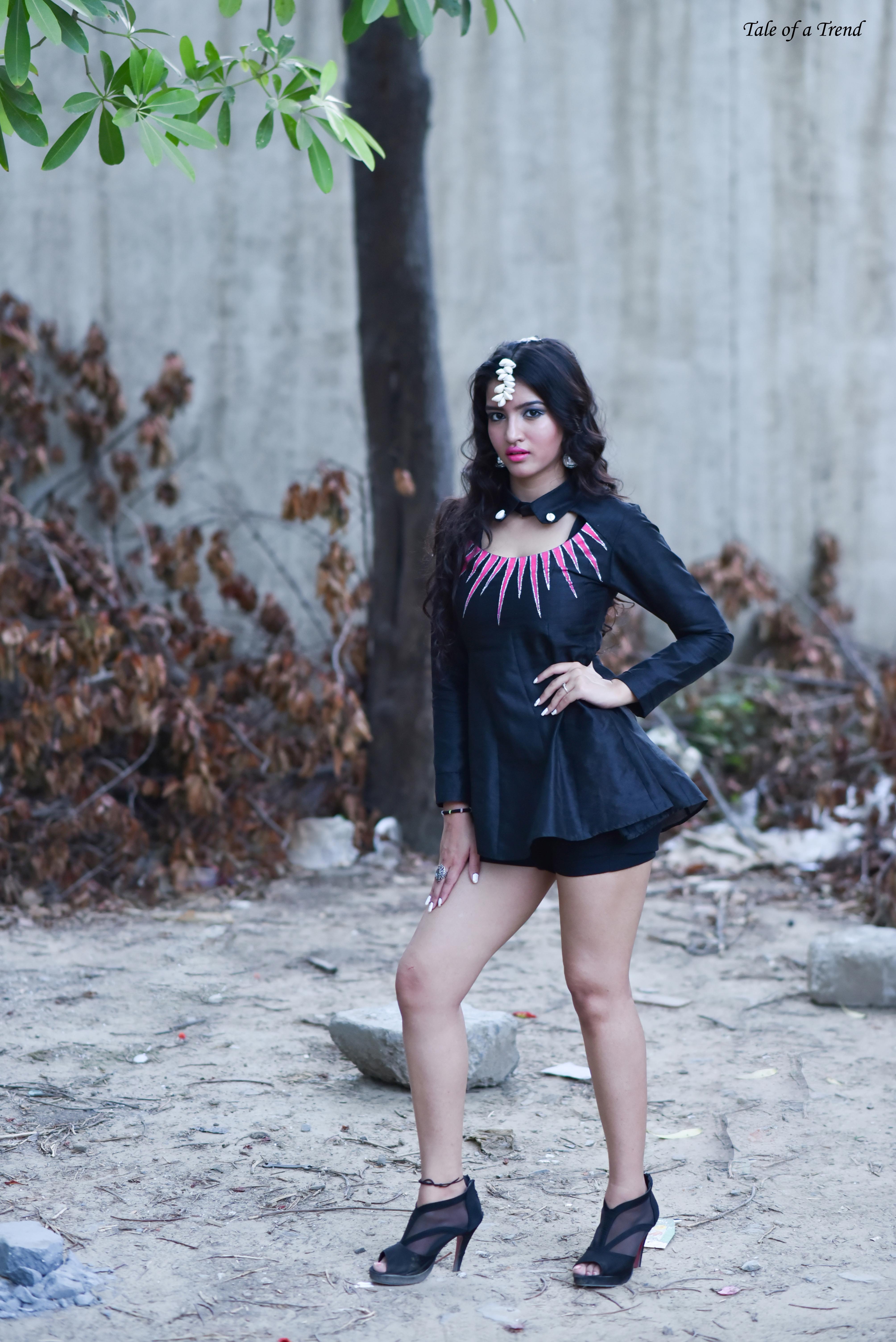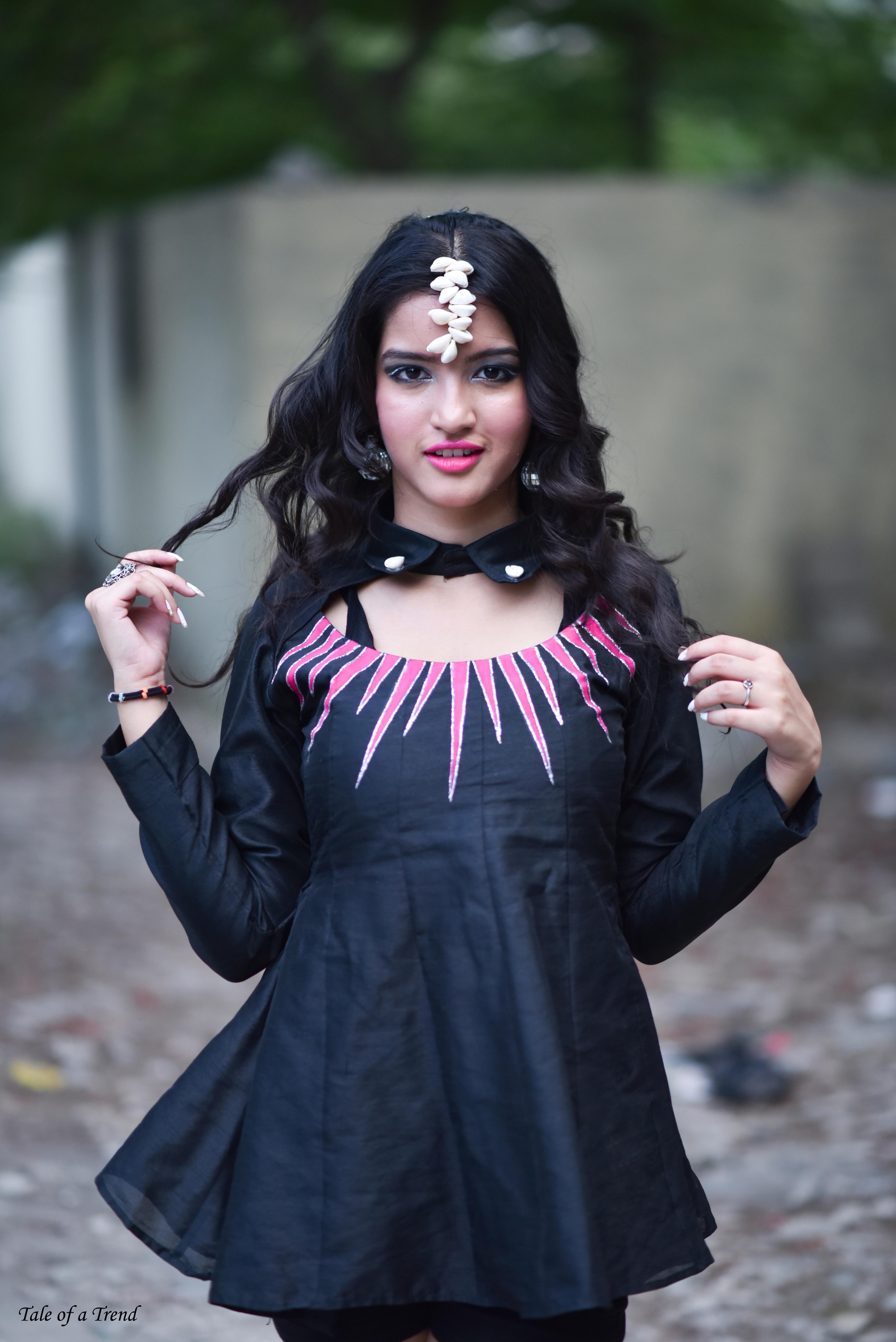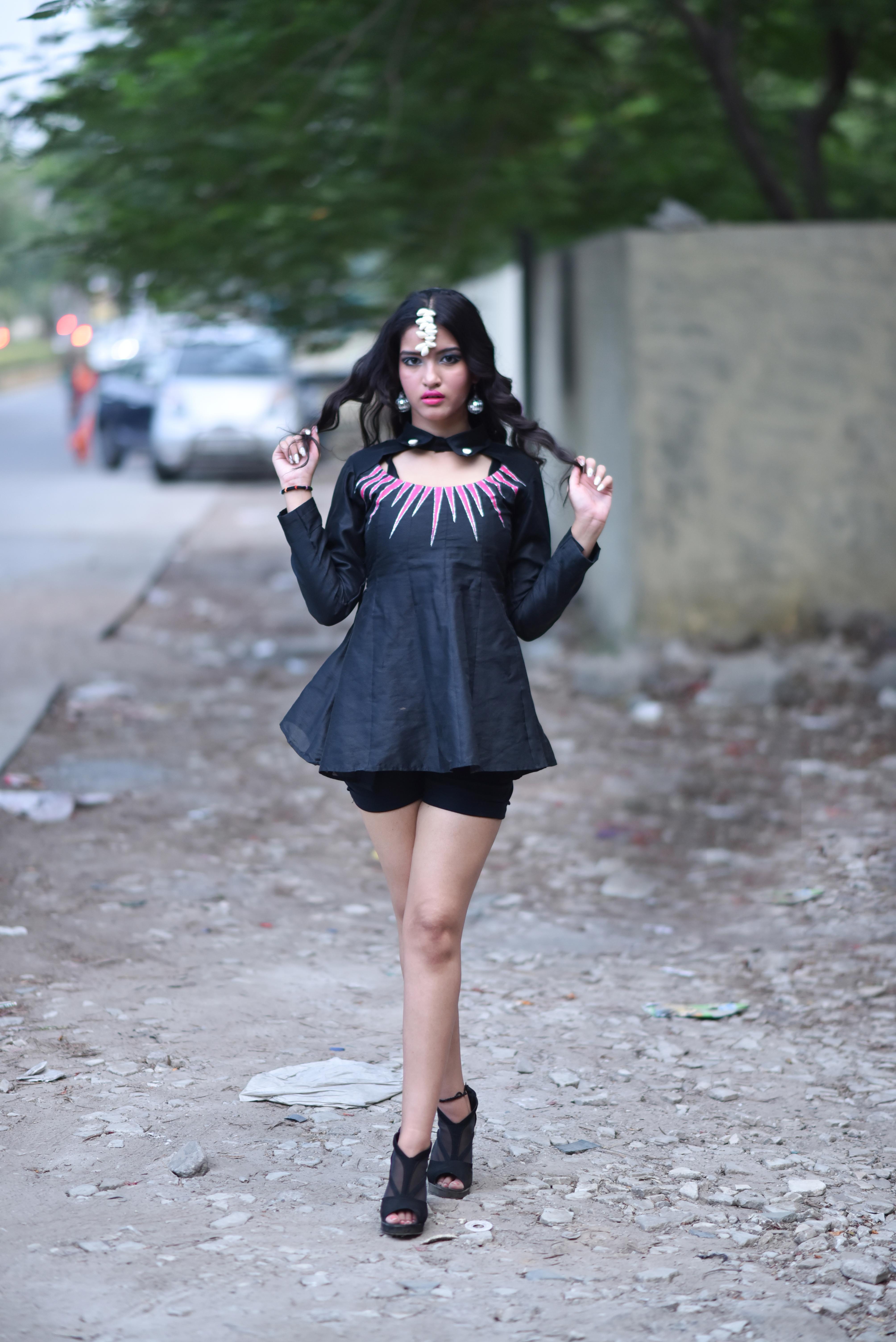 Seeing a spider is usually a lucky sign, often associated with money and protection. Let's see how much money these crab spiders and cobwebs fetch to our bubbly witchy model who is endorsing them on her one shoulder long one piece dress with flared and layered sleeves.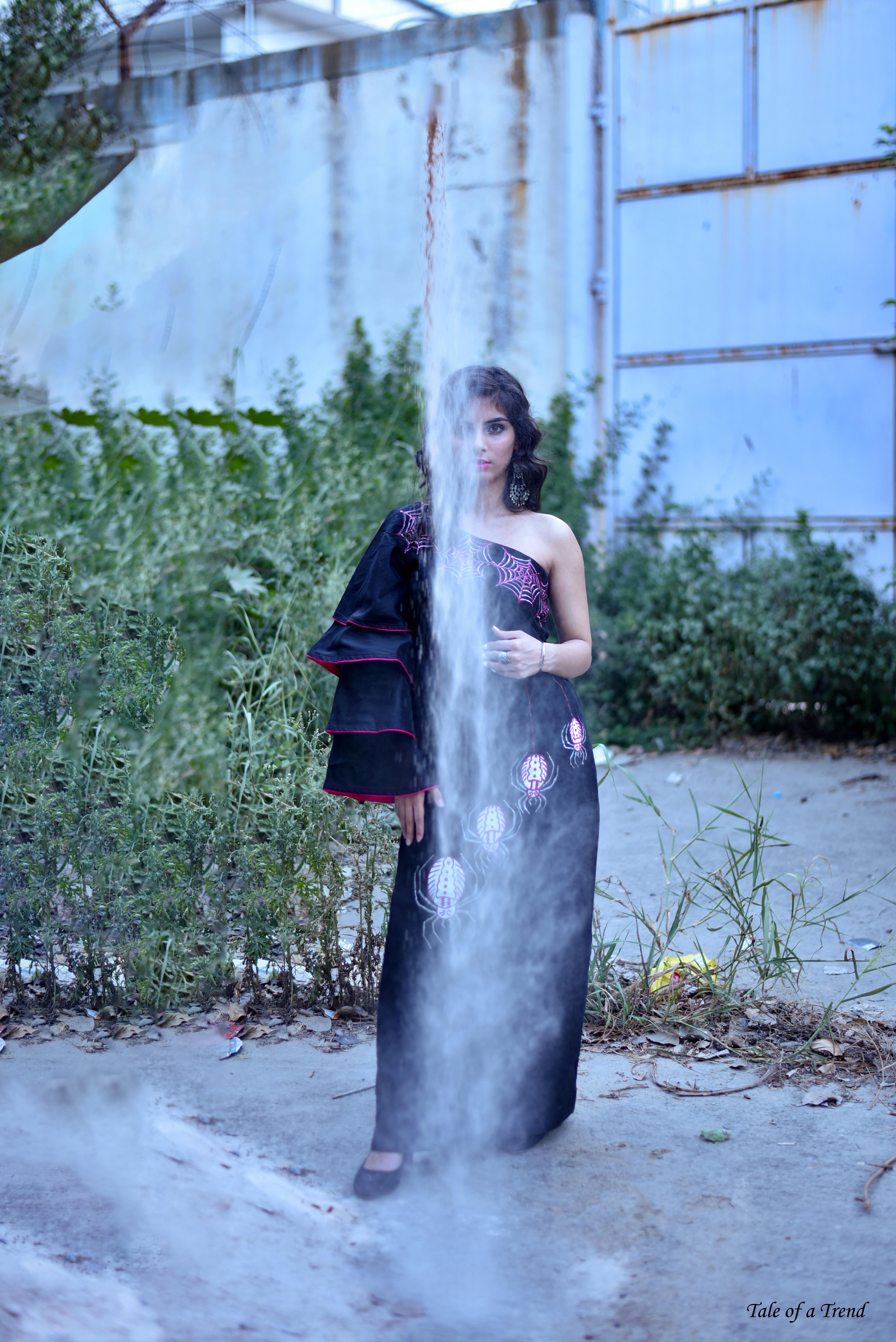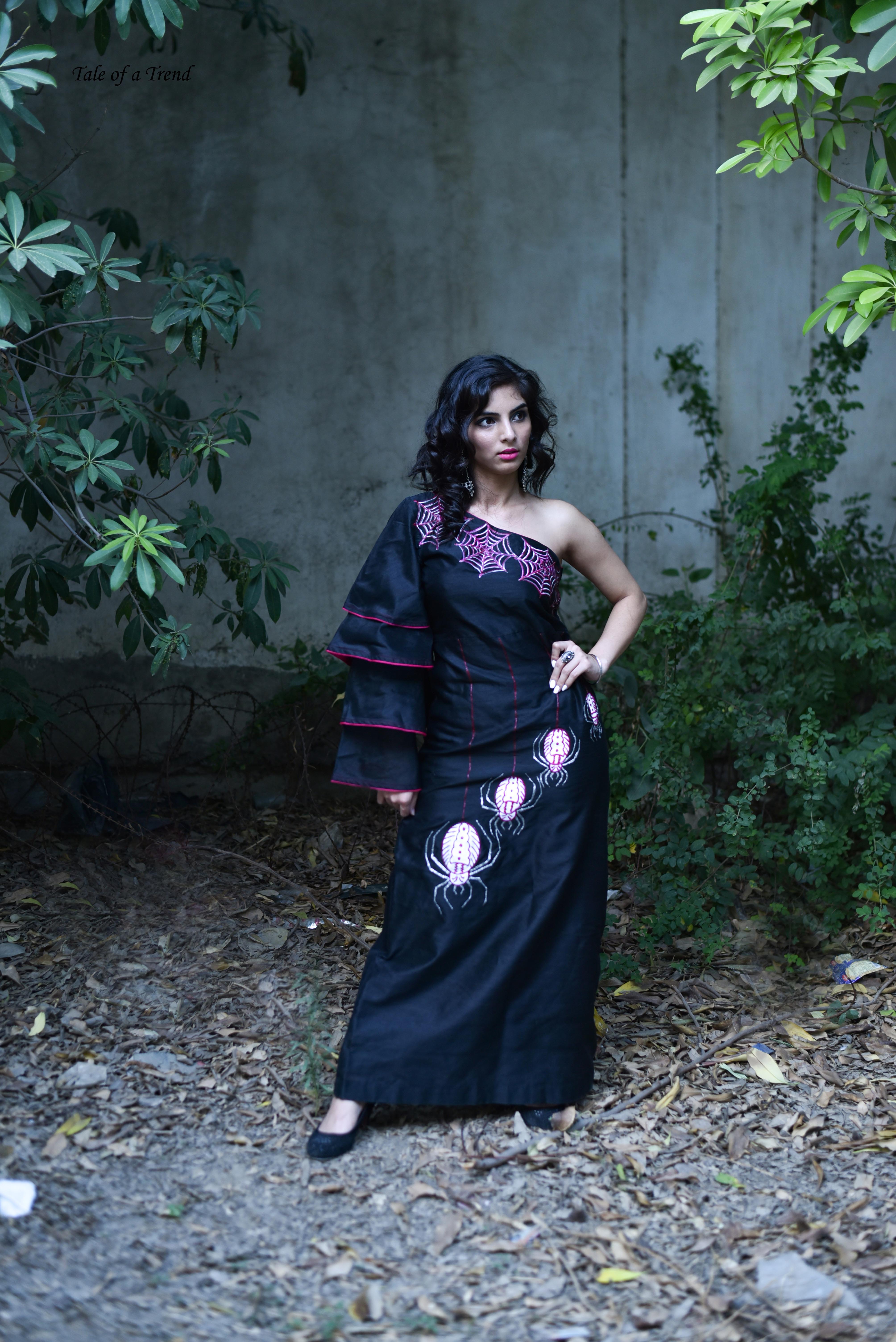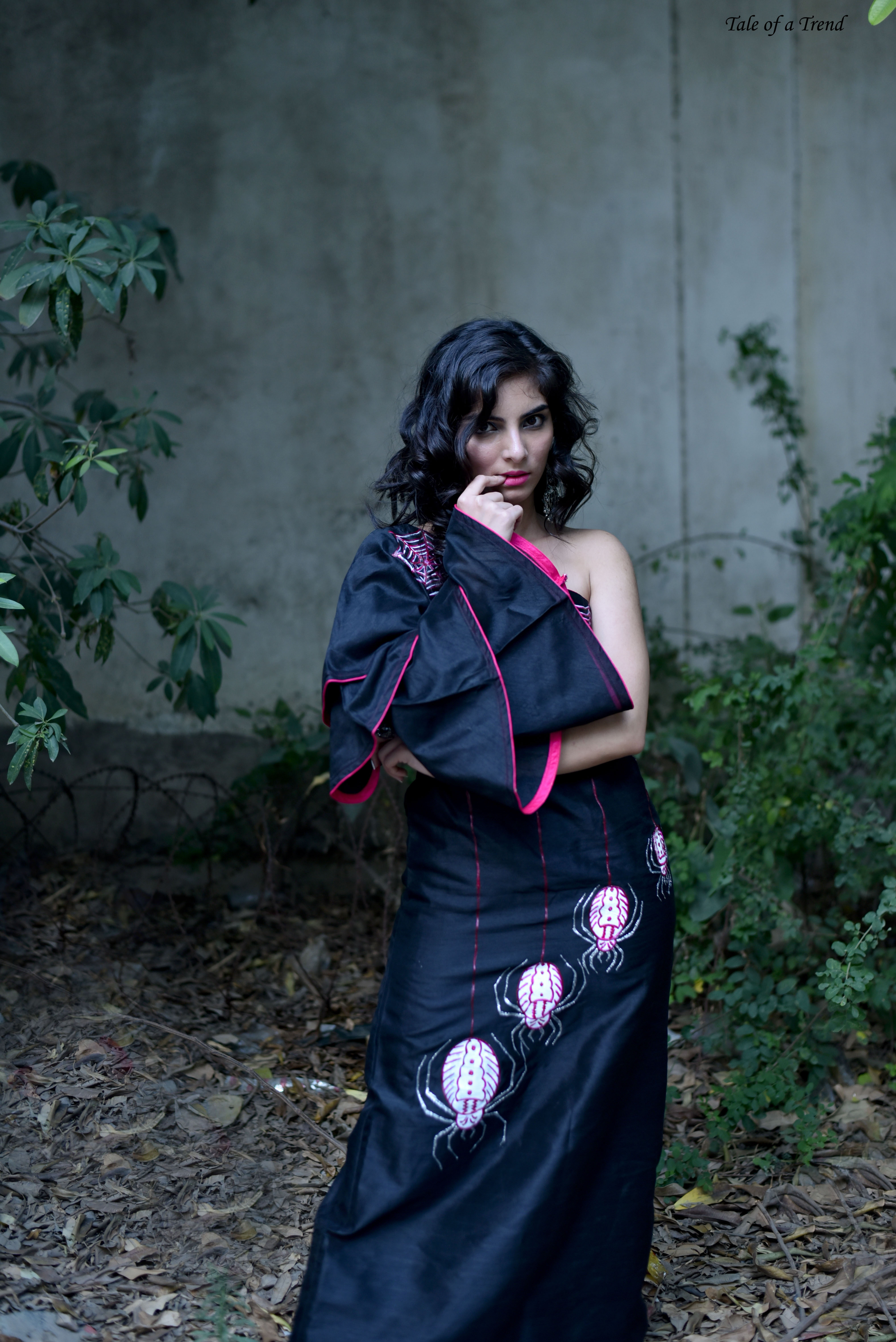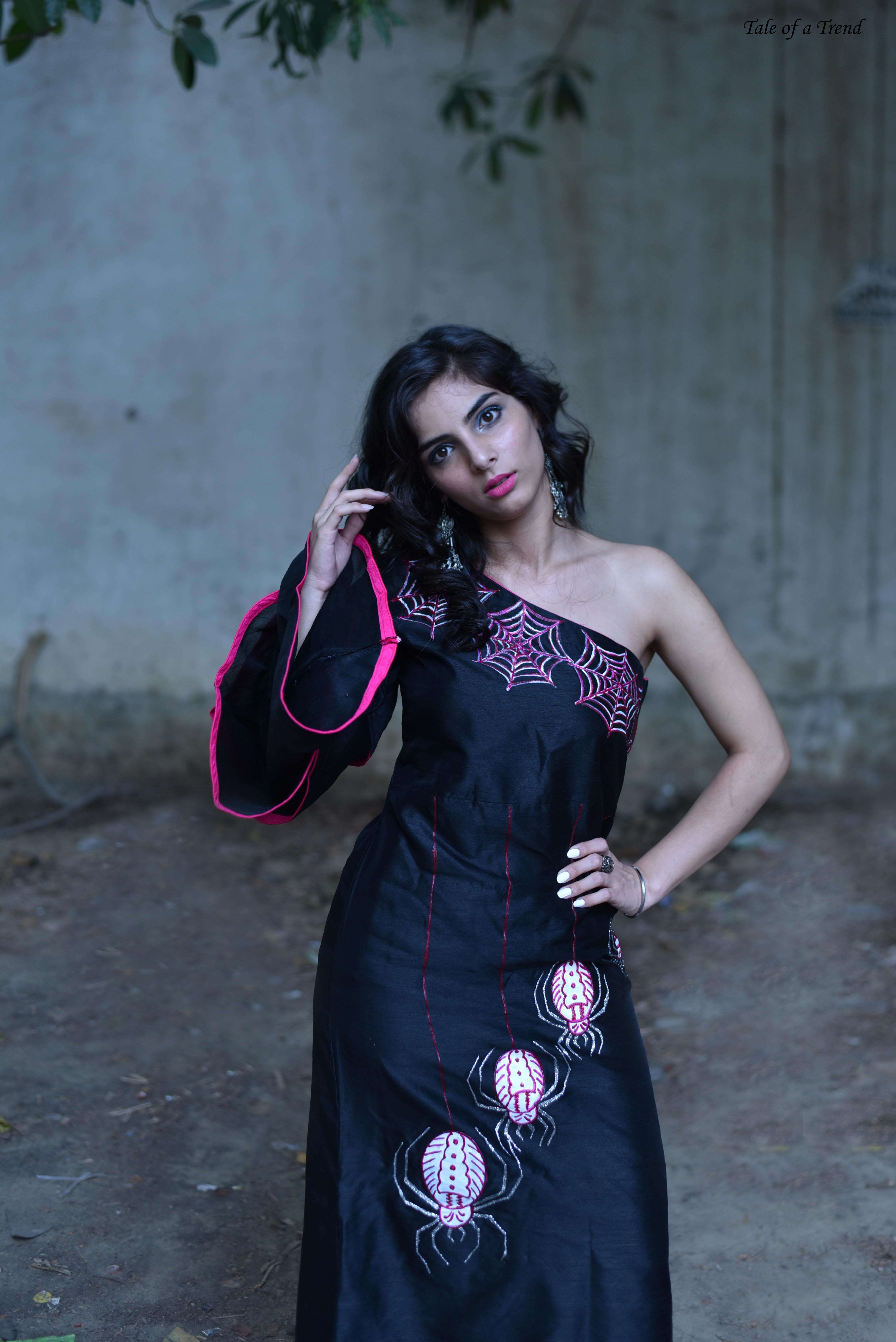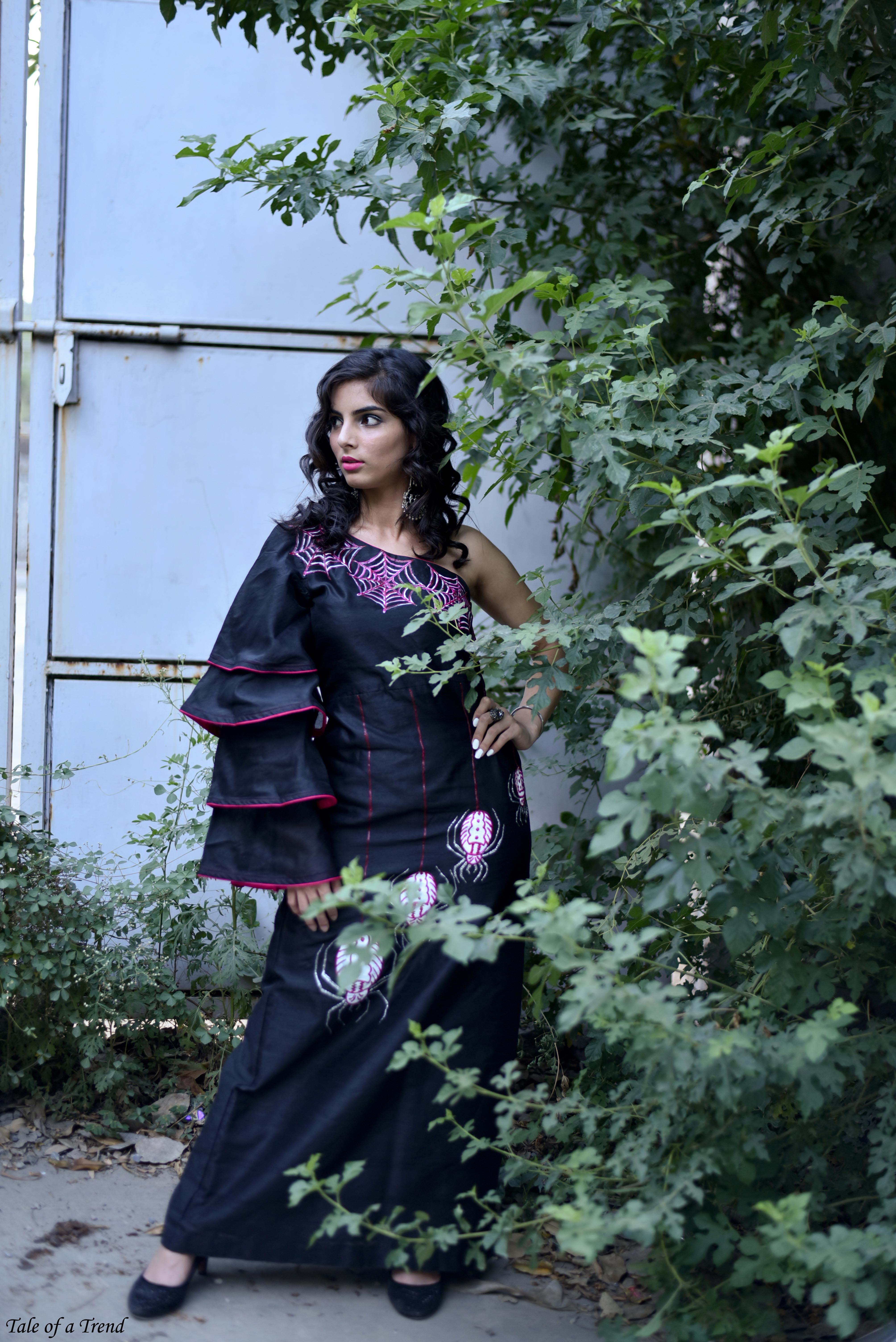 There is an old wives' tale that if this eight-legged creeper swings above you, there is  definitely an important news/letter coming your way or may be an important dream is going to come true soon. So, we thought of embedding this SPIDER- THE PROGNOSTICATOR on the model's dress in 3D format.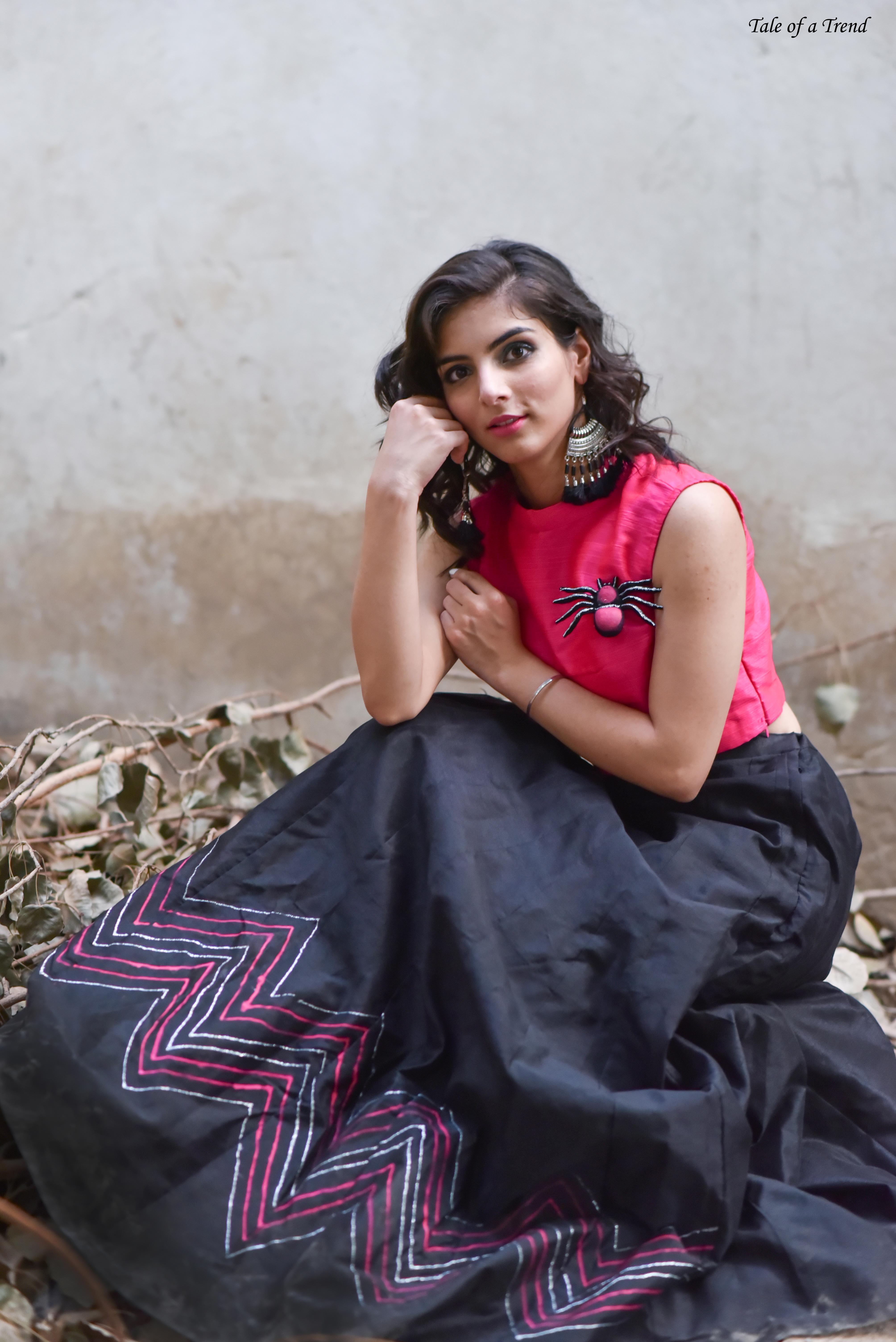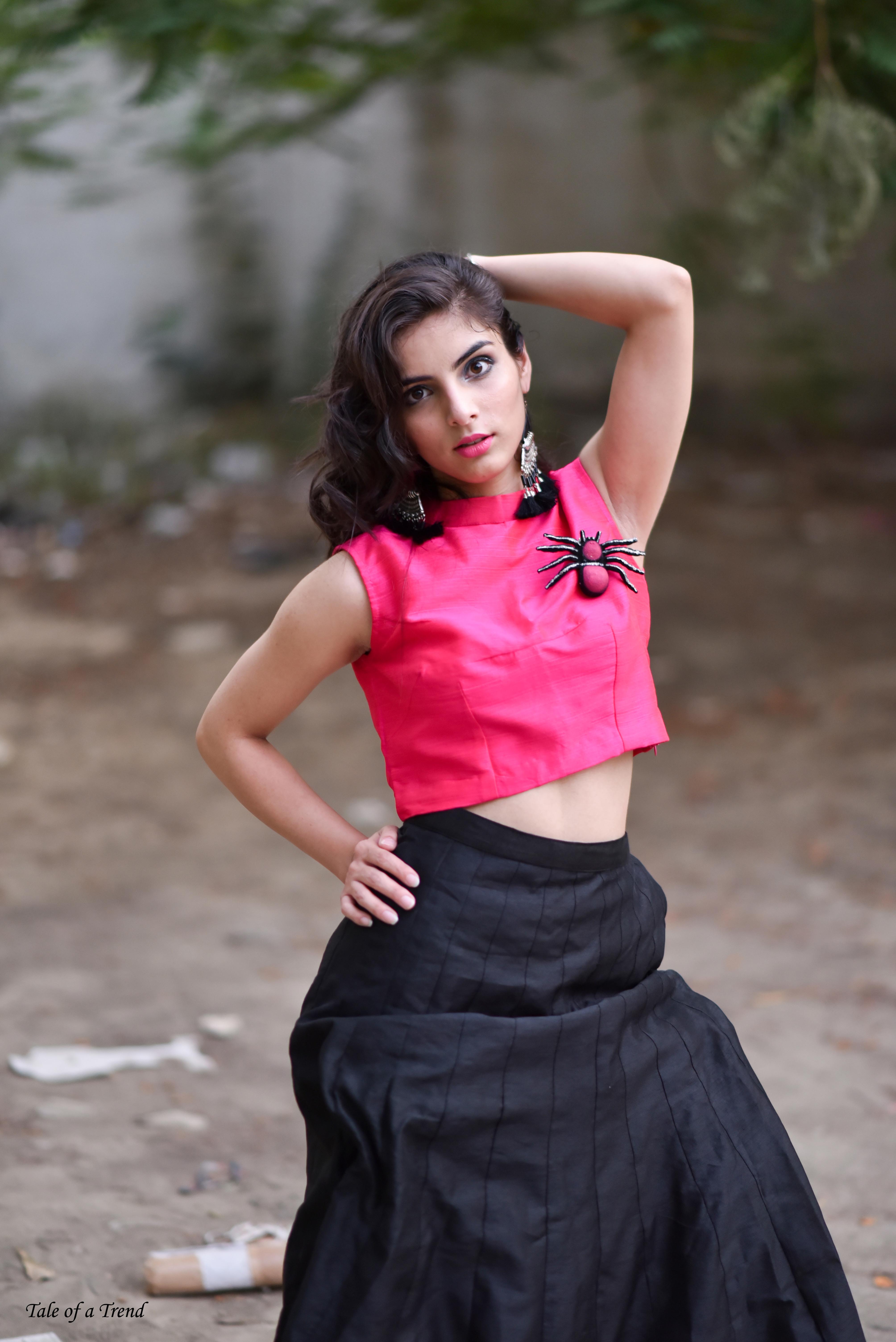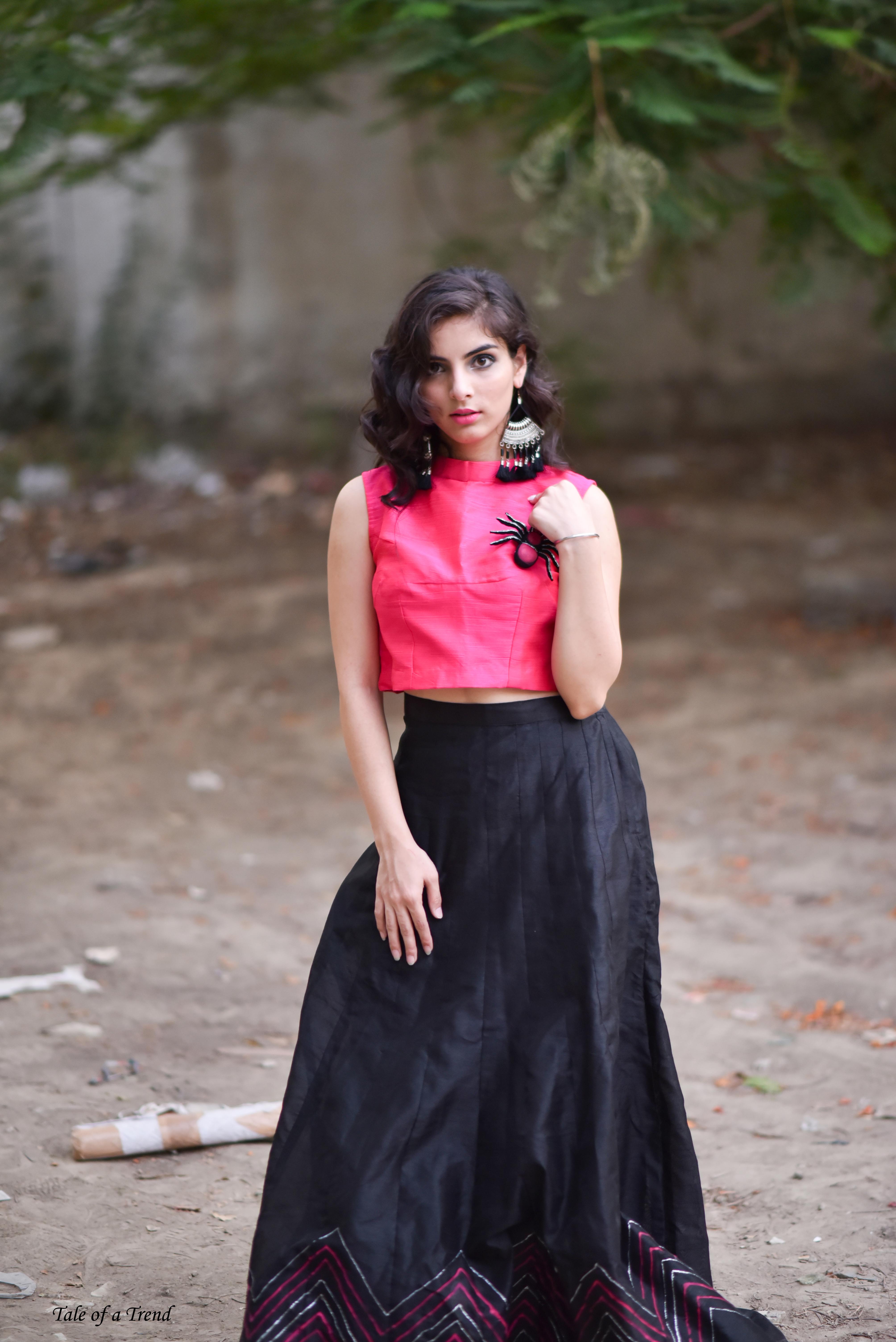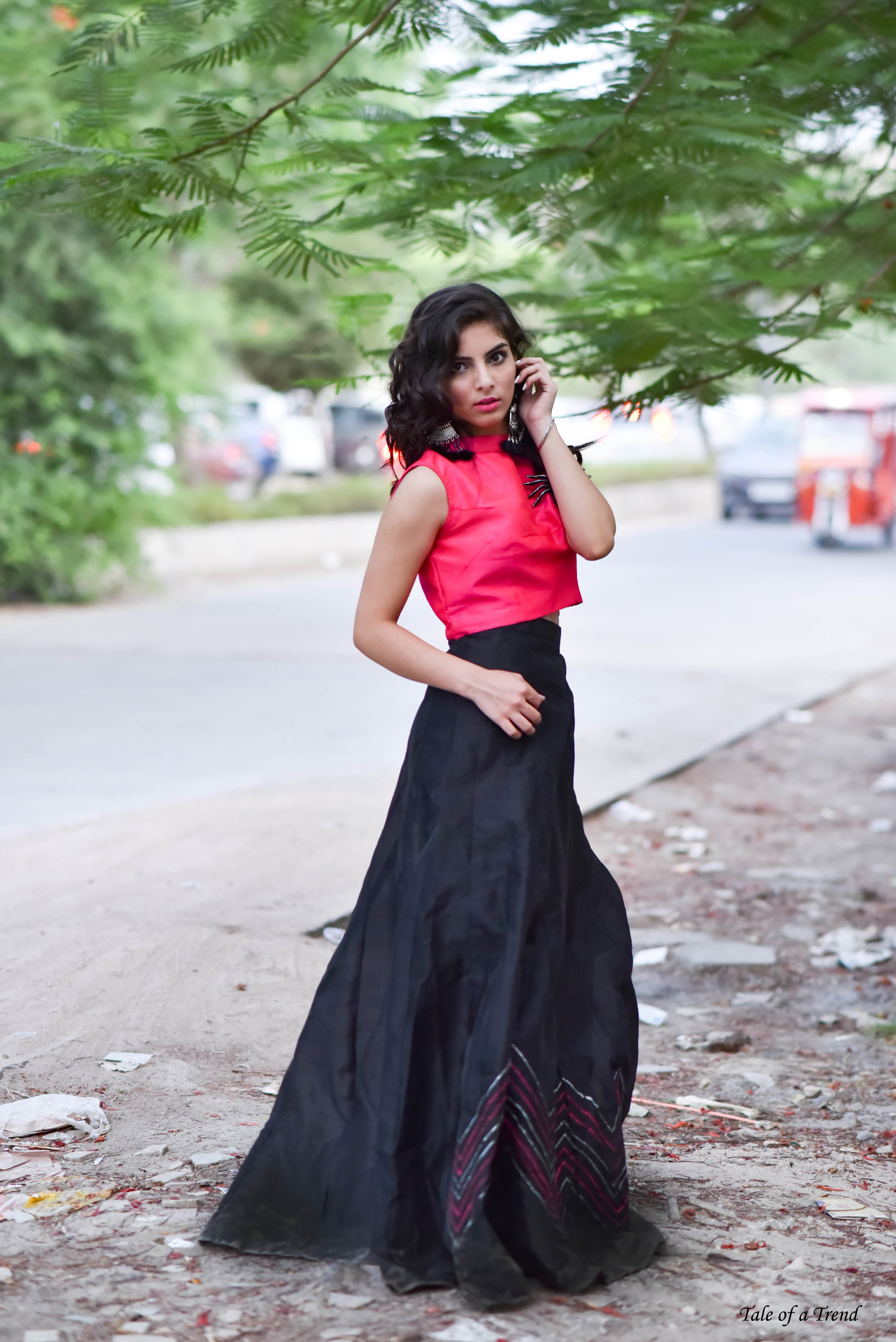 Coming across a snake is generally considered as a bad omen; as snake is considered as evil, though some societies acknowledge the serpent for its supernatural powers. But, I'm really sure about one thing that you are  going to admire the beautiful babes of the blog for her snake inspired outfit. So, would you consider snake on the shrug as a warning for you or a beginning of good time?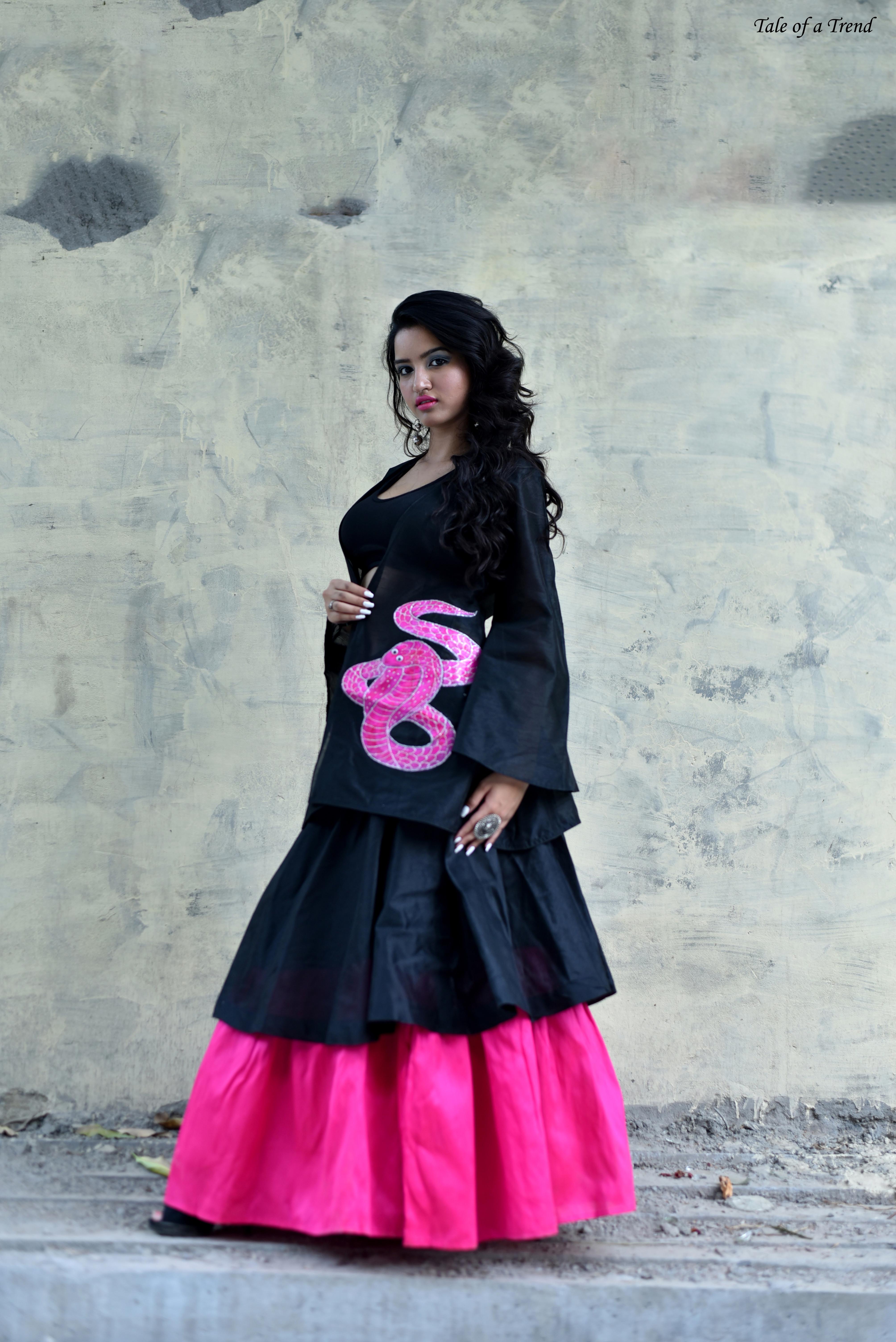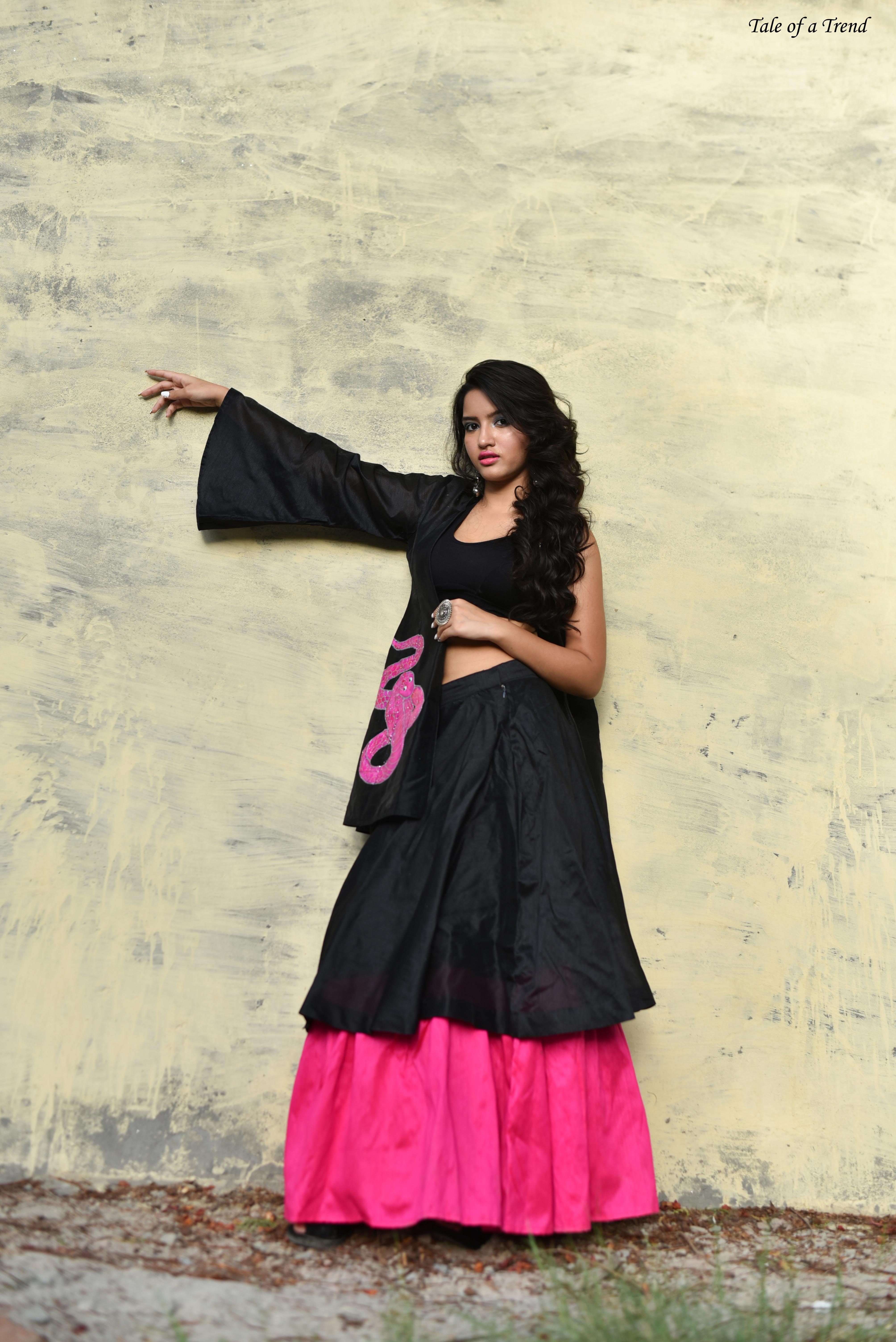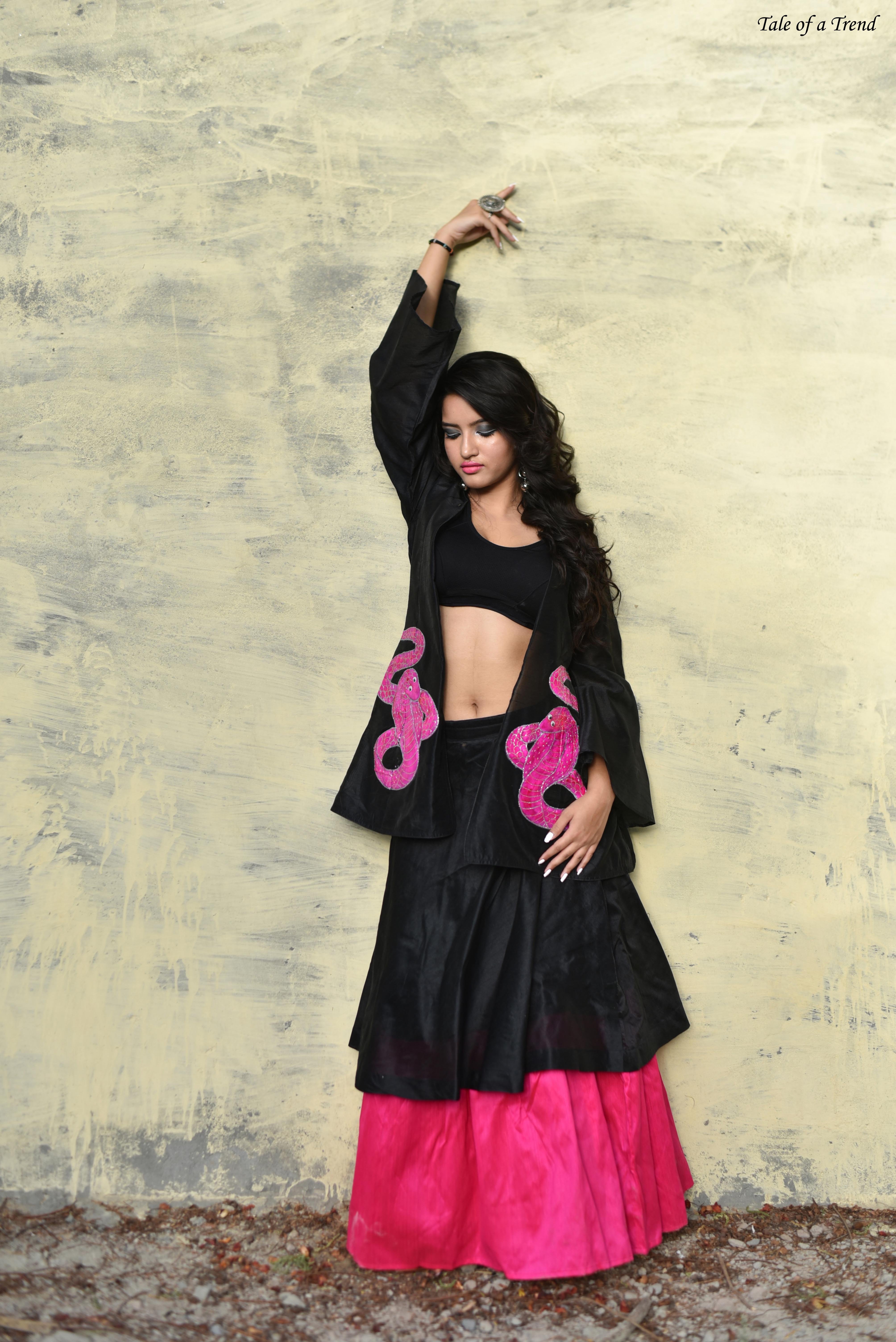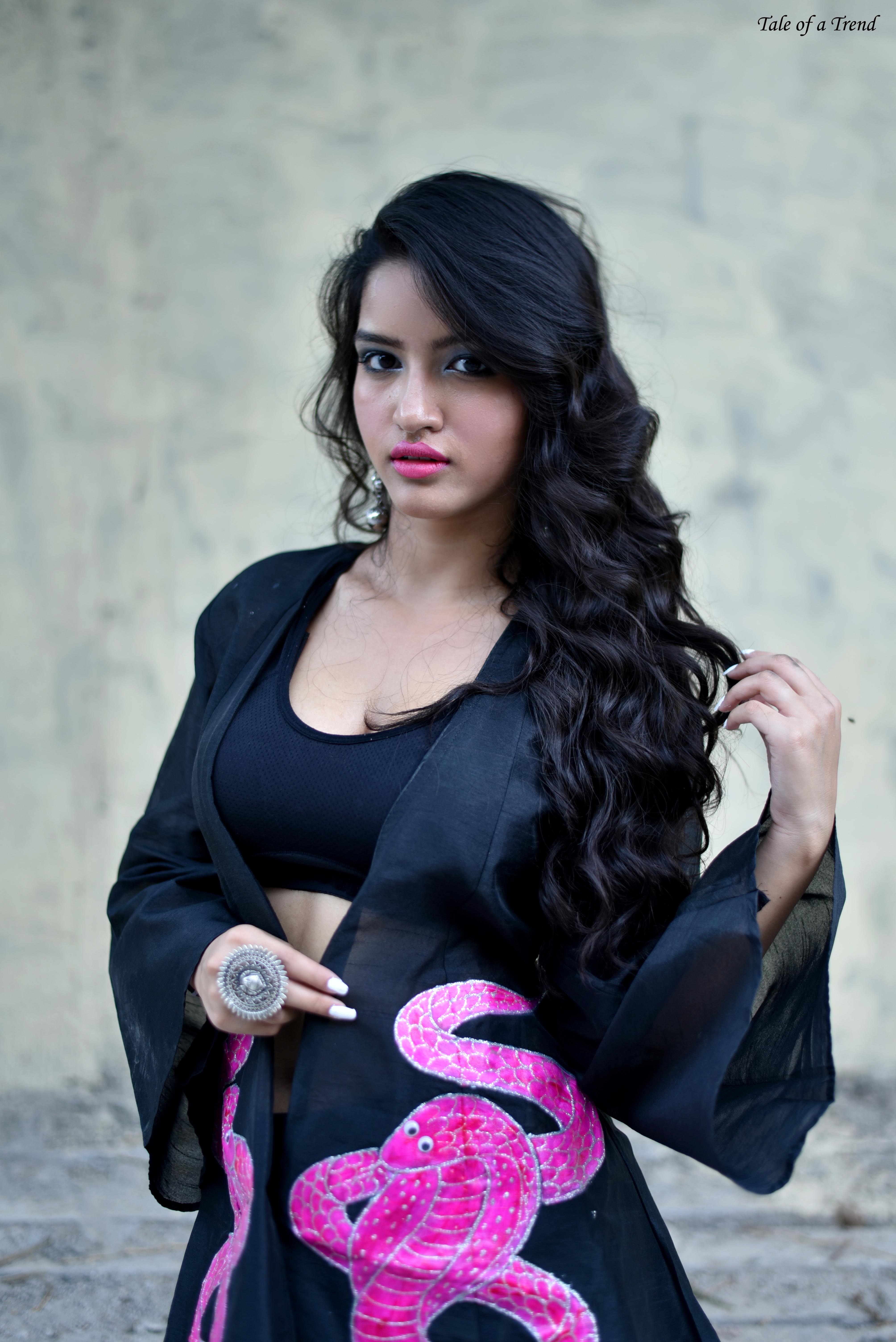 The 'venom' of the snake is another source of motivation for daring dude of our team. Trust me, it is a must-have trend in your closet this season!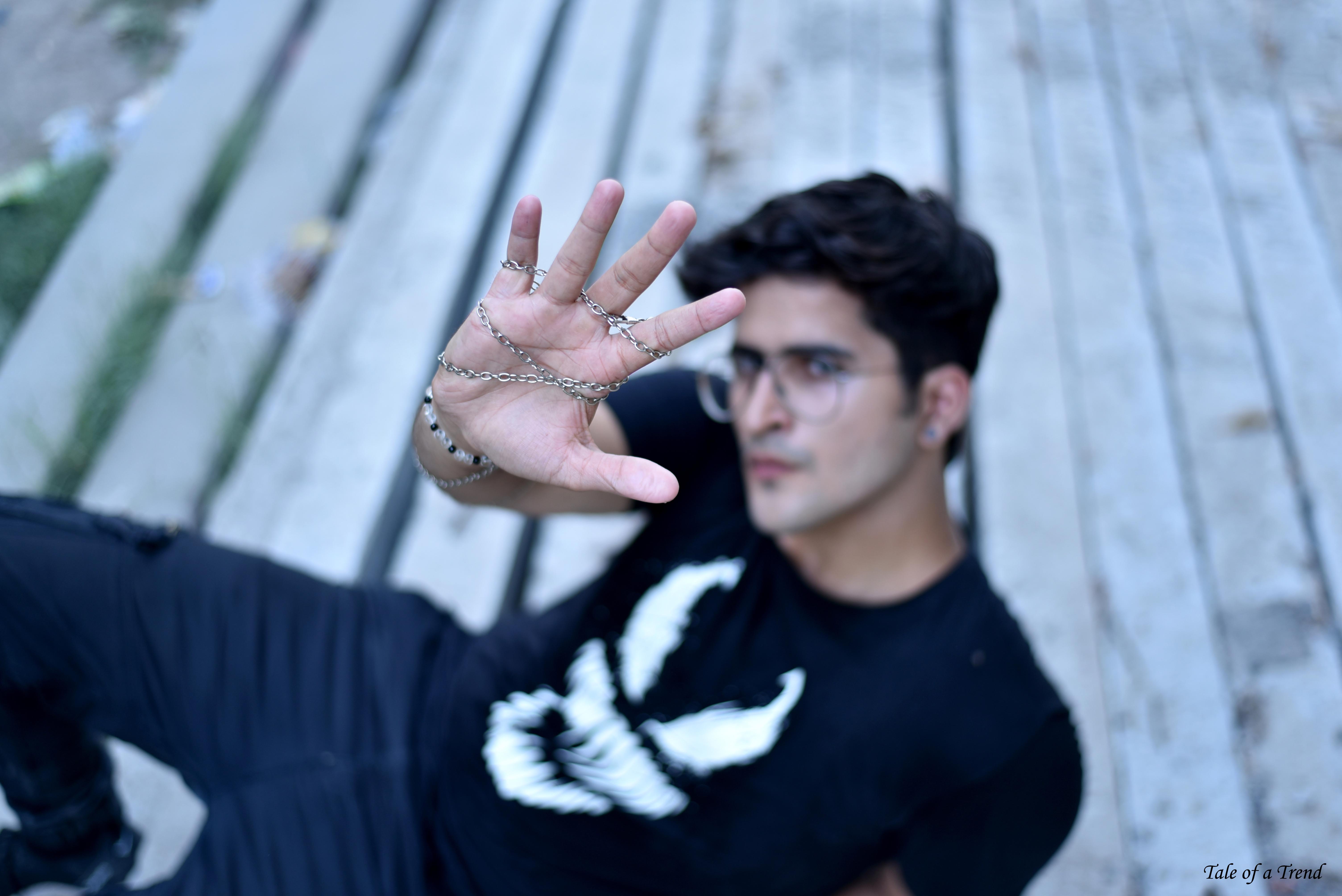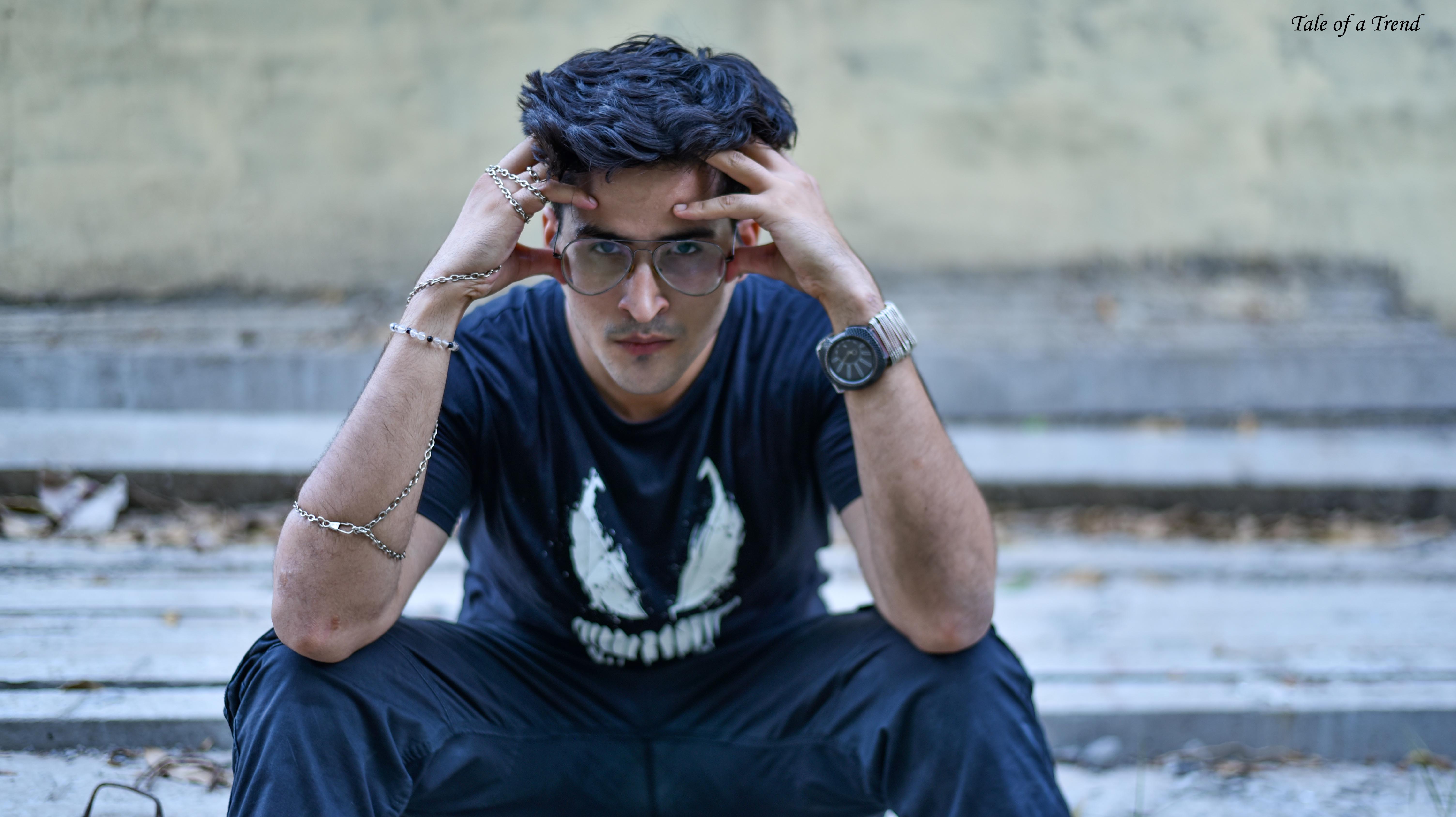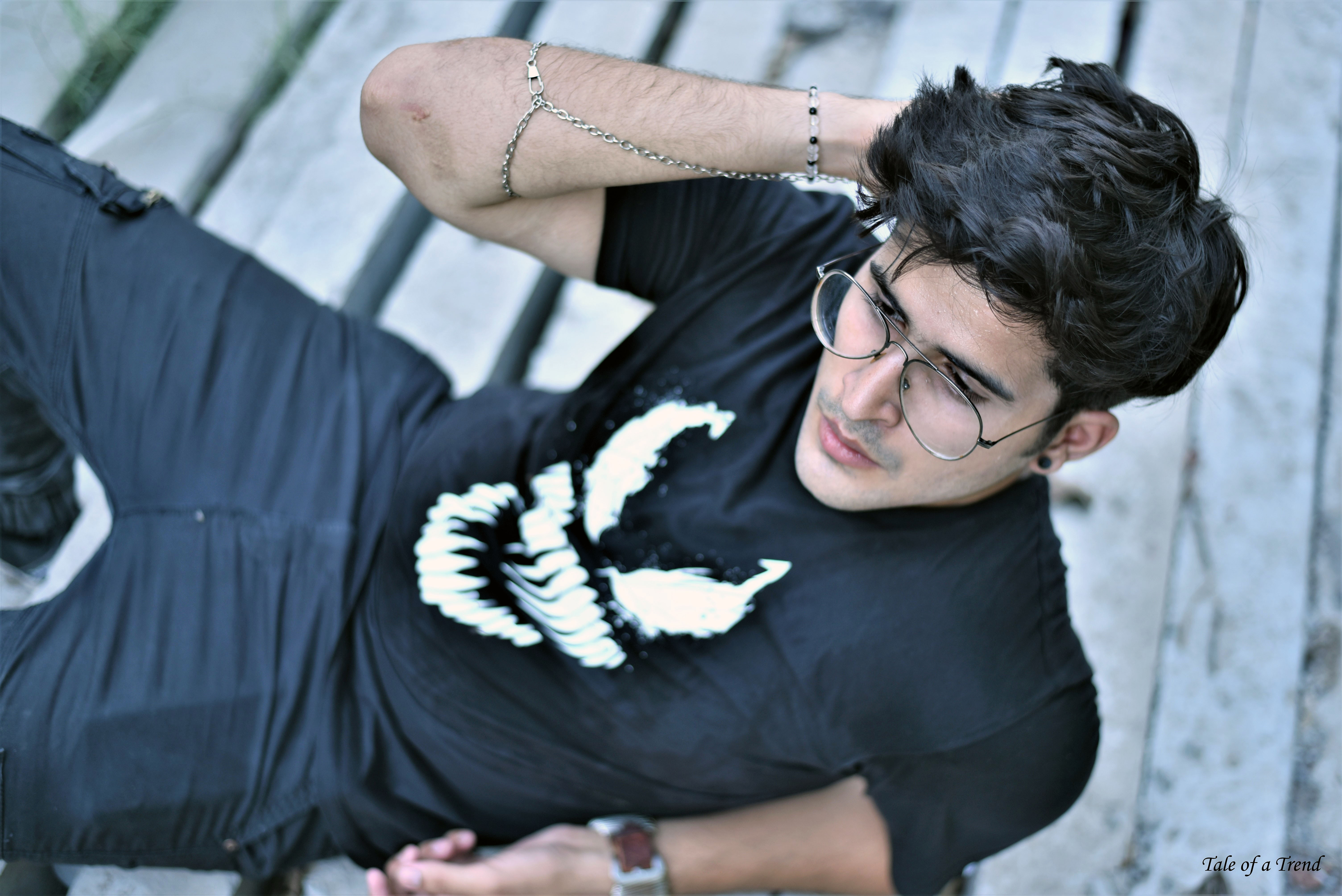 What does skull symbolises- life or death?
Well Readers, skull and crossbones are a fearsome symbol of death or may be life after death for few! They are generally used as warning signs representing danger. But, our daring diva thinks the other way round. Surprisingly, she considers it as an iconic representation of divine blessings. So, wearing an outfit with such a motif could be super trendy with a secret denotation. You can definitely imitate this fashionable combination of one piece dress and a short shrug with skull pattern and be a fashion leader amongst your peers.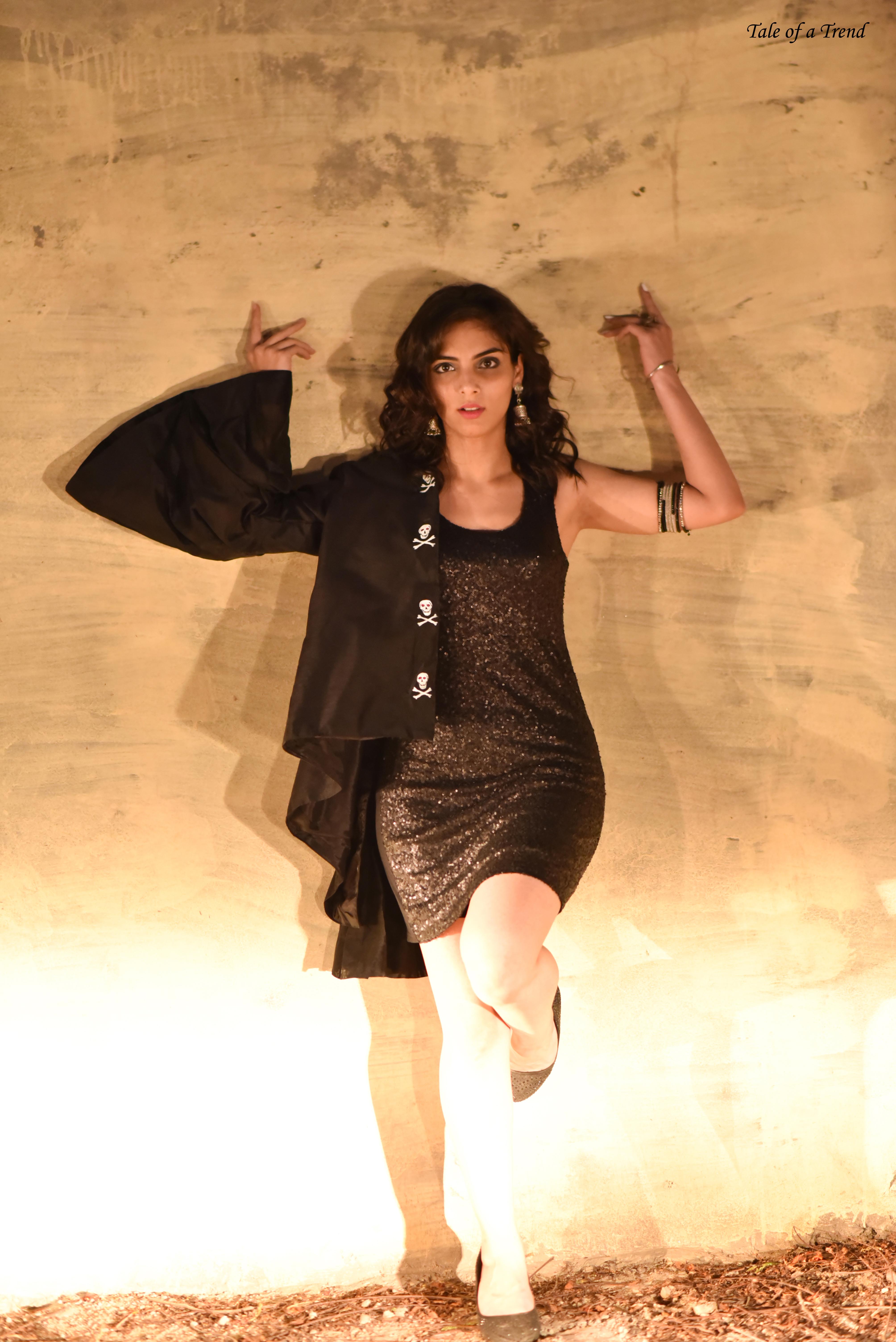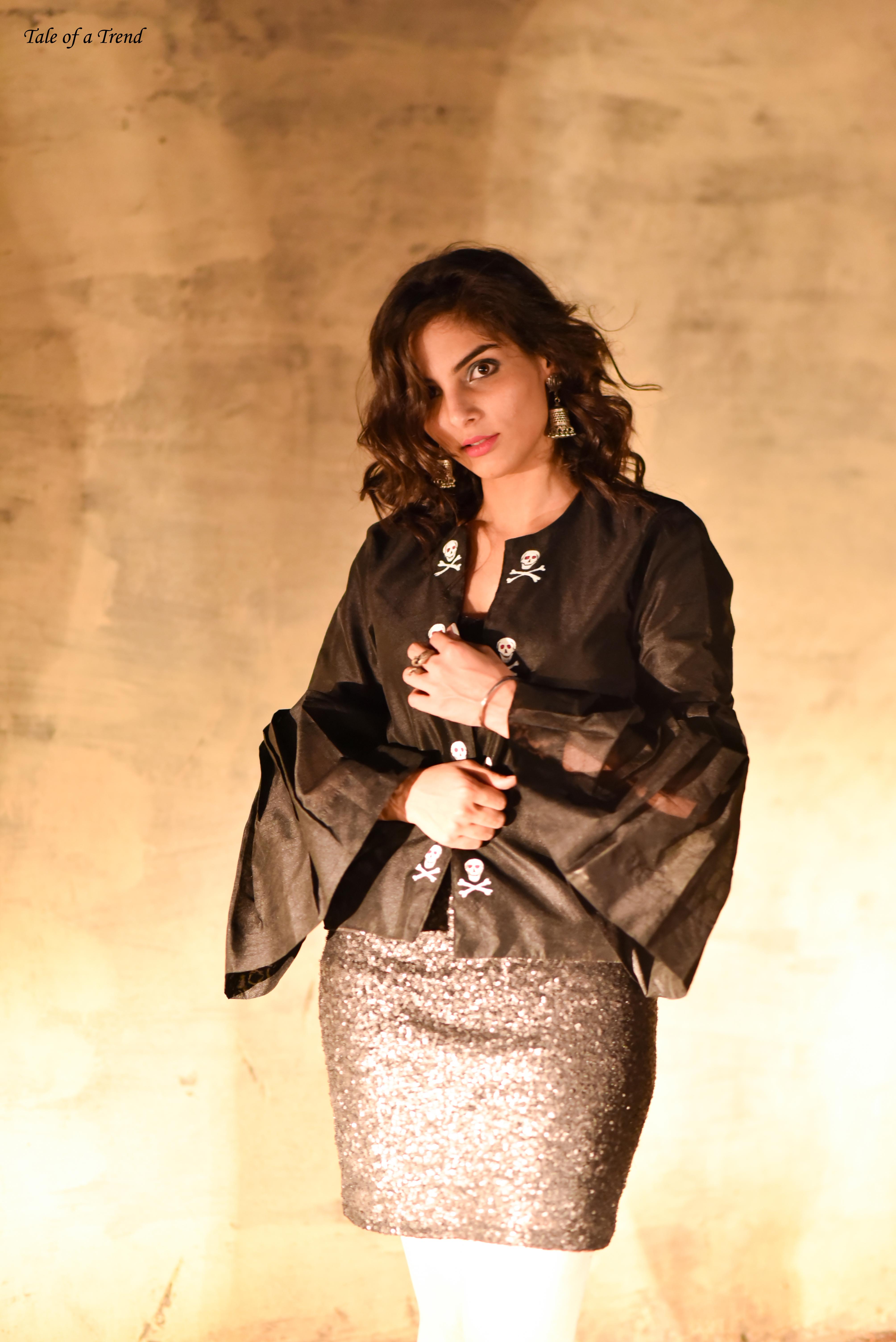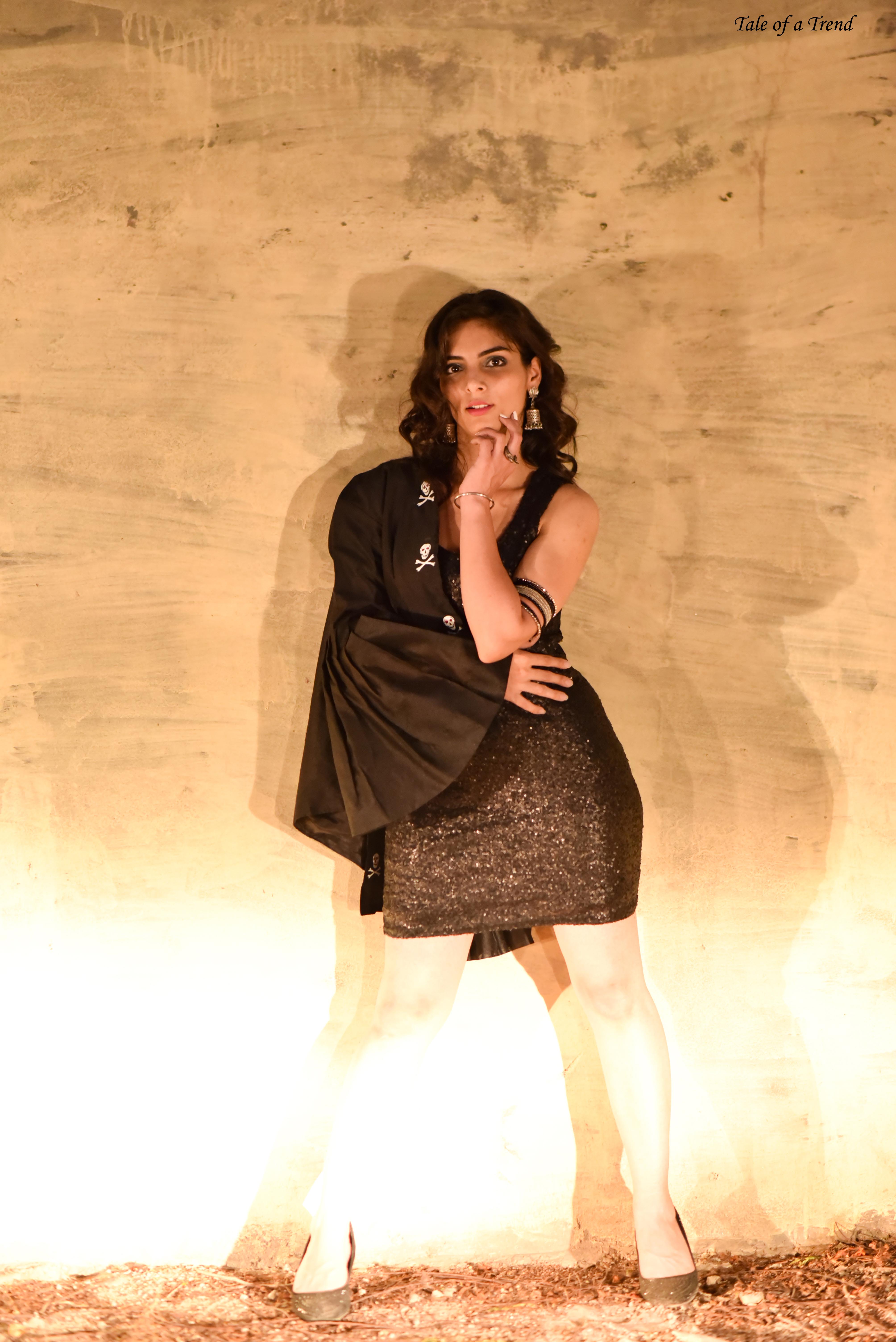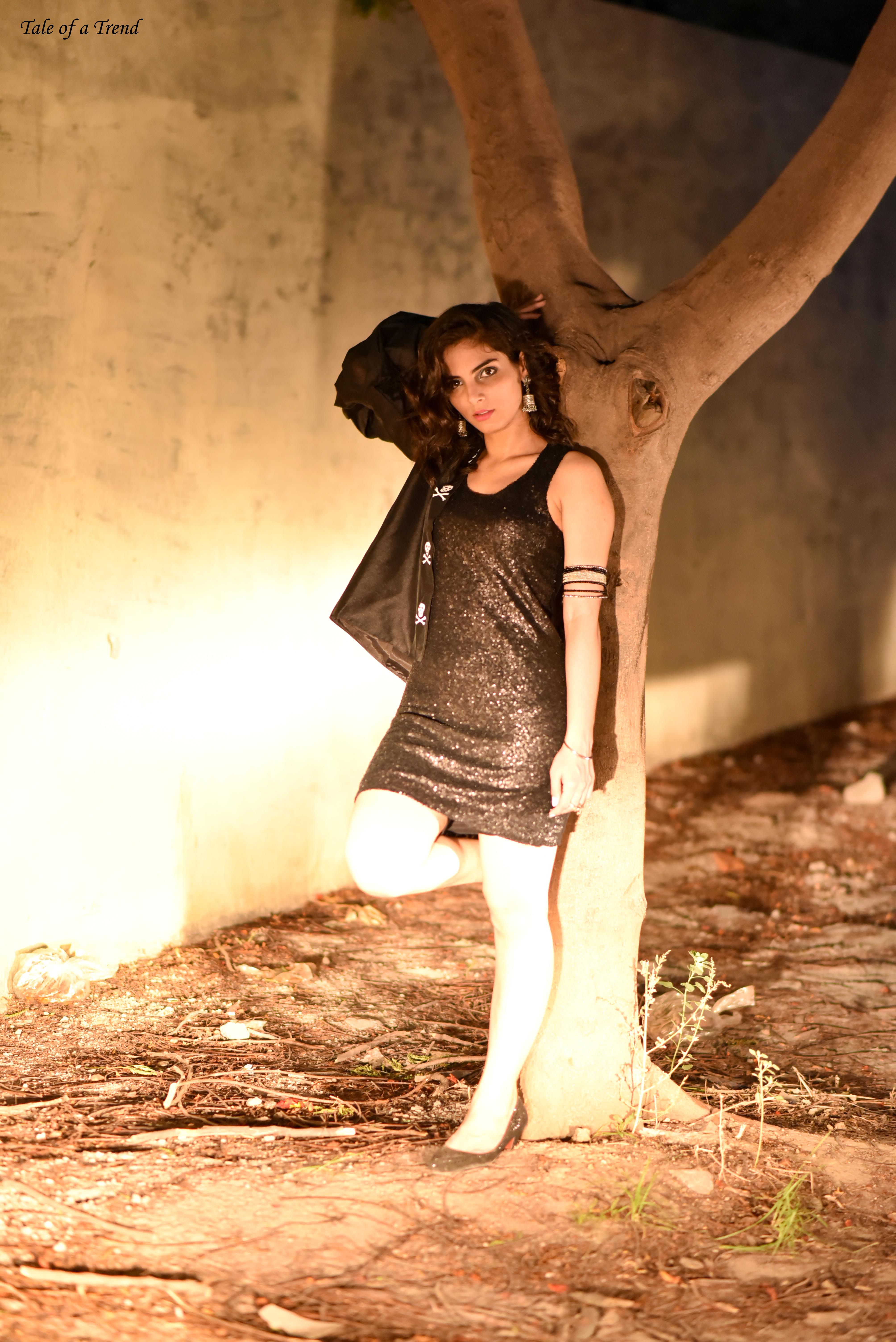 According to some a piece of a lemon and a chilly (fondly called nimbu mirchi) in front of the main gates protects the aura of the place from any disharmony, and for some it's a face cut-out of Goddess Kali. The one piece pleated dress highlights the same.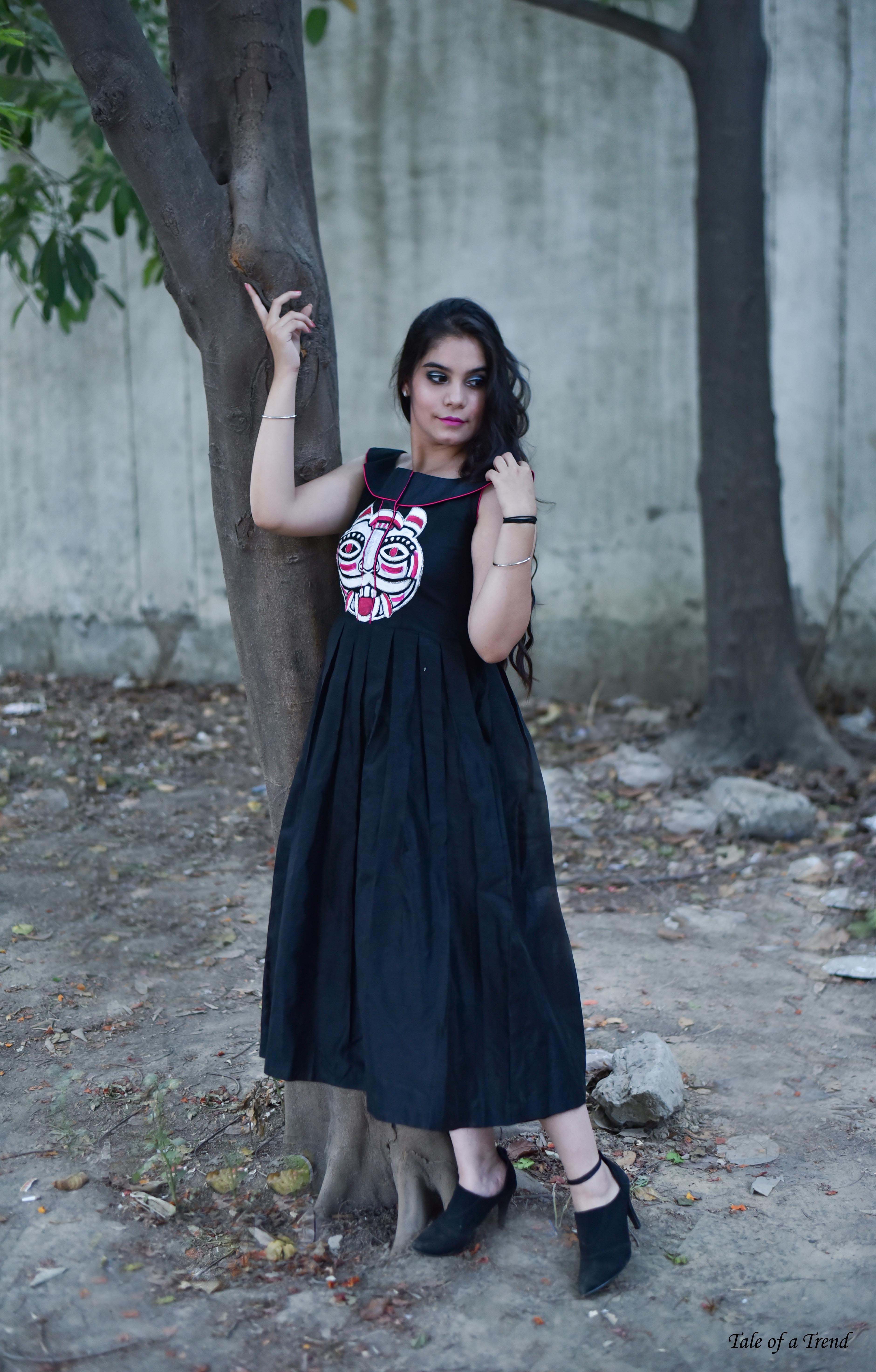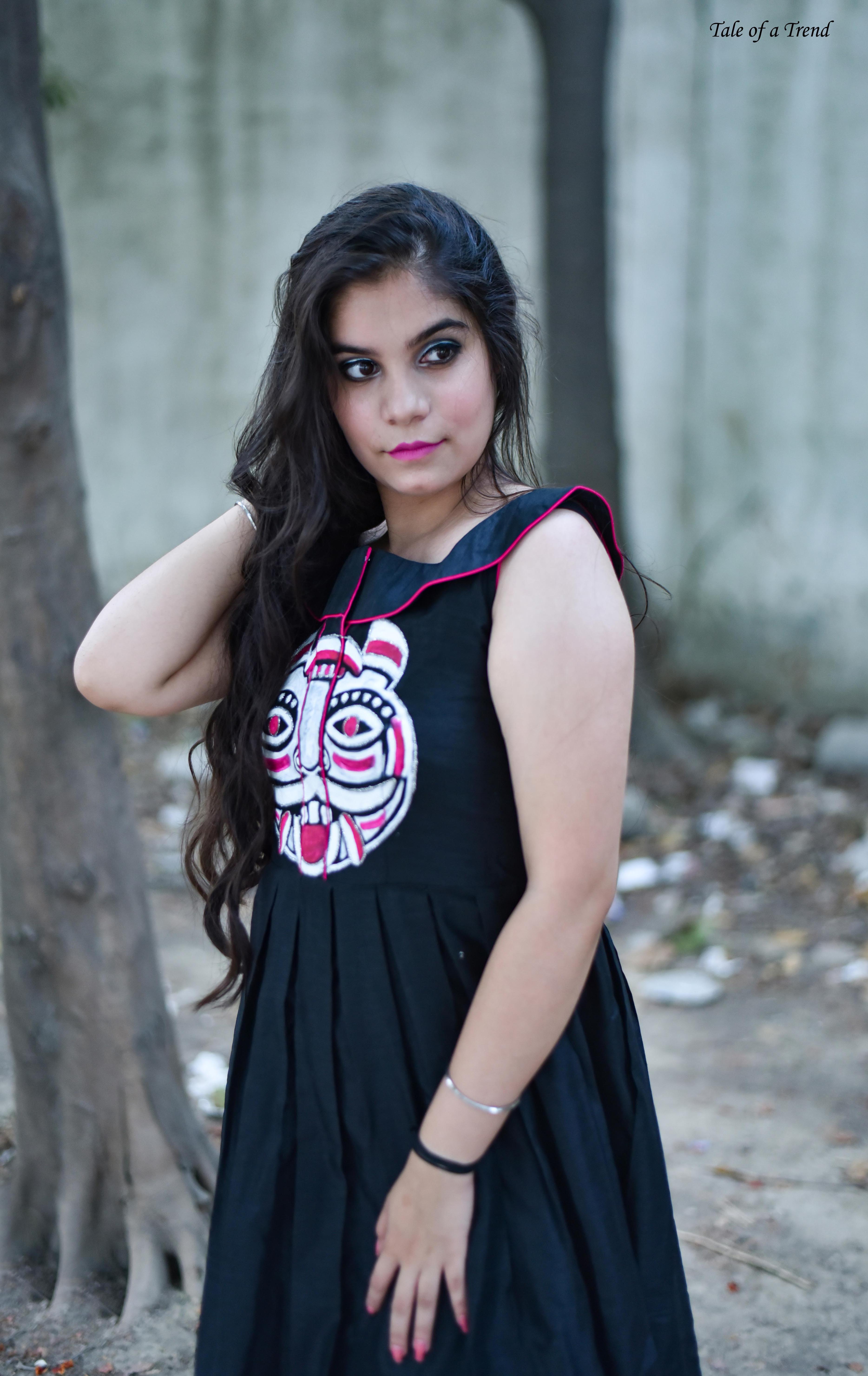 What is Black Magic– a stupid myth or hard reality?
Does it really work??
Well, these questions can only be answered by our beauty in black who is all set to cast the spell in her witchcraft ensemble. The flared shrug at neck and conch shell tiara on forehead is definitely endowing all the supernatural powers to the witch.