Are you ready to feel the
colours of love,  colours of happiness and colours of affection?
Hi Readers!
It's time to swing in style and celebrate the festival of colours. So, in this 'Holi-special' blog post, I would like to share with you all the various classic and casual outfit ideas to adorn yourself during the celebrations.
The Vintage White: White has been the all-time favourite choice for Holi and why not, it is the best carpet for all the colours to fall in place. Moreover, the Bollywood glam has also taught us the same. So, let's continue the 'trend with a twist'!
1.1: The crop top and godet skirt:- If you plan to be a fashionista in your 'Holi-milan' parties, then this one is for you! A schiffli embroidered white crop top and a long A-line godet skirt accessorised with white floral jewellery is just ideal to create a fashion statement.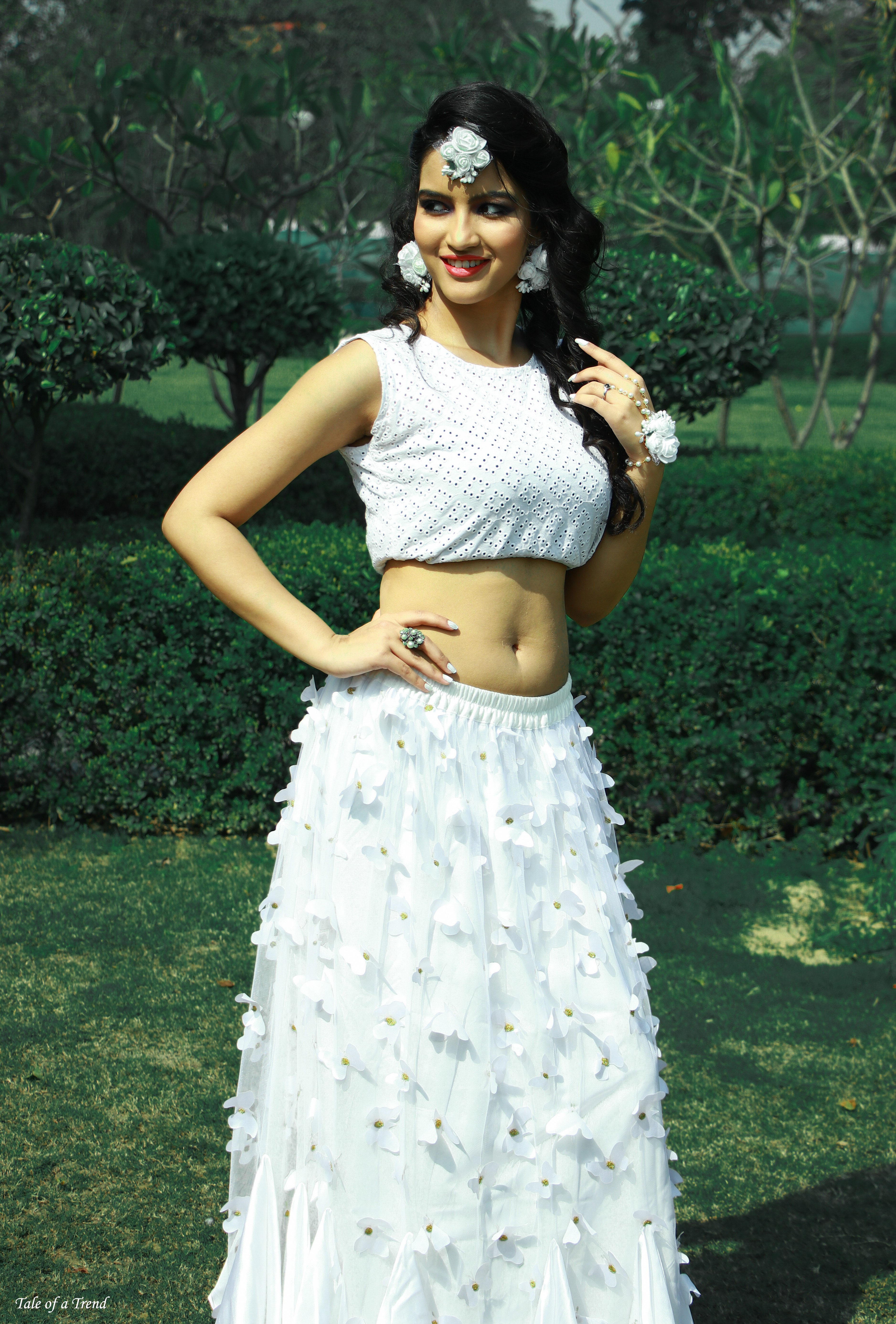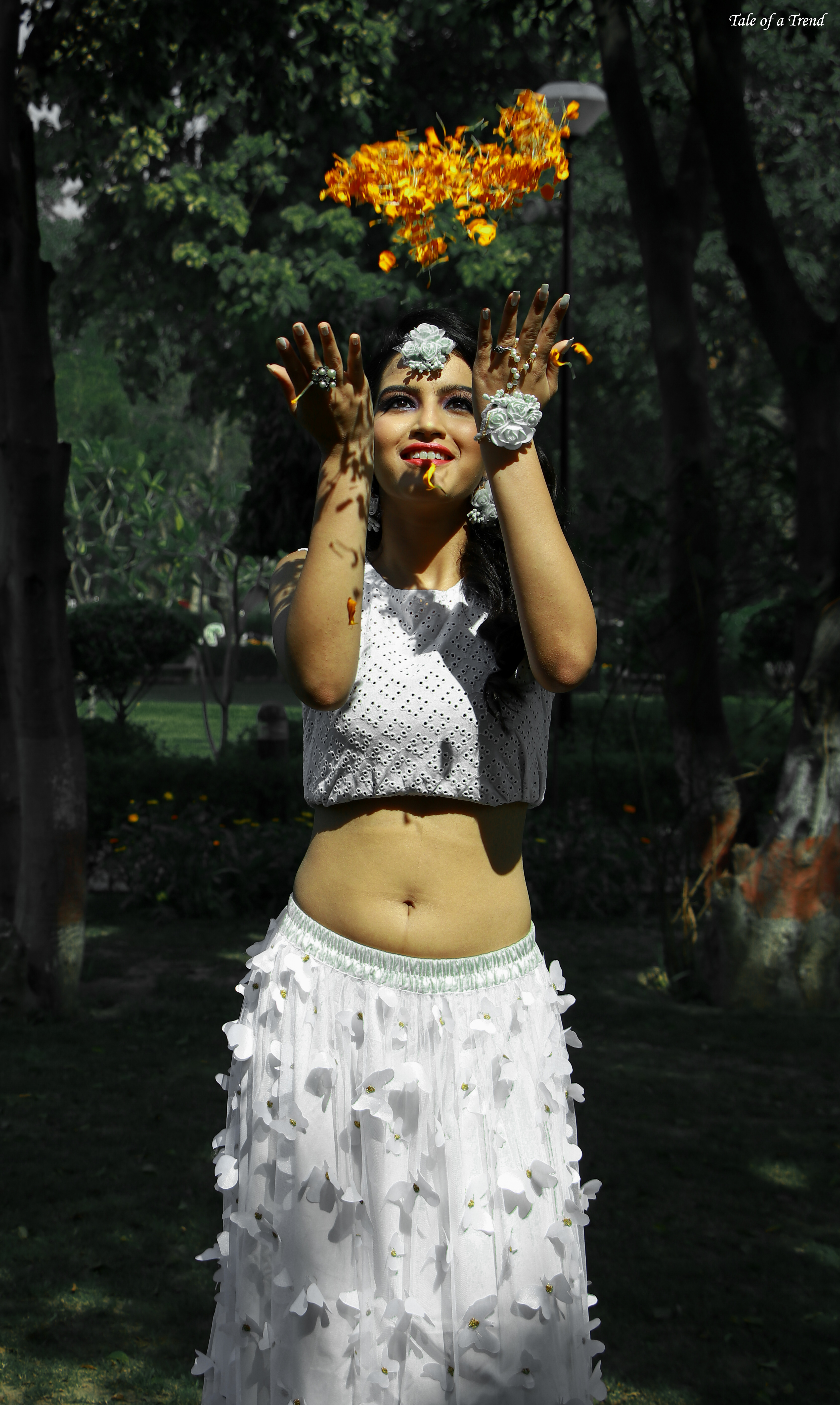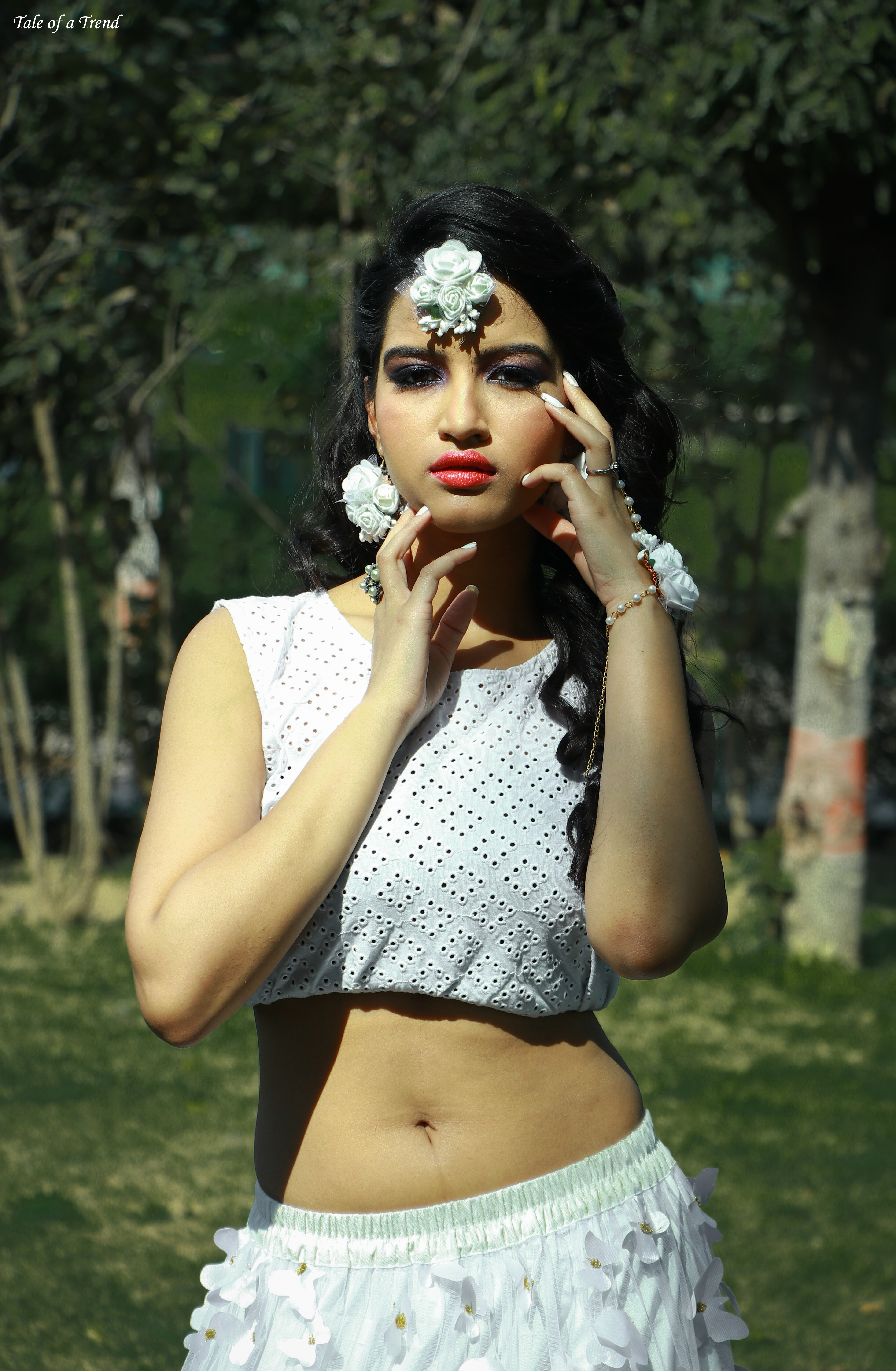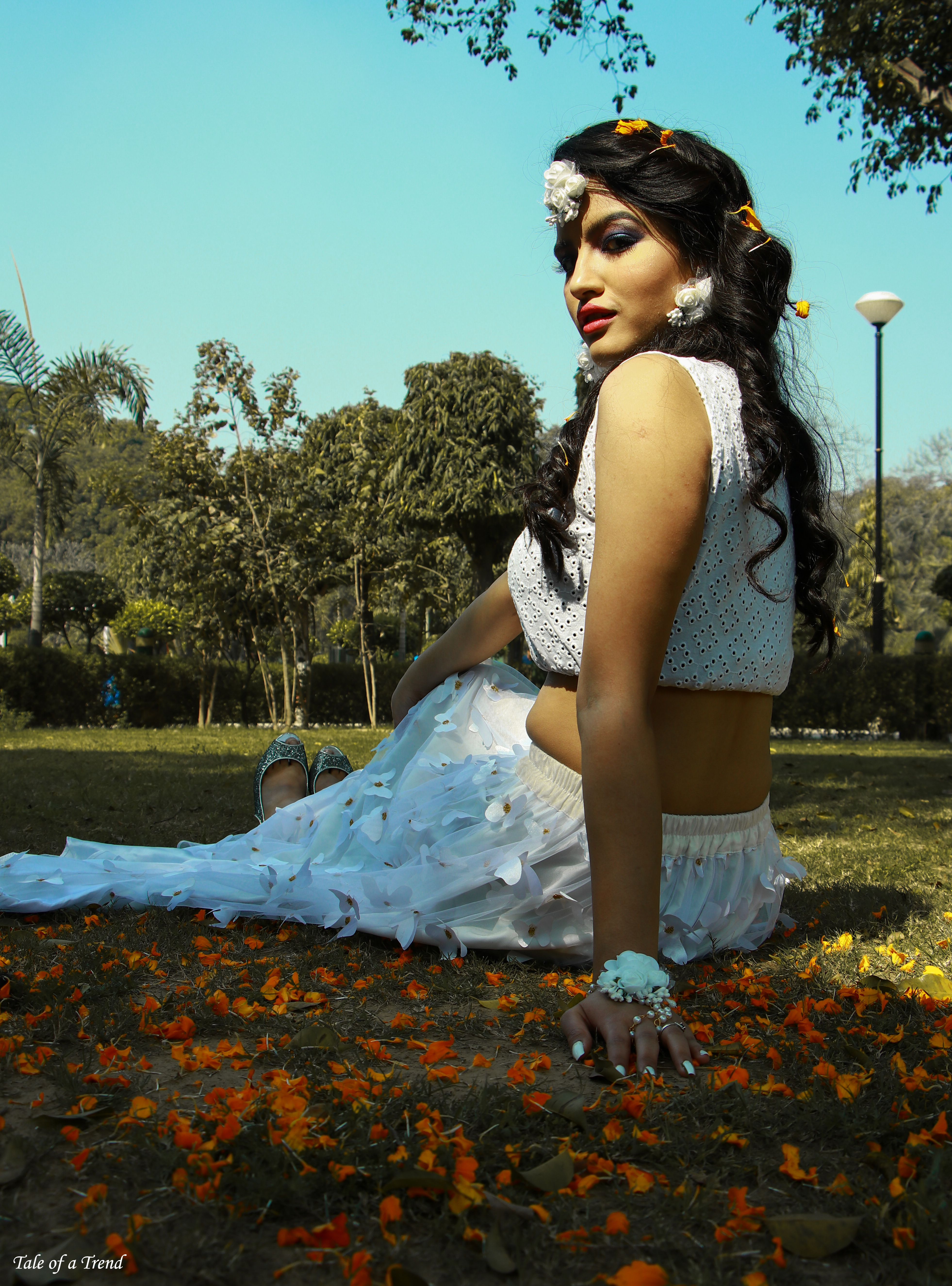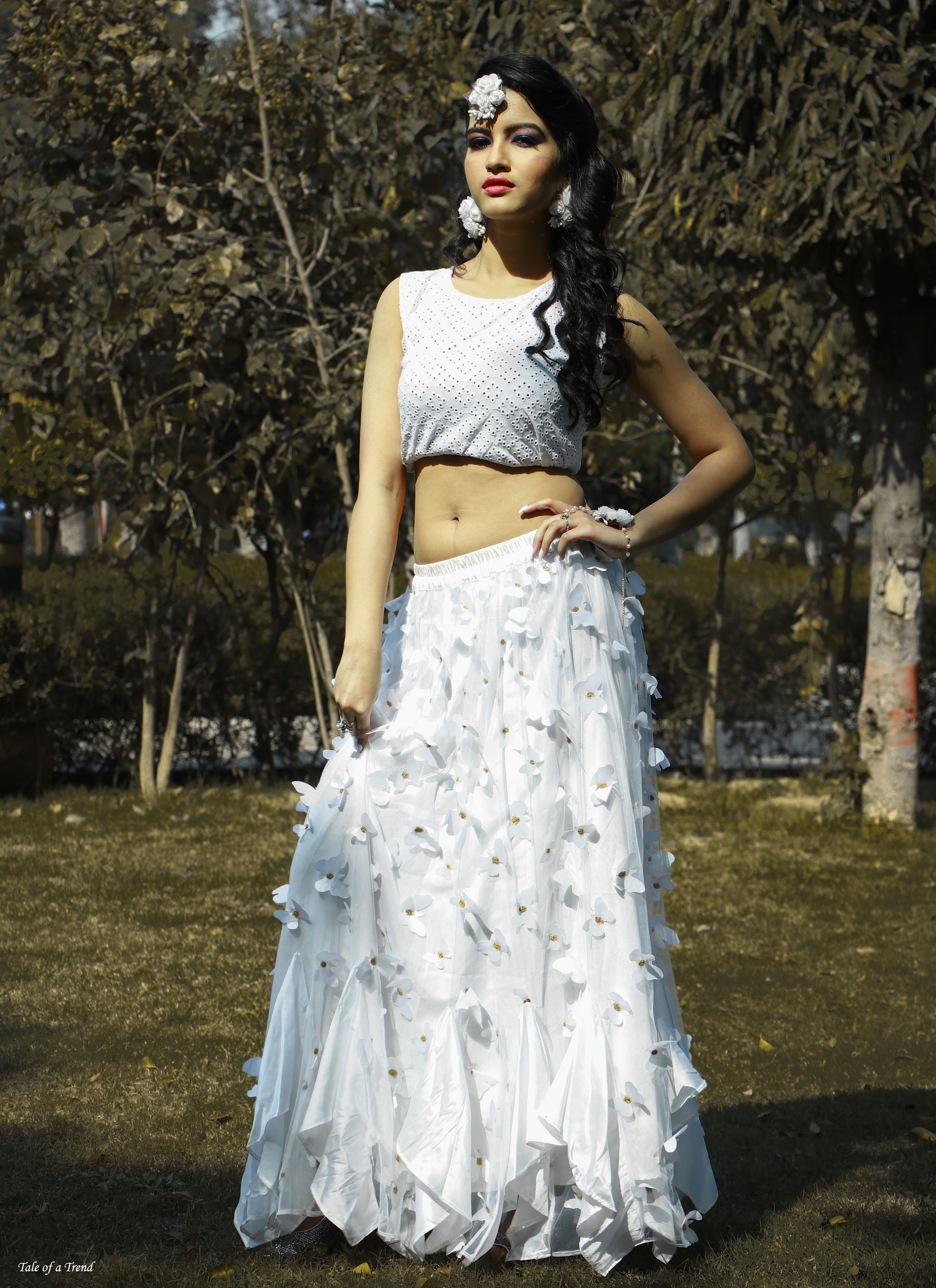 Tanmaey Malhotra Photography
1.2:  The halter top and A-line Skirt:- If you are looking for casual, easy and yet fashionable look, then a pleated halter top tucked in A-line self-patterned skirt paired with contrasting floral jewellery  and multi-hued heels could be a perfect choice for you to feel the festival vibe!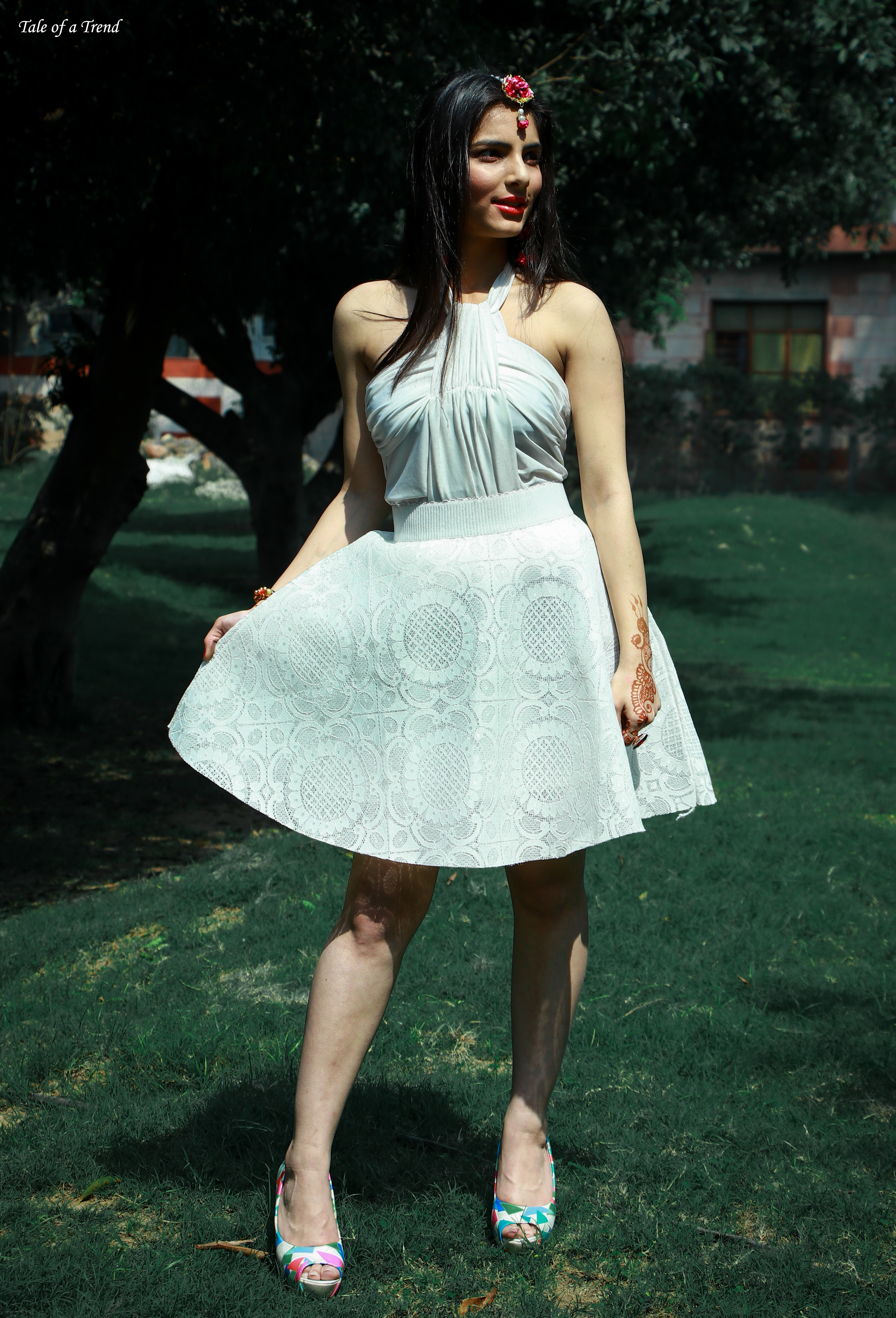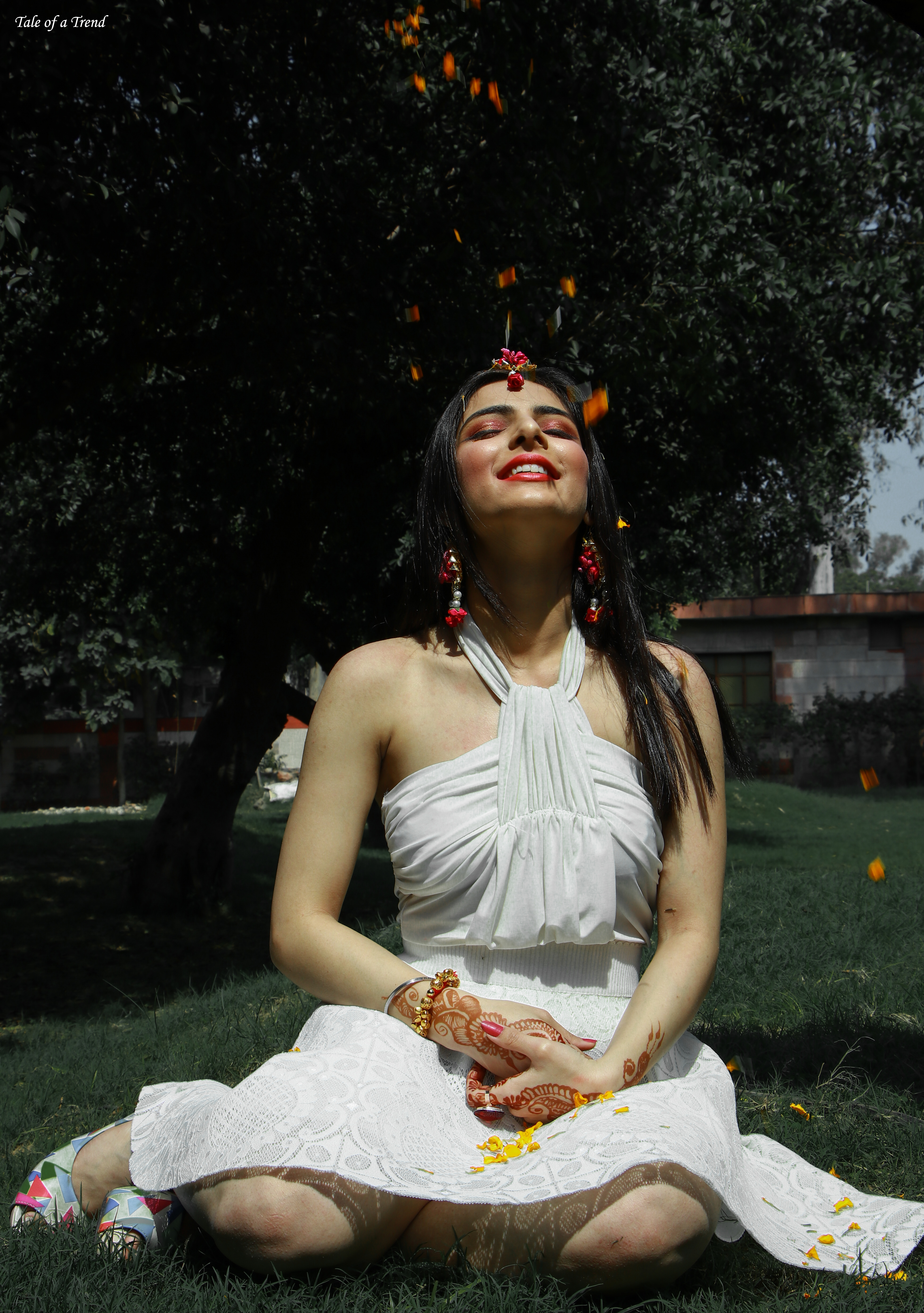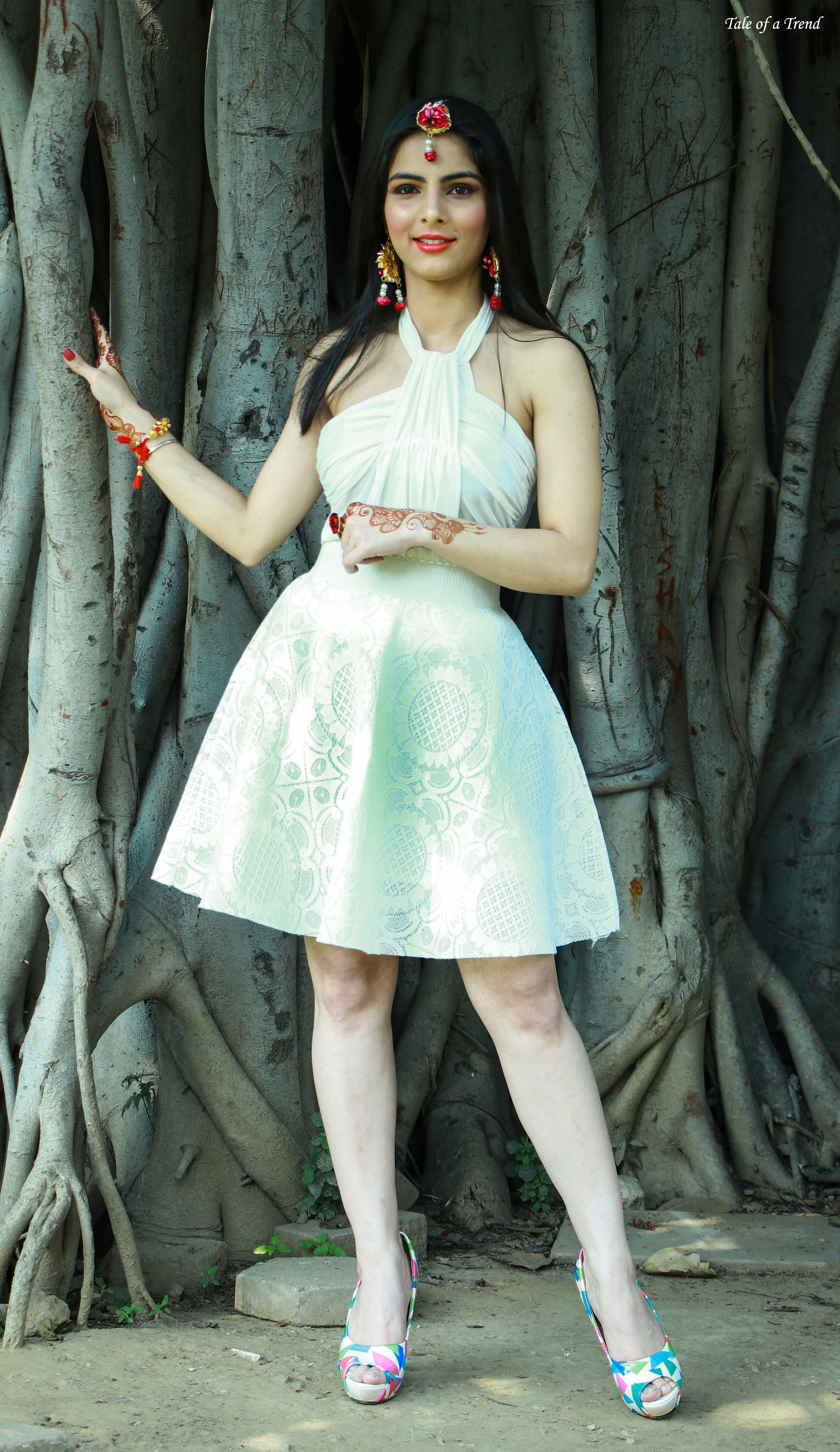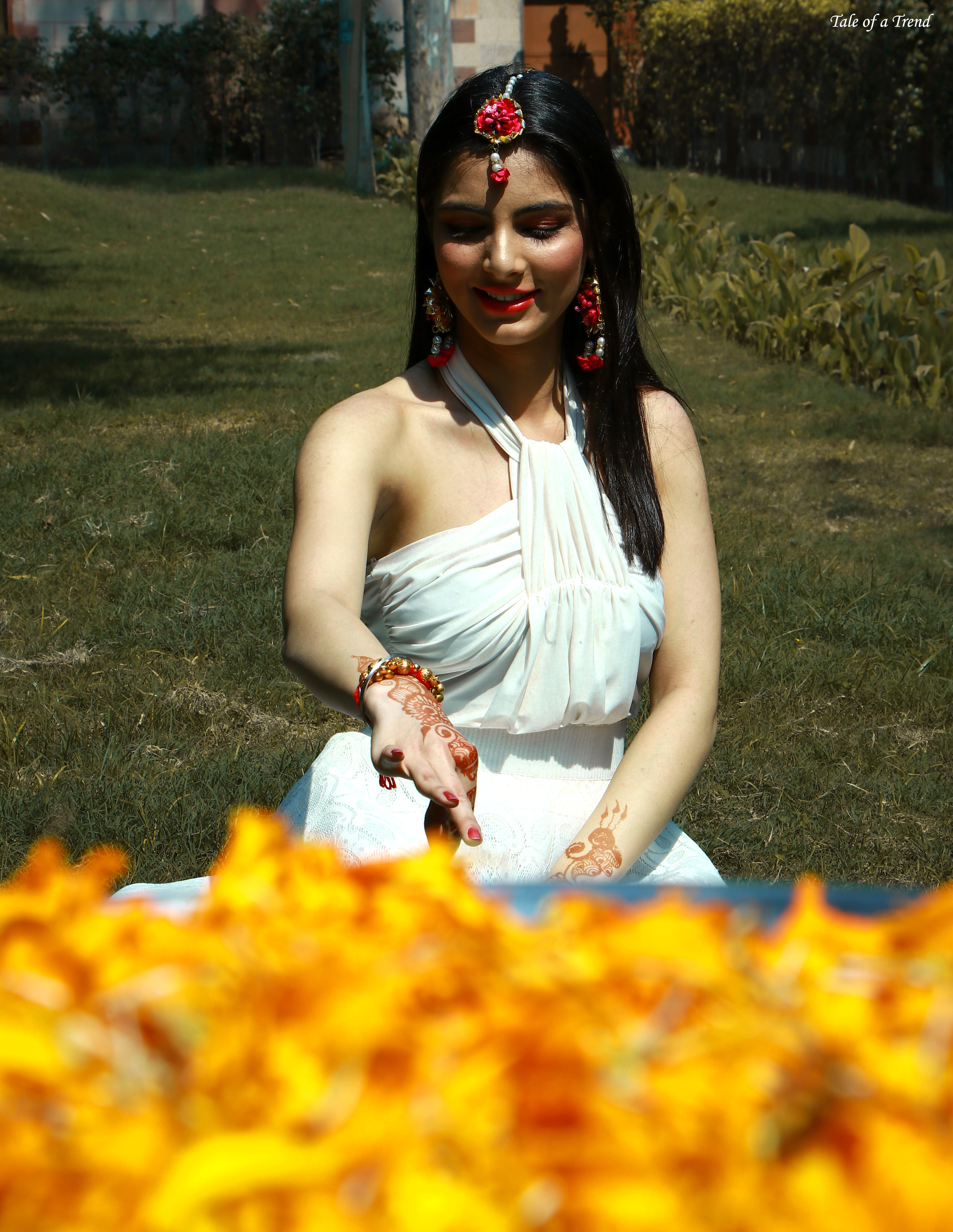 Tanmaey Malhotra Photography
1.3: The flared one-piece dress:- The little gorgeous gal is all set to give you a glam Holi-lesson in her white flared long one piece gown paired with silver jewellery and fish net gloves. Ready to rock with natural make up and wavy tresses!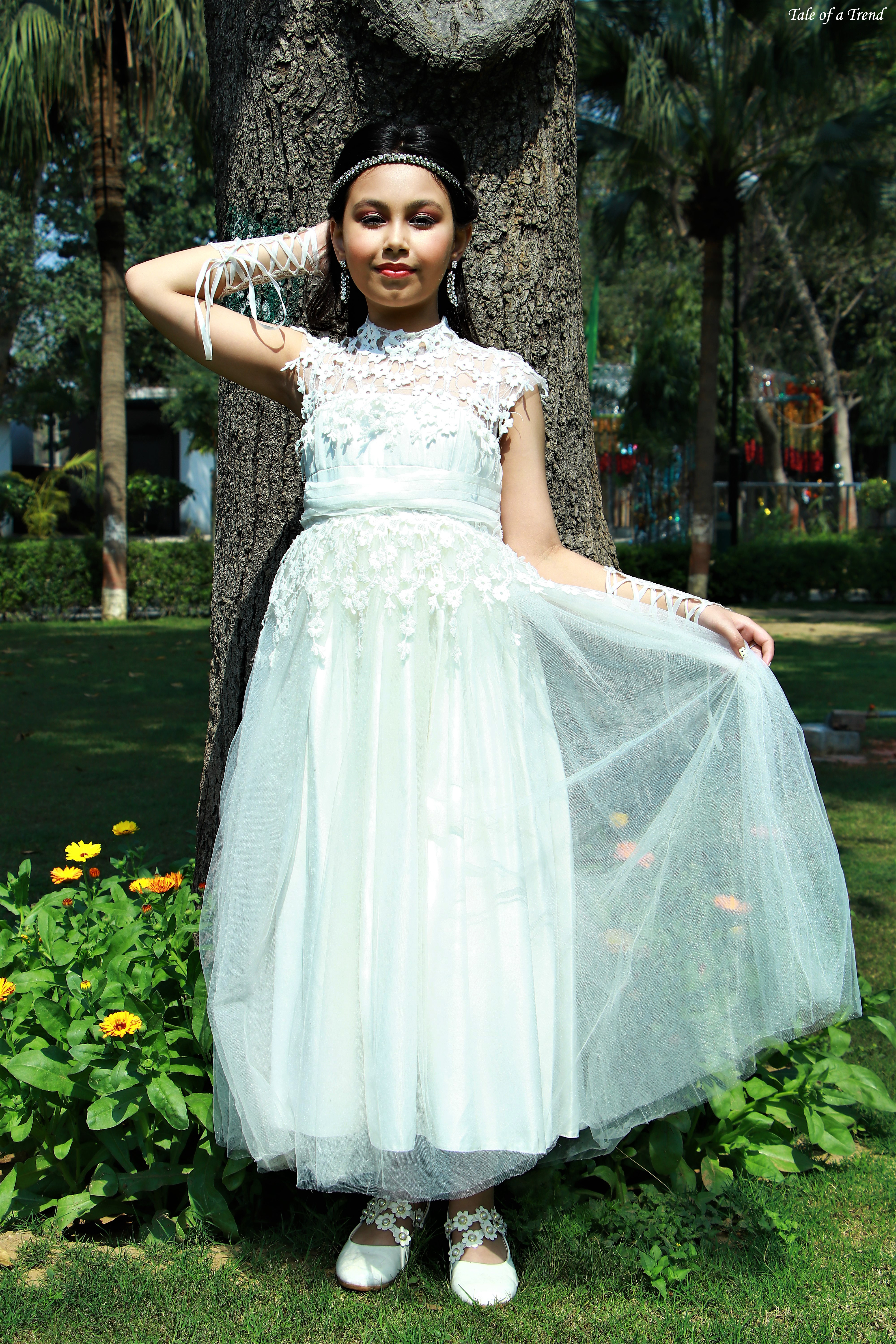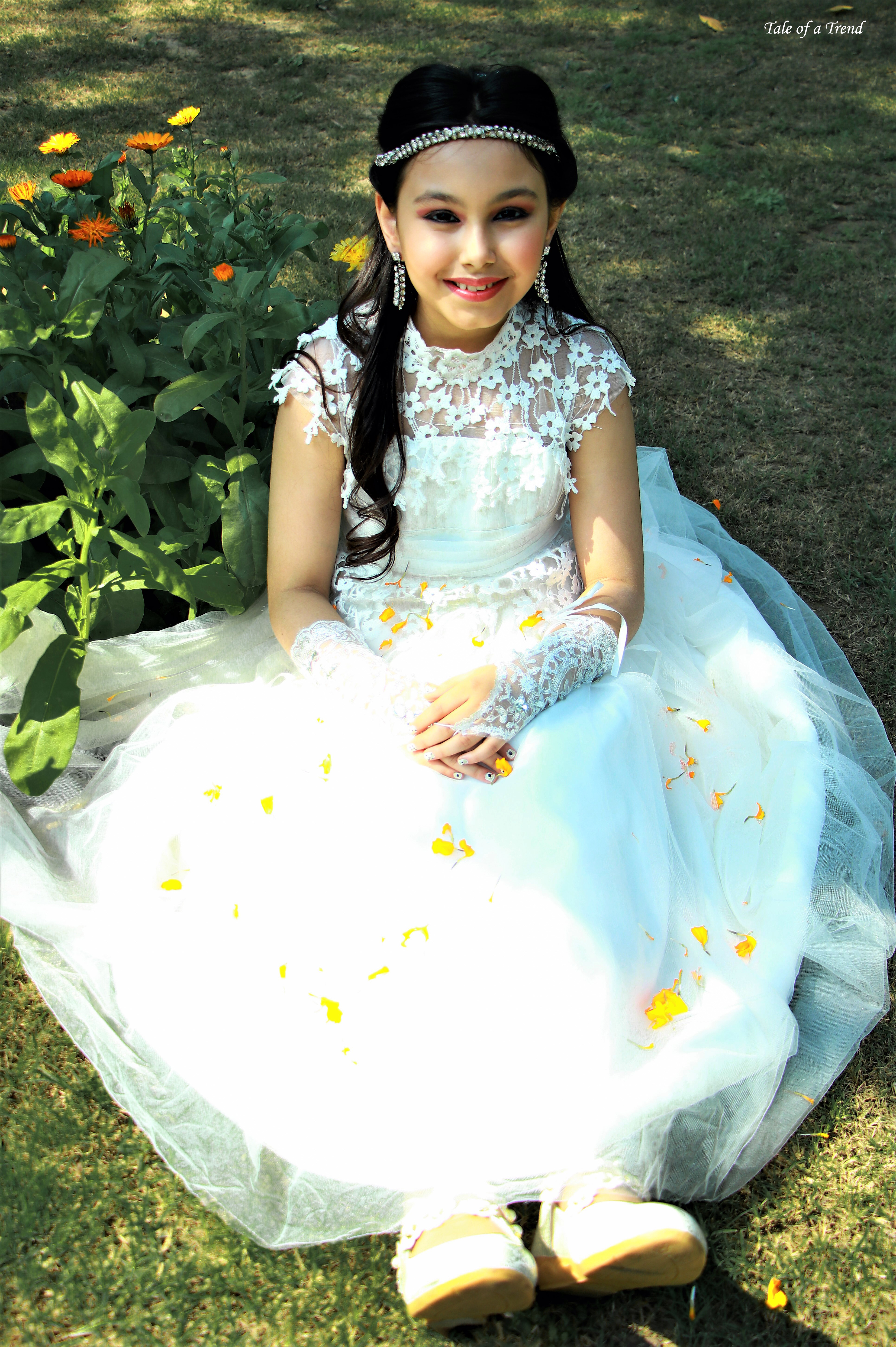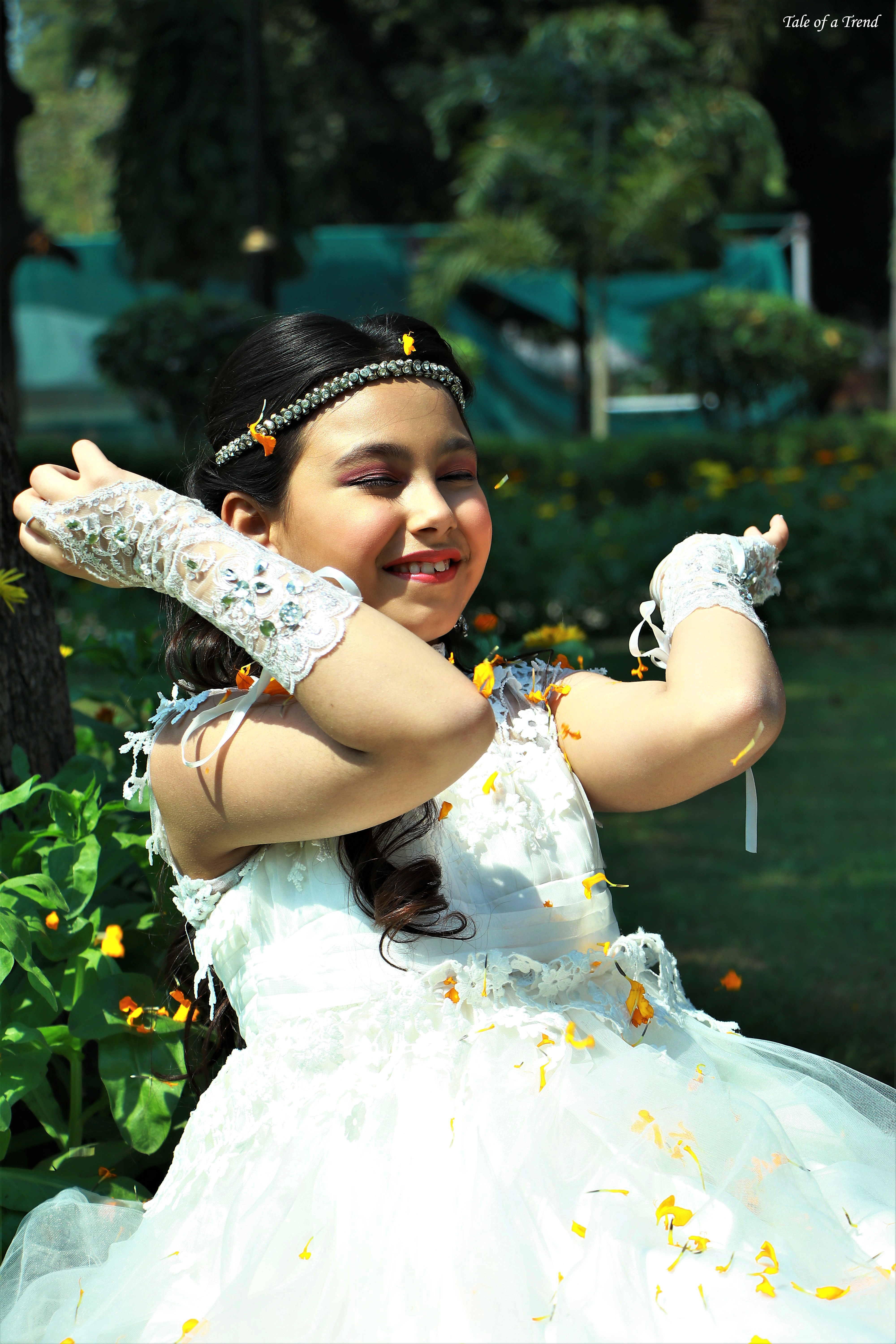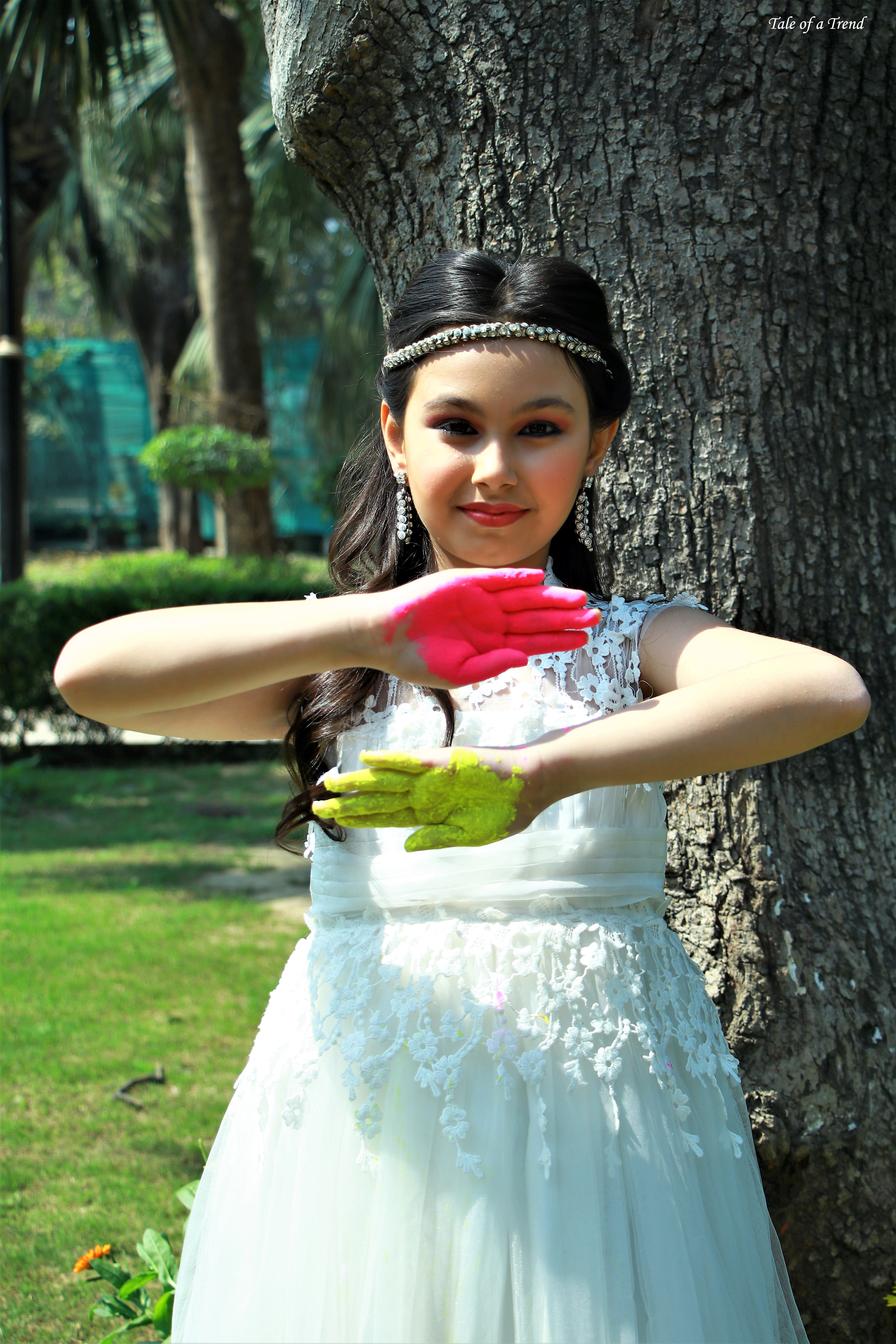 Tanmaey Malhotra Photography
1.4: The 'ever-green' white kurta and churidaar:- The best desi-yet-stunning look for any guy for Holi festival is definitely a kurta and a churidaar. The stylised collar with elegant silver embroidery is a statement style of this simple and classy outfit. Carry your shades along for a super cool impression!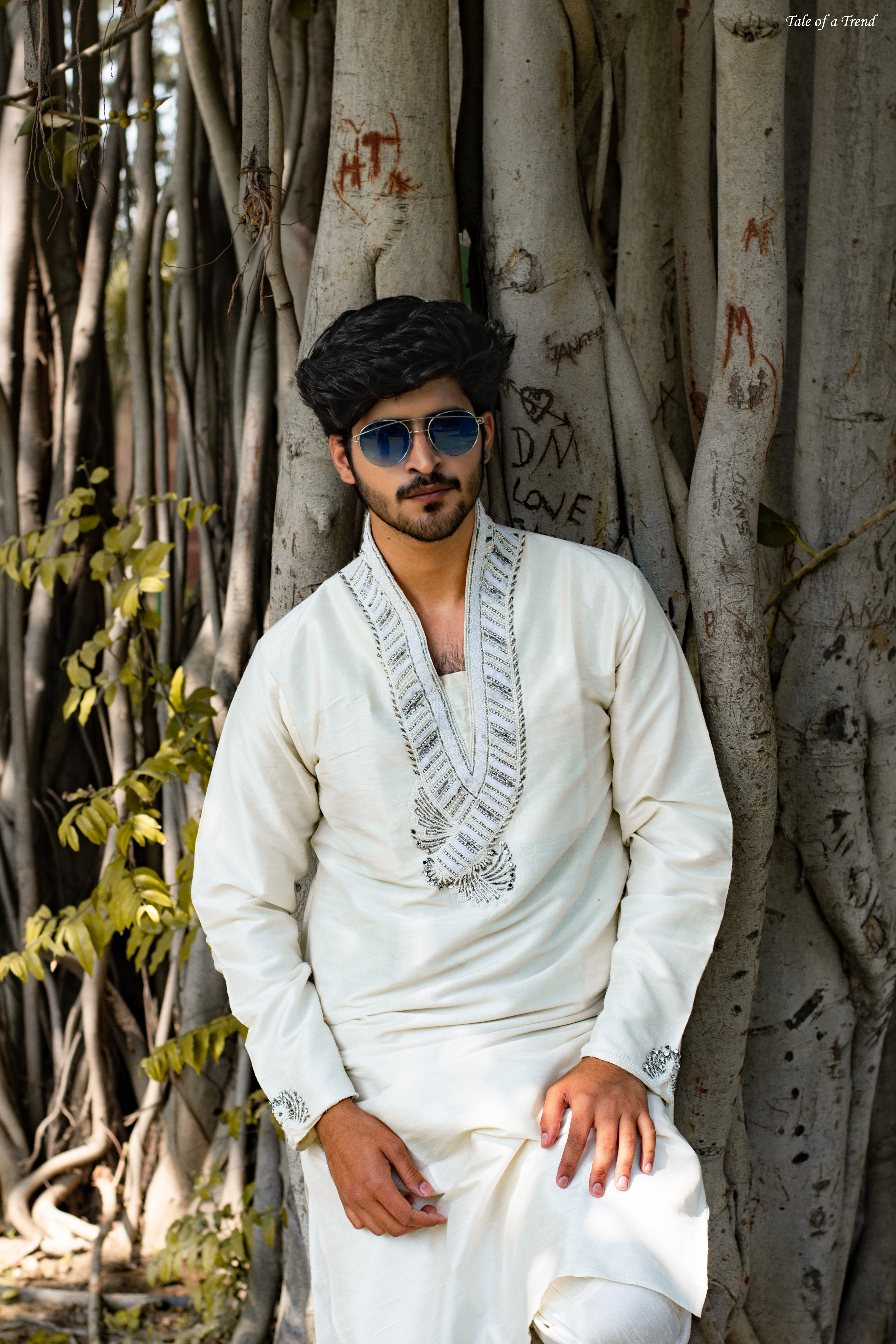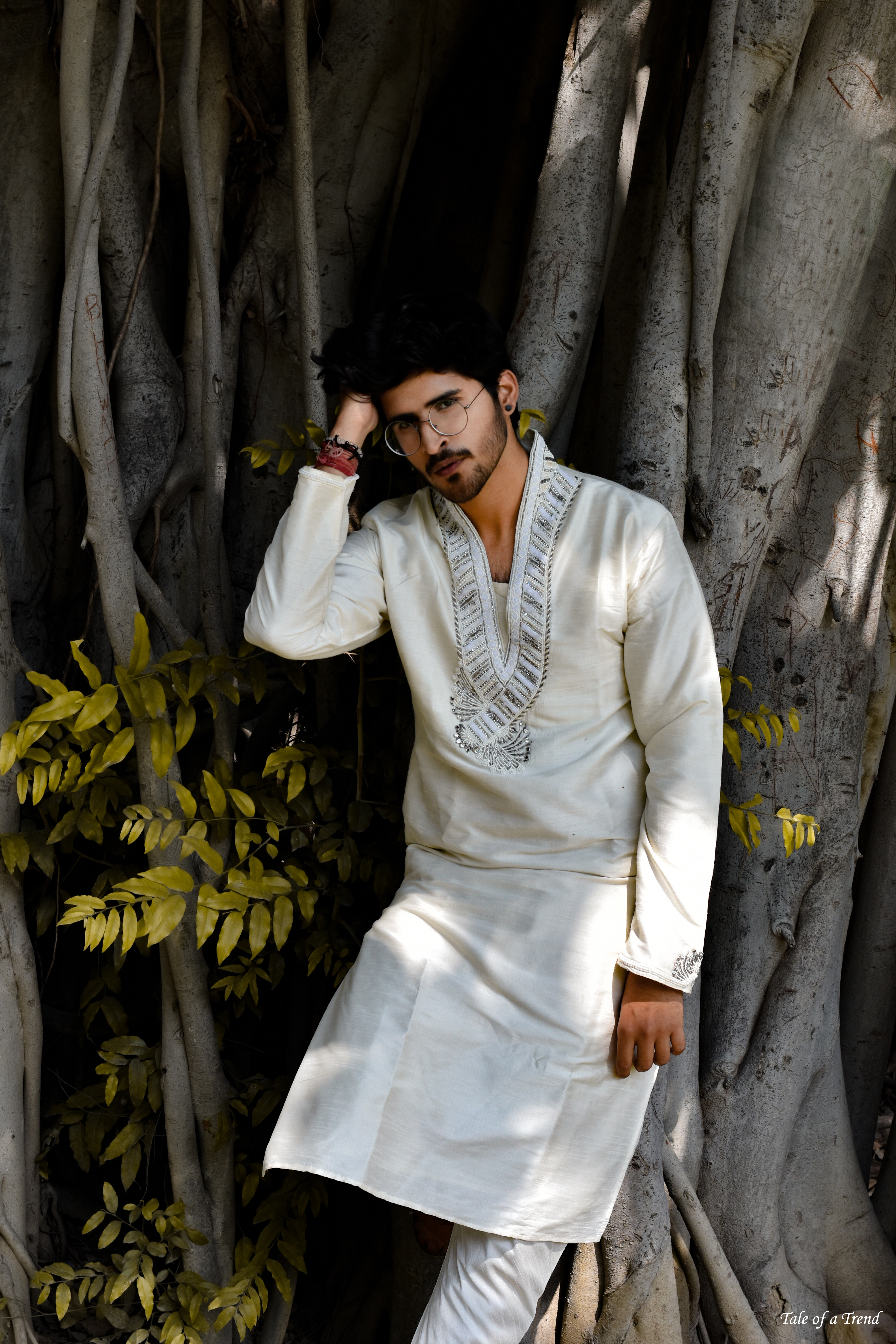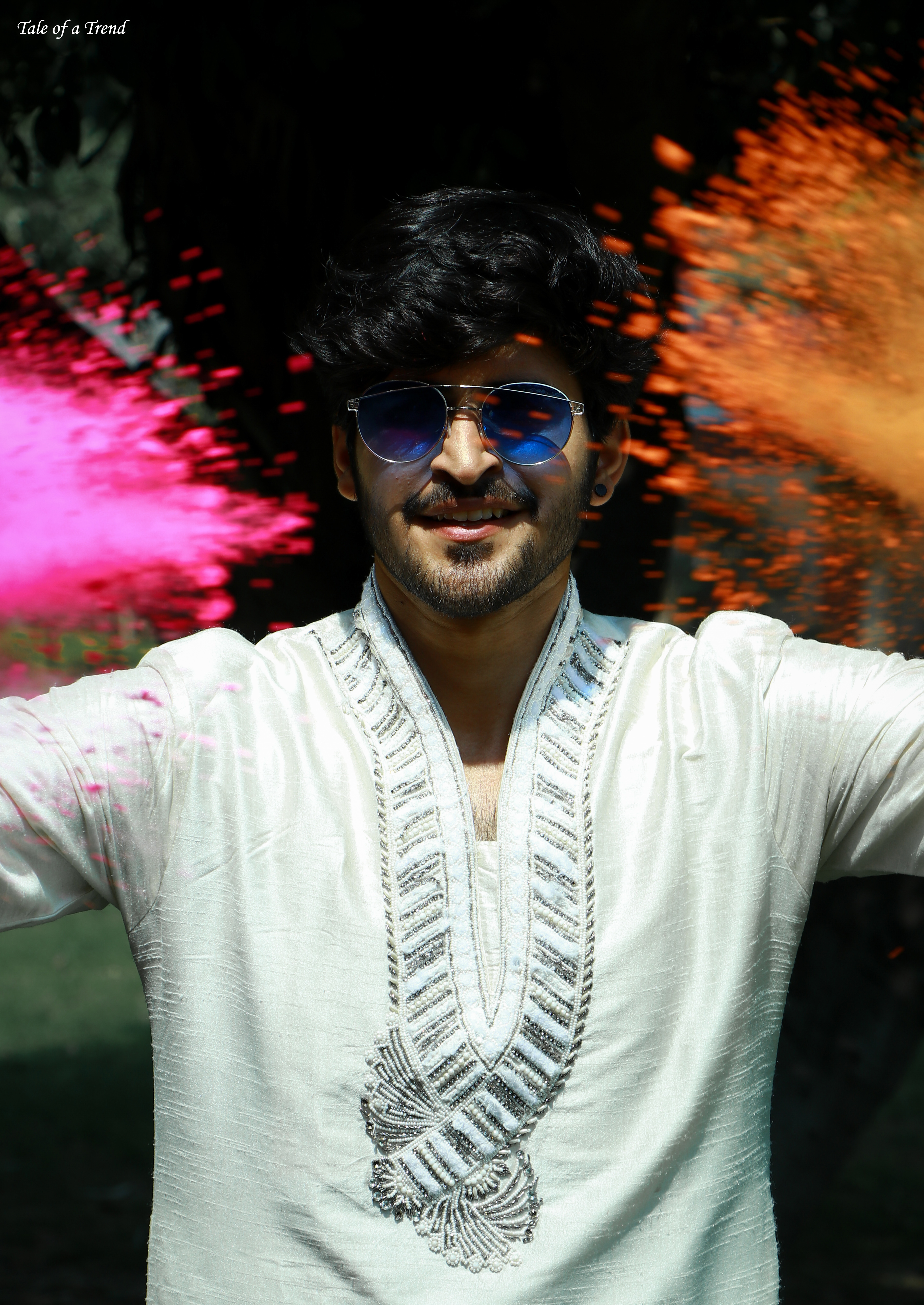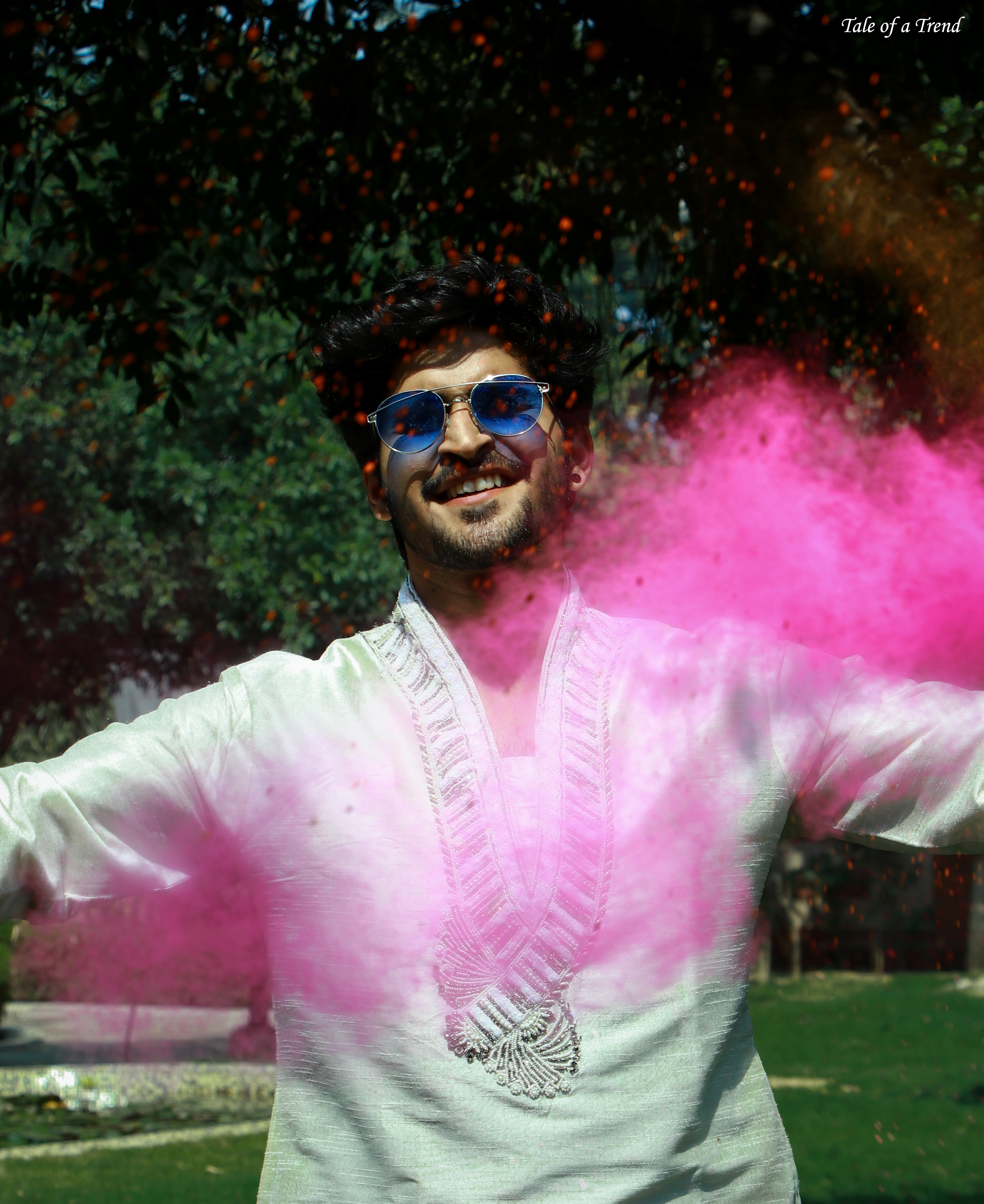 Ujjval Kalkal and Tanmaey Malhotra Photography
2. The Crazy Colours:-Though white is tempting, but if you wish to step out of traditional whites, you can try the vibrant and catchy maroon and greens. Have you heard about comfy- fusion?  Well, you can witness the same in these coloured attires and enjoy your parties in fascinating easy-to-carry around silhouettes.
2.1: The green garden attire:- An off shoulder crop top with a slim skirt in semi-brocade fabric in hues of green is one of the trendiest outfit for Holi-hangout! Bold-gold earrings with pearl drops are further enhancing the look and are absolutely breath-taking. So gals, steal the look and get set go!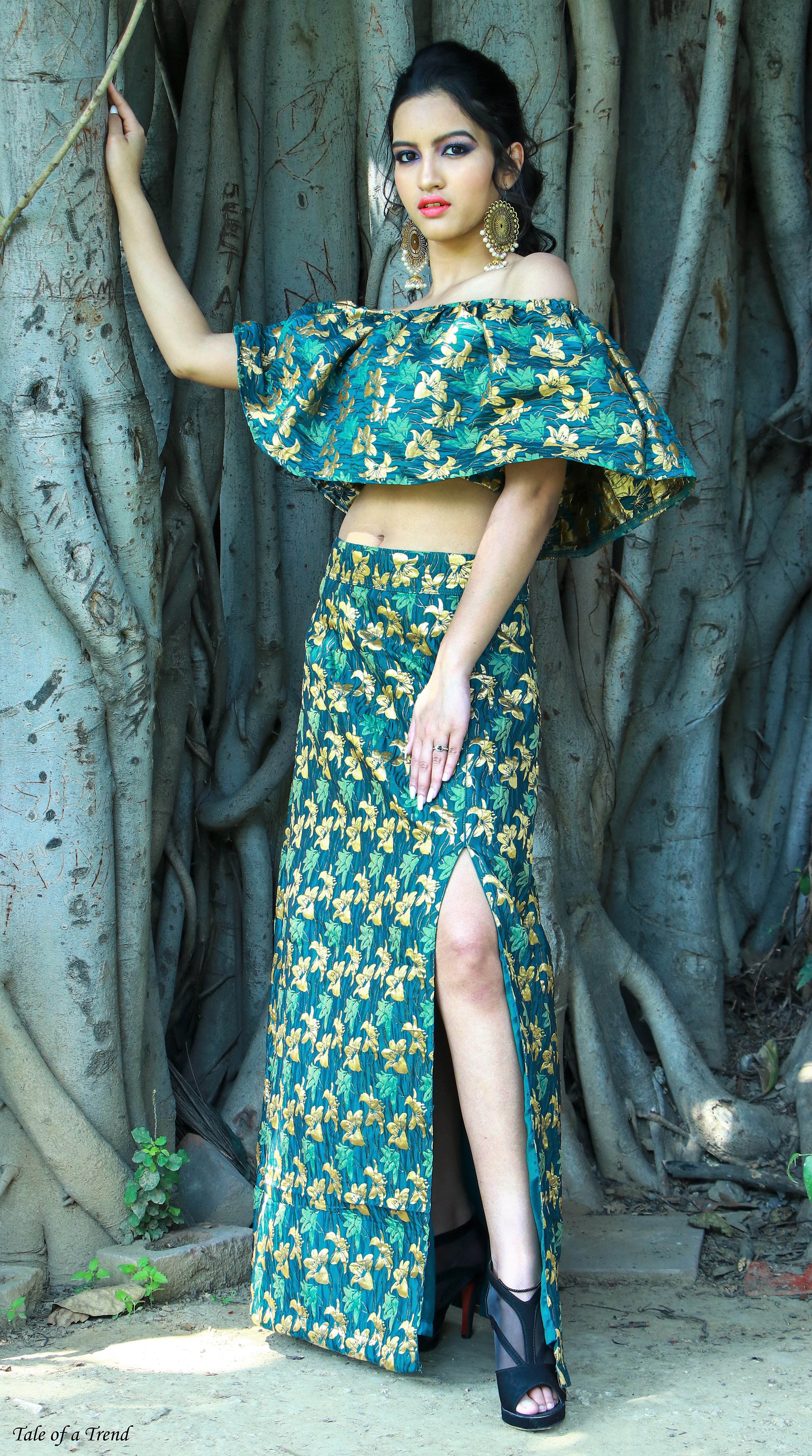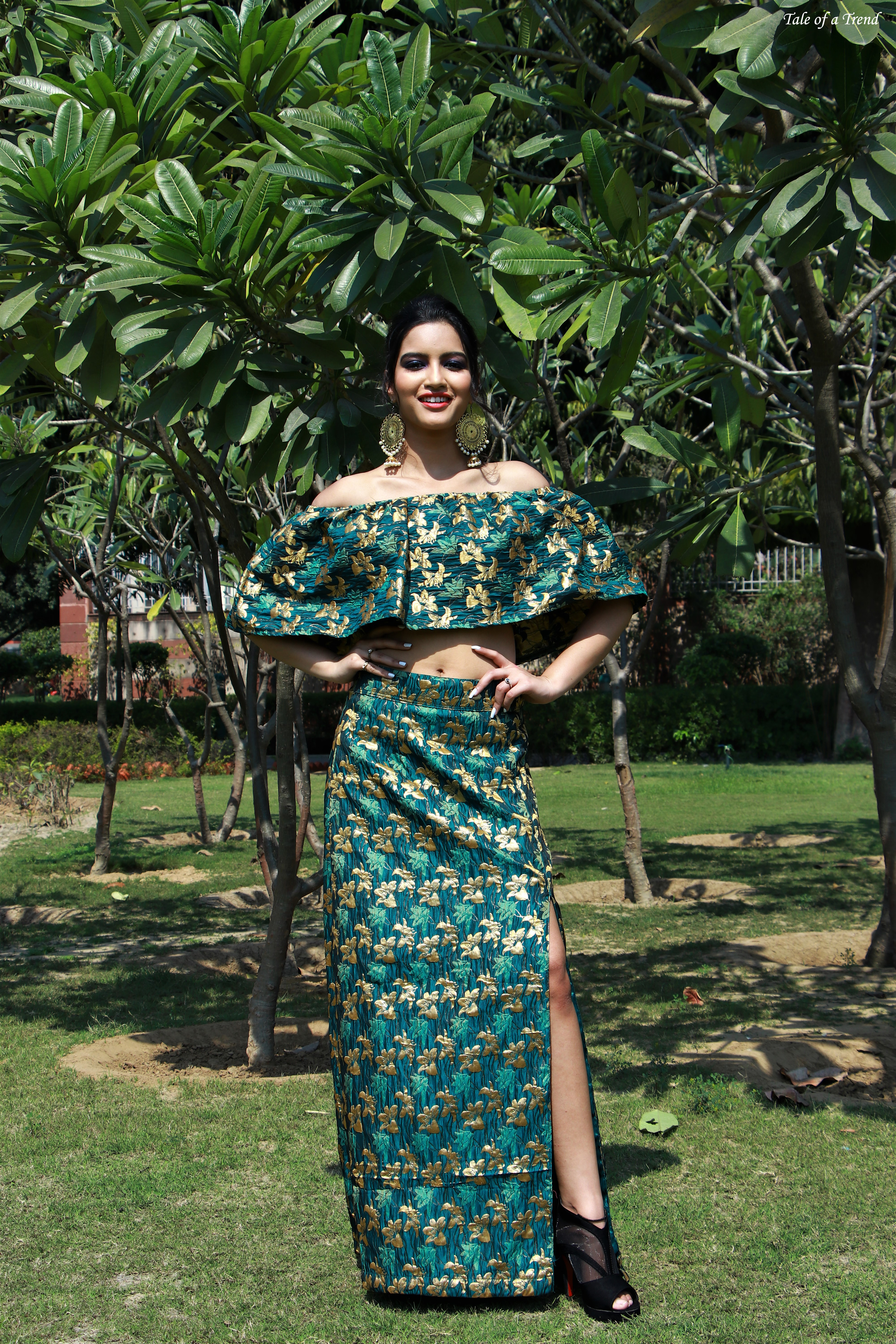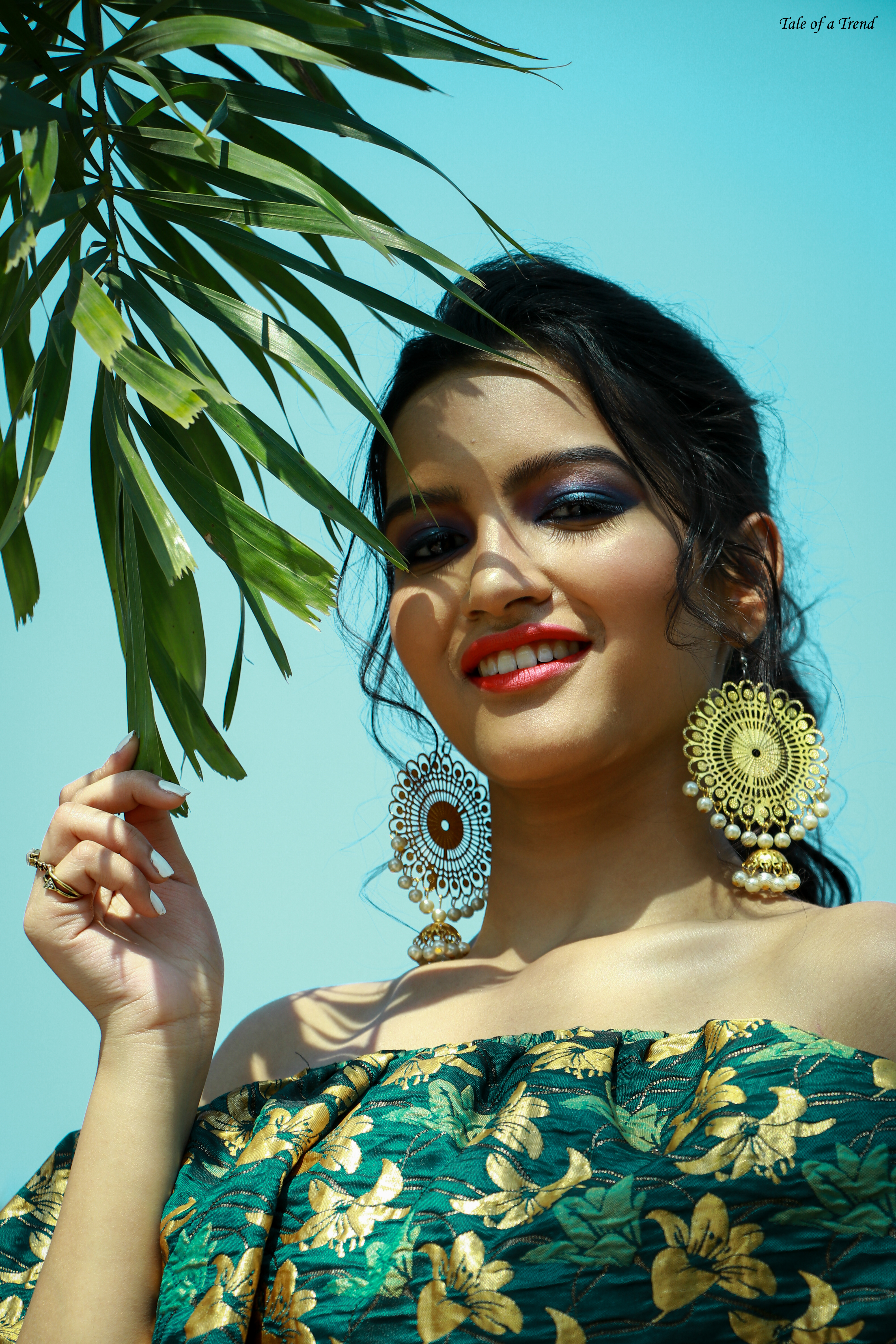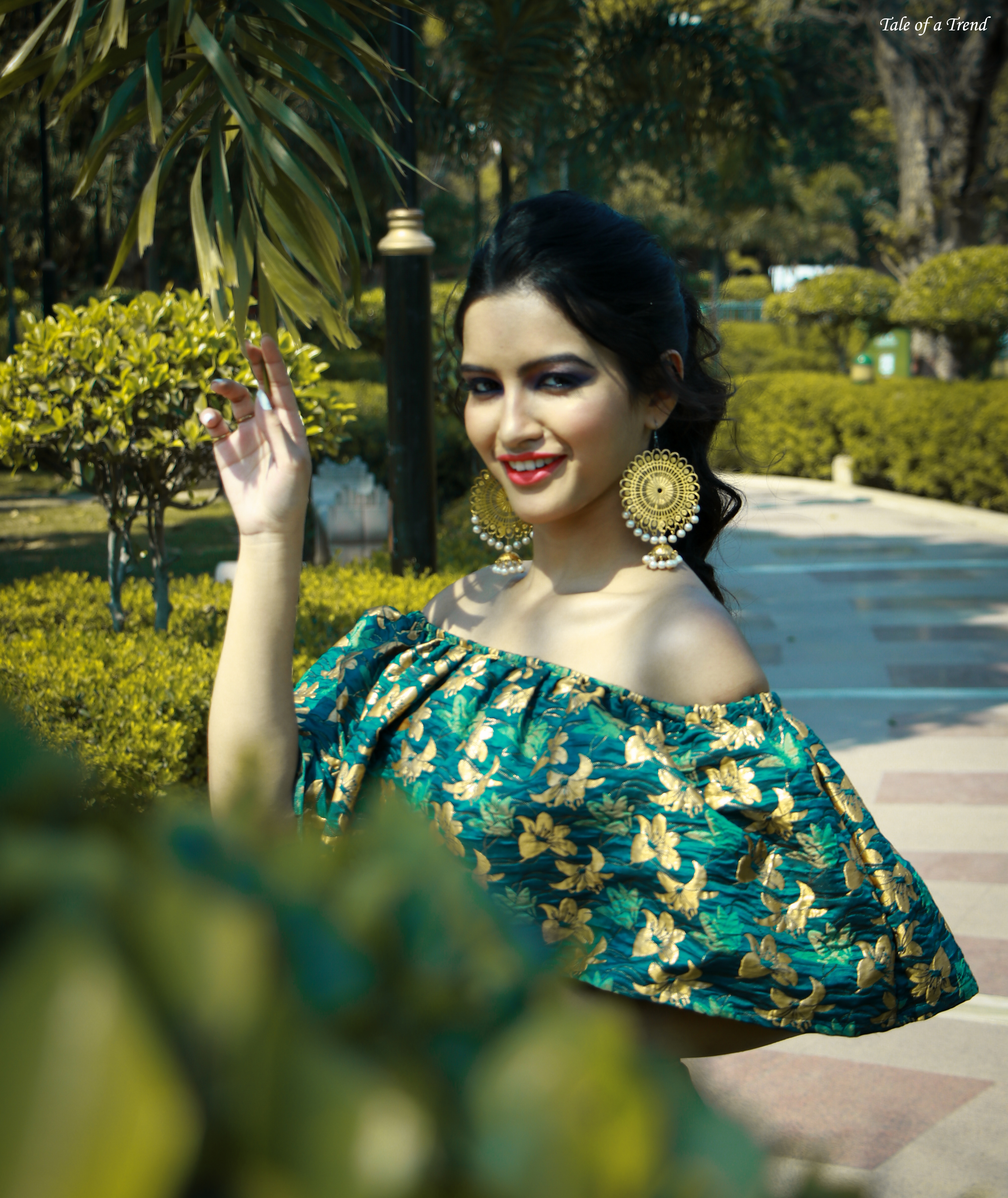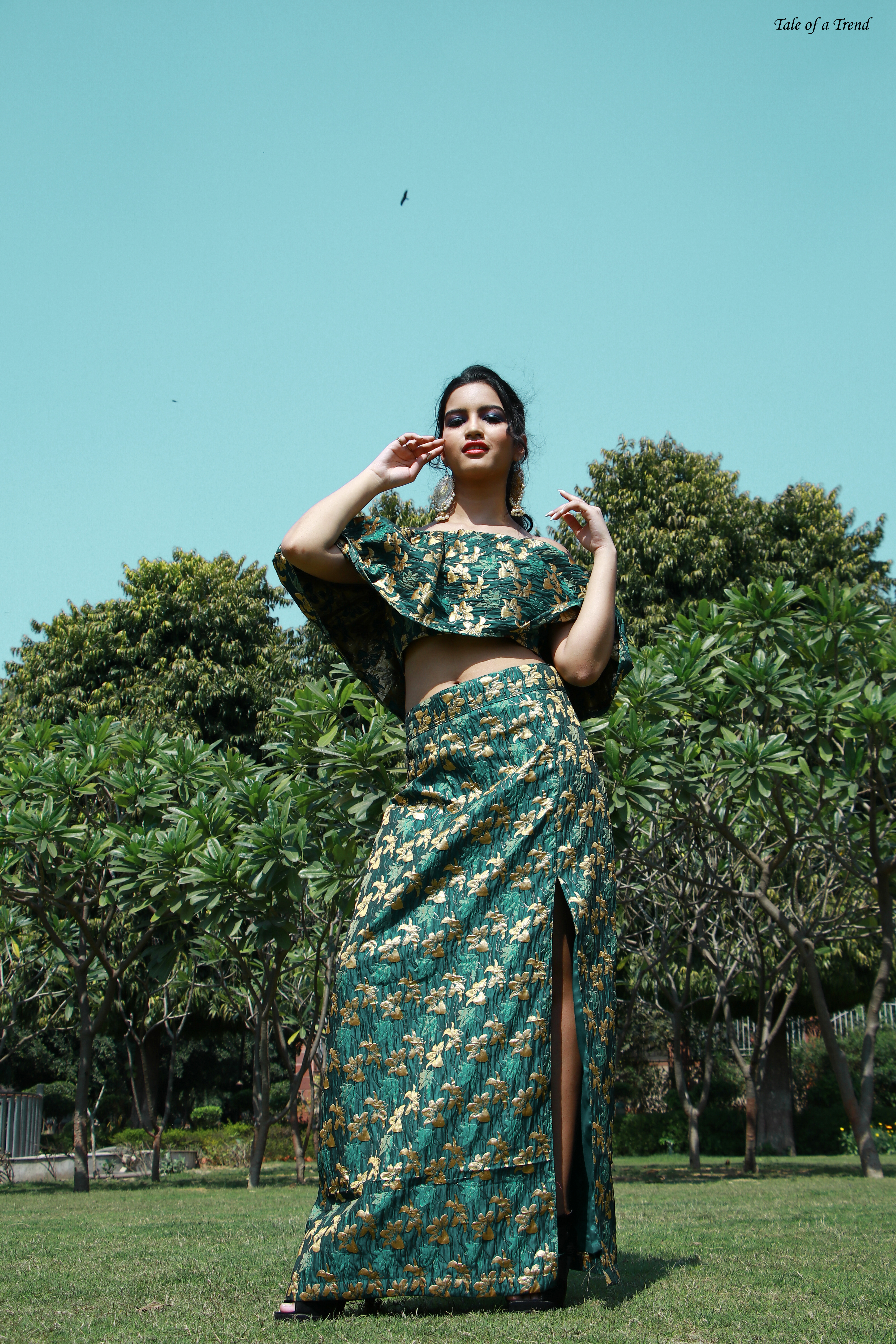 Tanmaey Malhotra Photography
2.2: The matt maroon magic:- A maroon long sleeved crop-top and slim skirt combination with stunning details on net can also be a great pick for this spring festival. Long slits in the sleeves and skirt perfectly complement the overall look. The junk jewellery piece on the forehead is also adding the hi-fashion spark to the attire.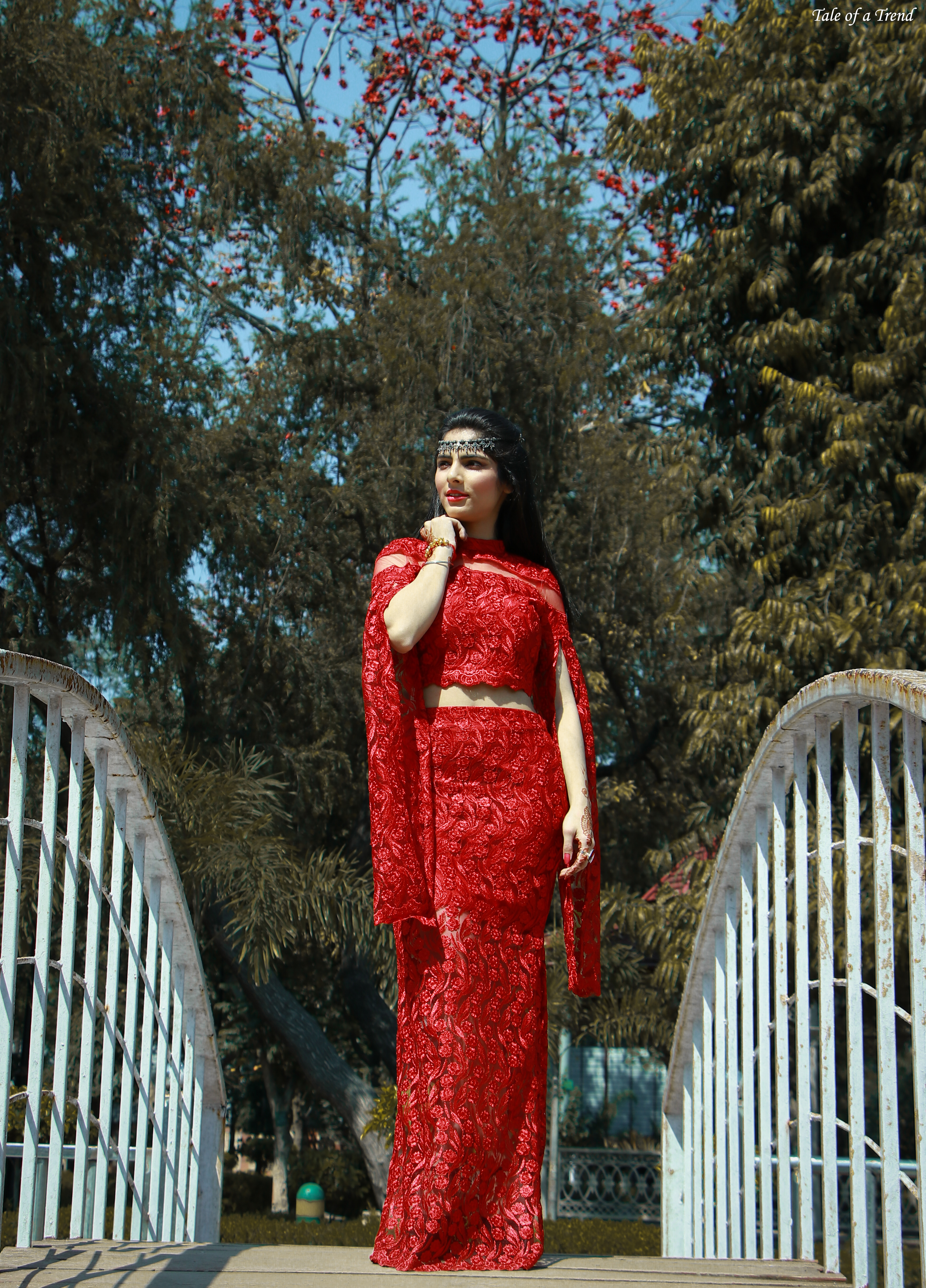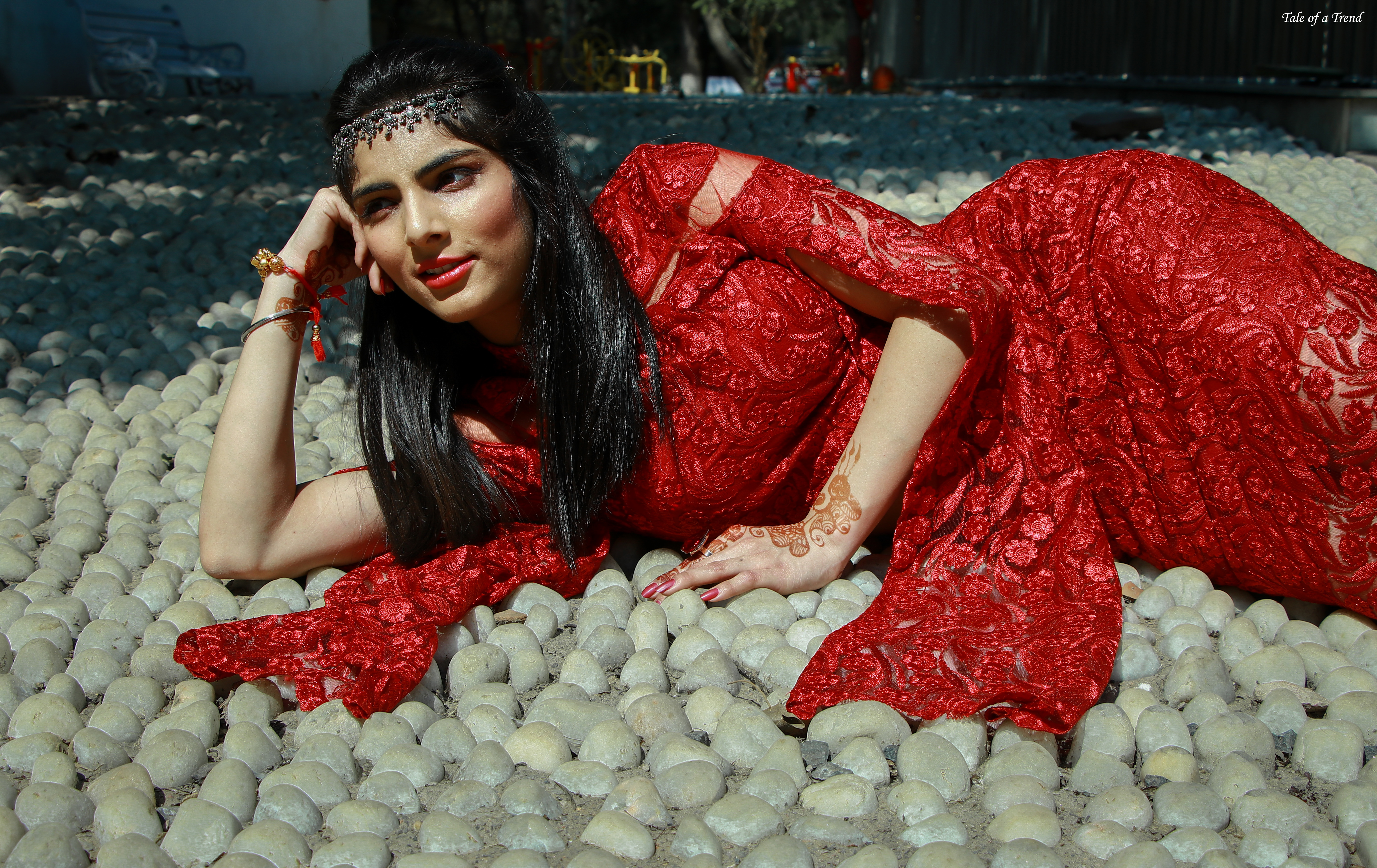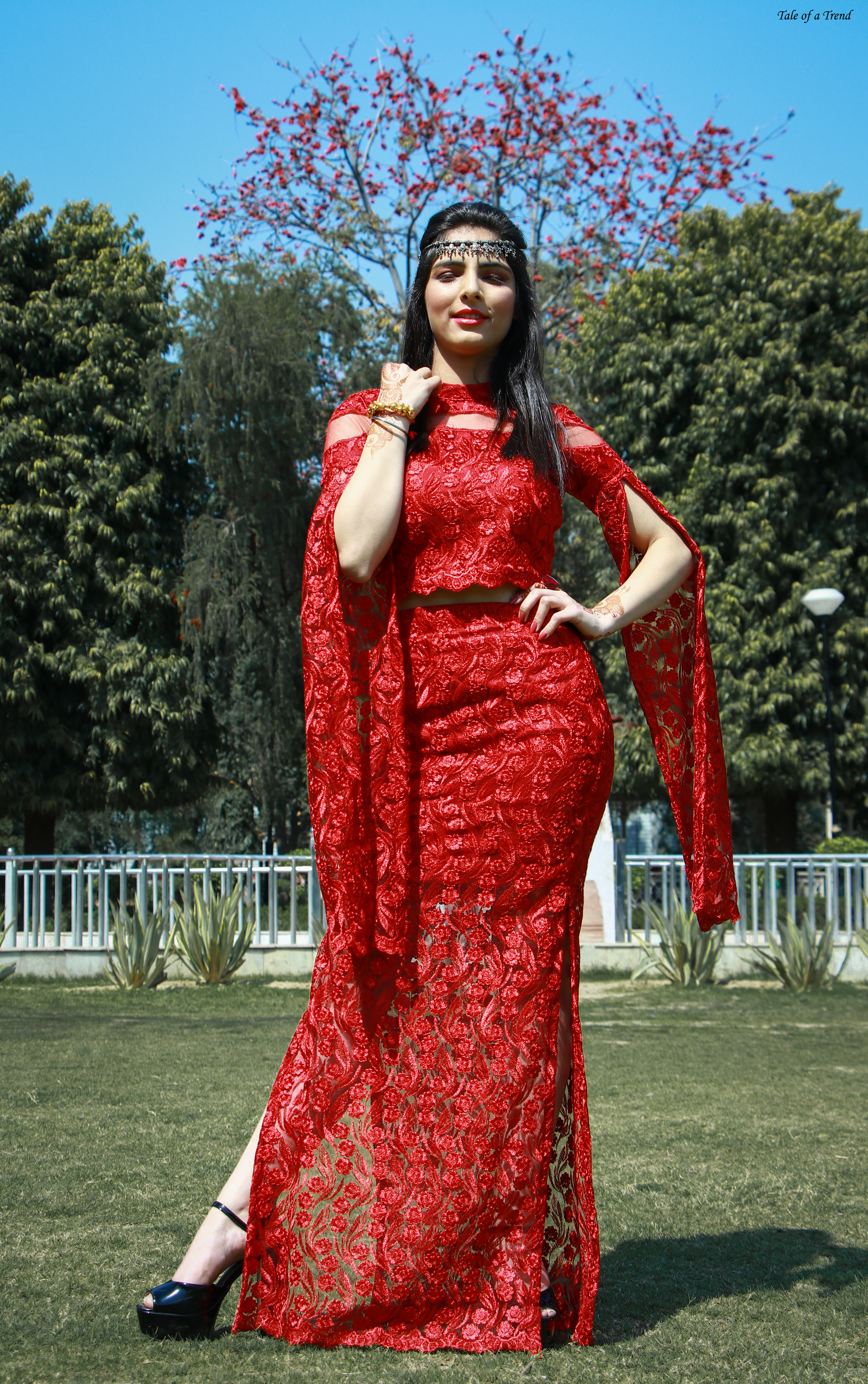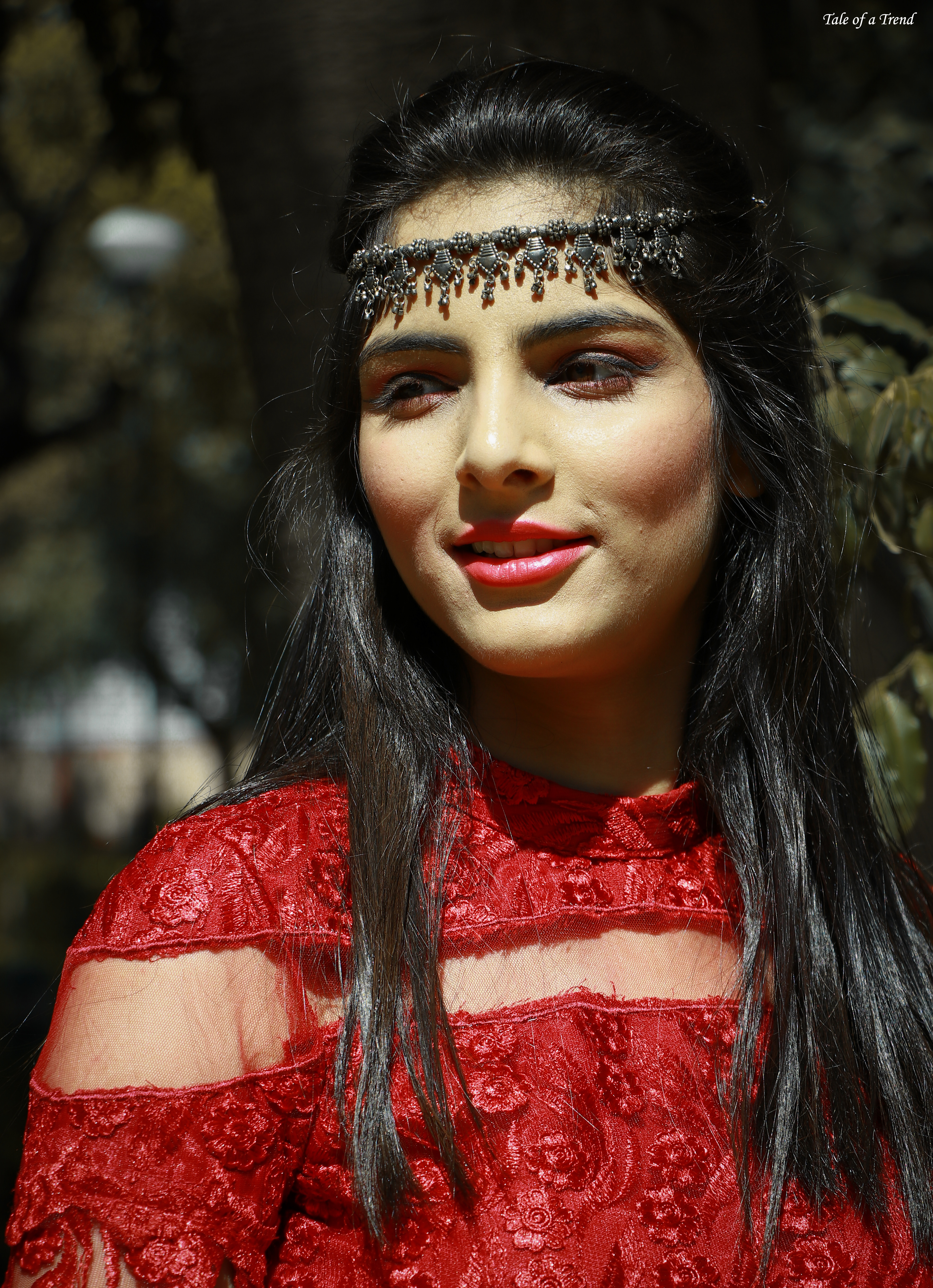 Tanmaey Malhotra Photography
2.3: The asymmetrical aqua:- Do you wish to have your own 'colour-moment' at your neighbour's holi party? Ace the look with aqua green asymmetrical kurta paired with men's' favourite black trousers with denim. A fresh flower accessory along with the same looks refreshing and romantic and makes you stand out in the crowd too!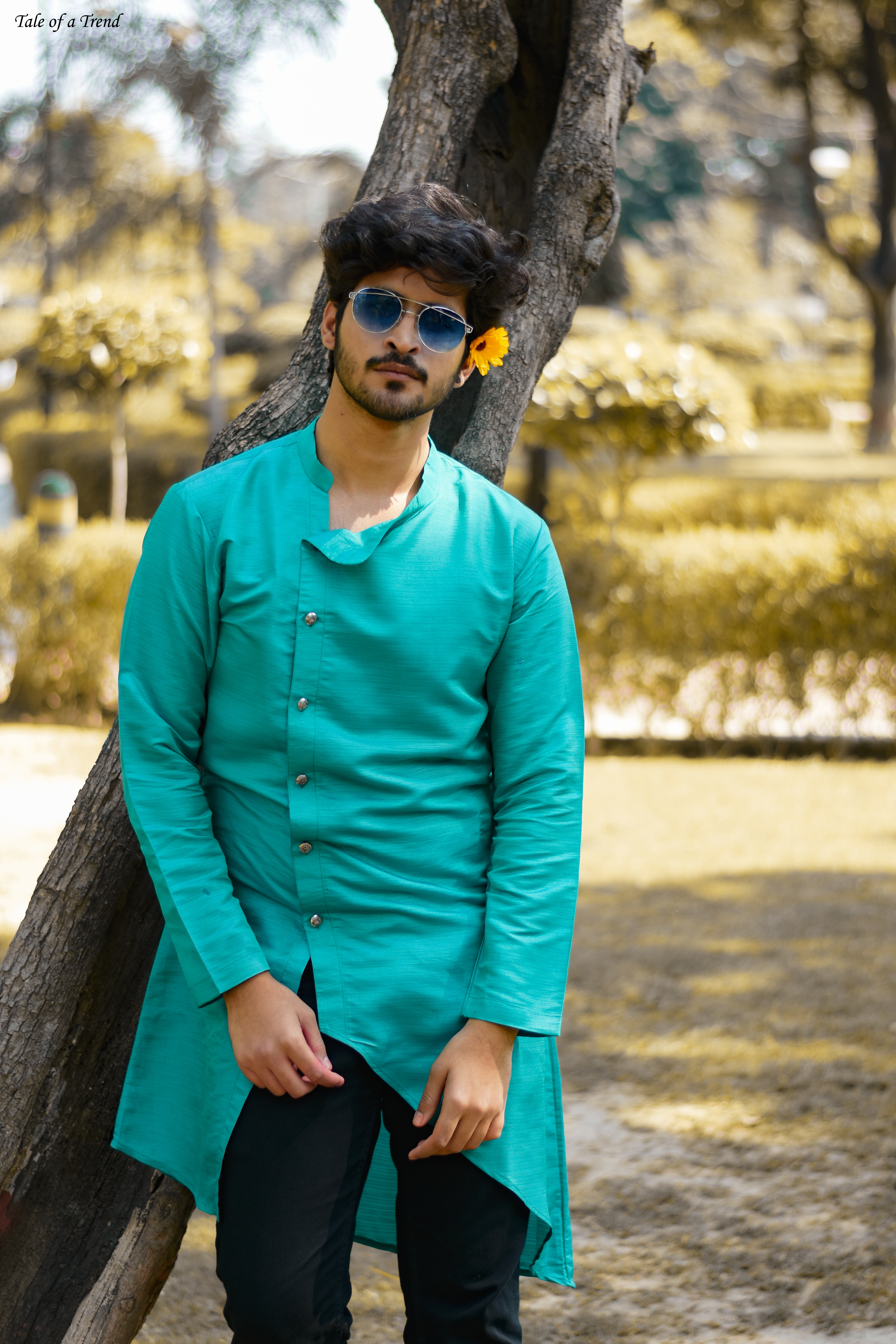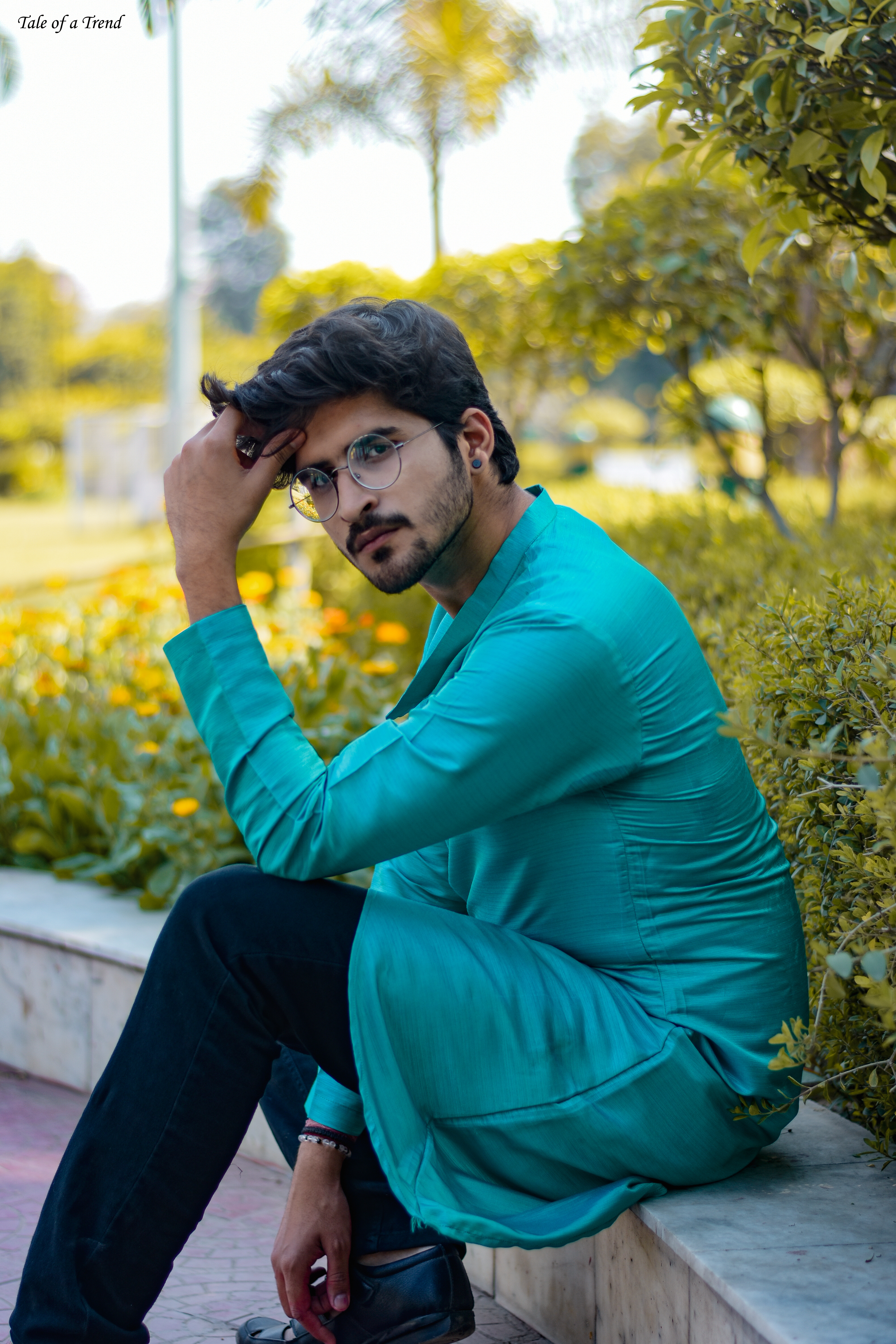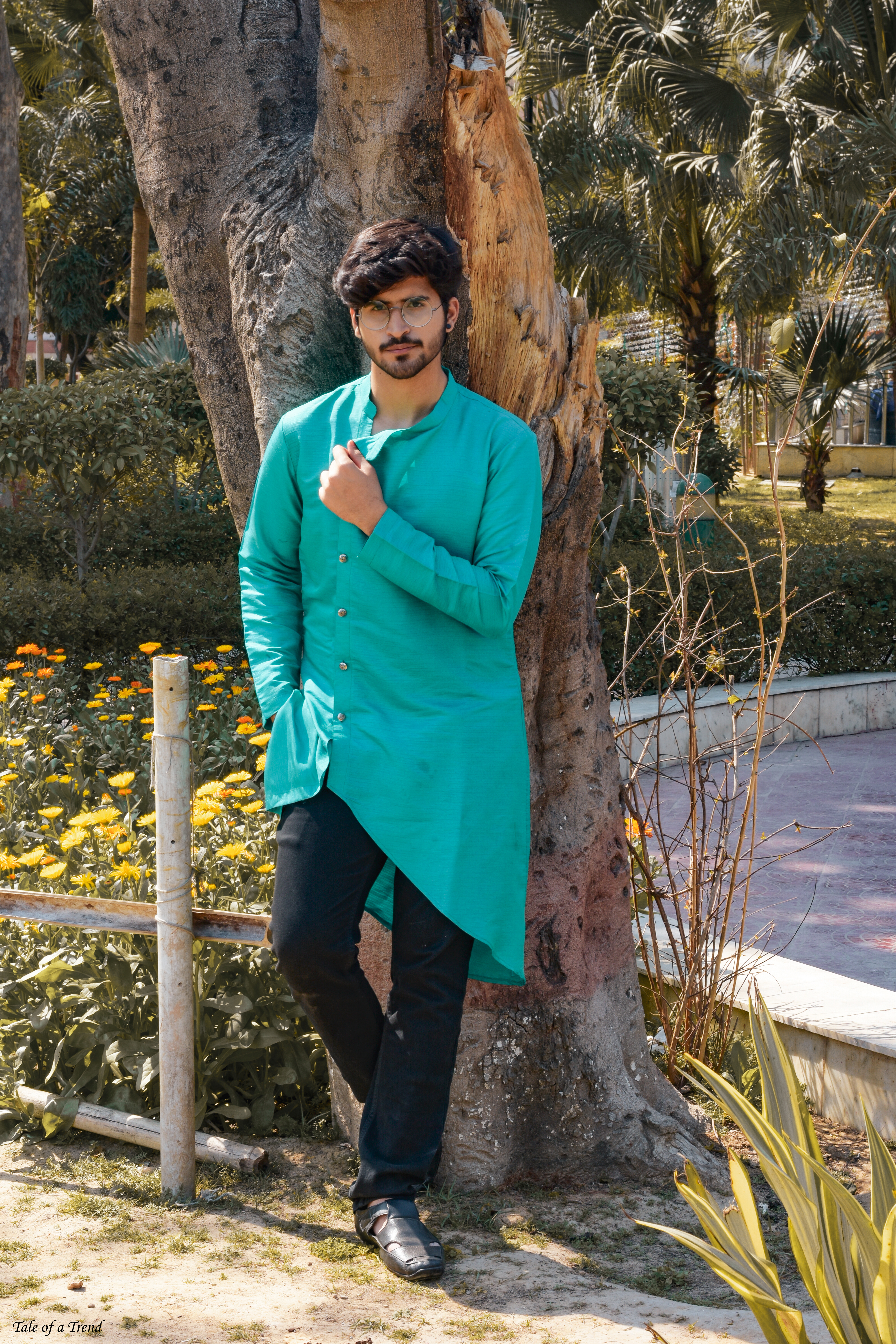 Ujjval Kalkal and Tanmaey Malhotra Photography
2.4:The burgundy brigade :- The little starlet has another colourful lesson for you all from her closet! A ruffled burgundy top tucked in short flared pink skirt is also a fool proof look for the festival. The cool eyewear, floral maang tika and long boots will surely grab the eyeballs in the crowd.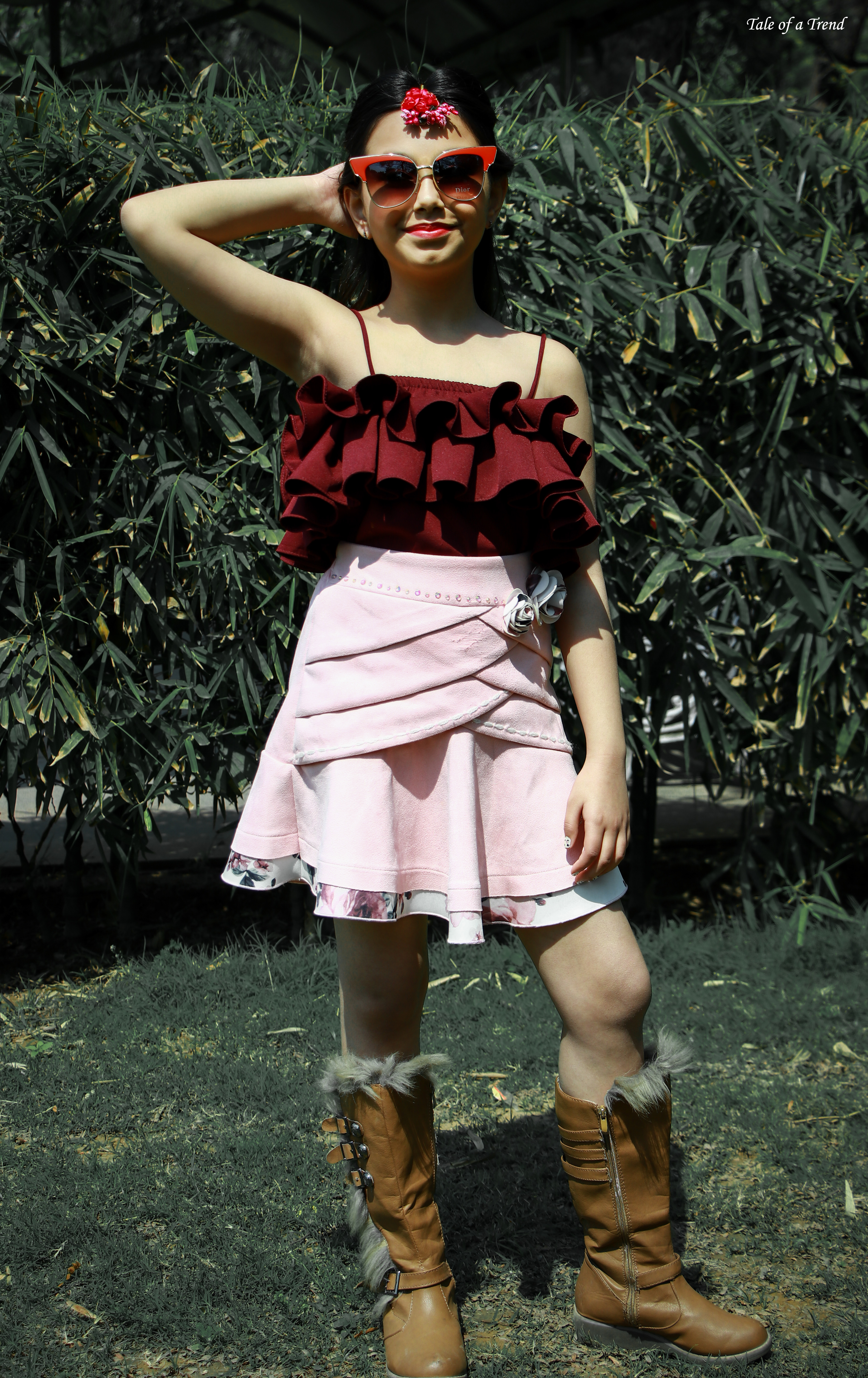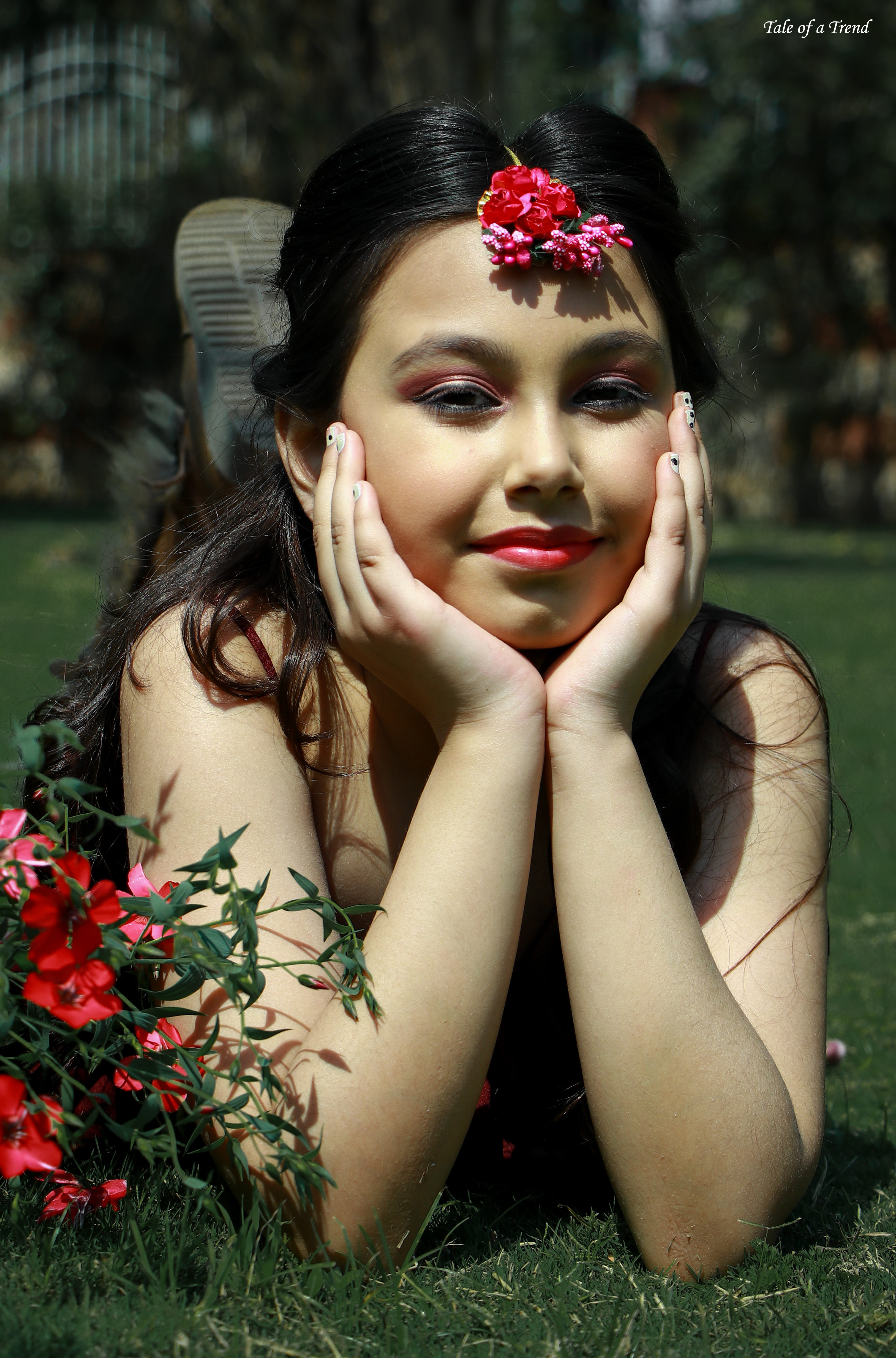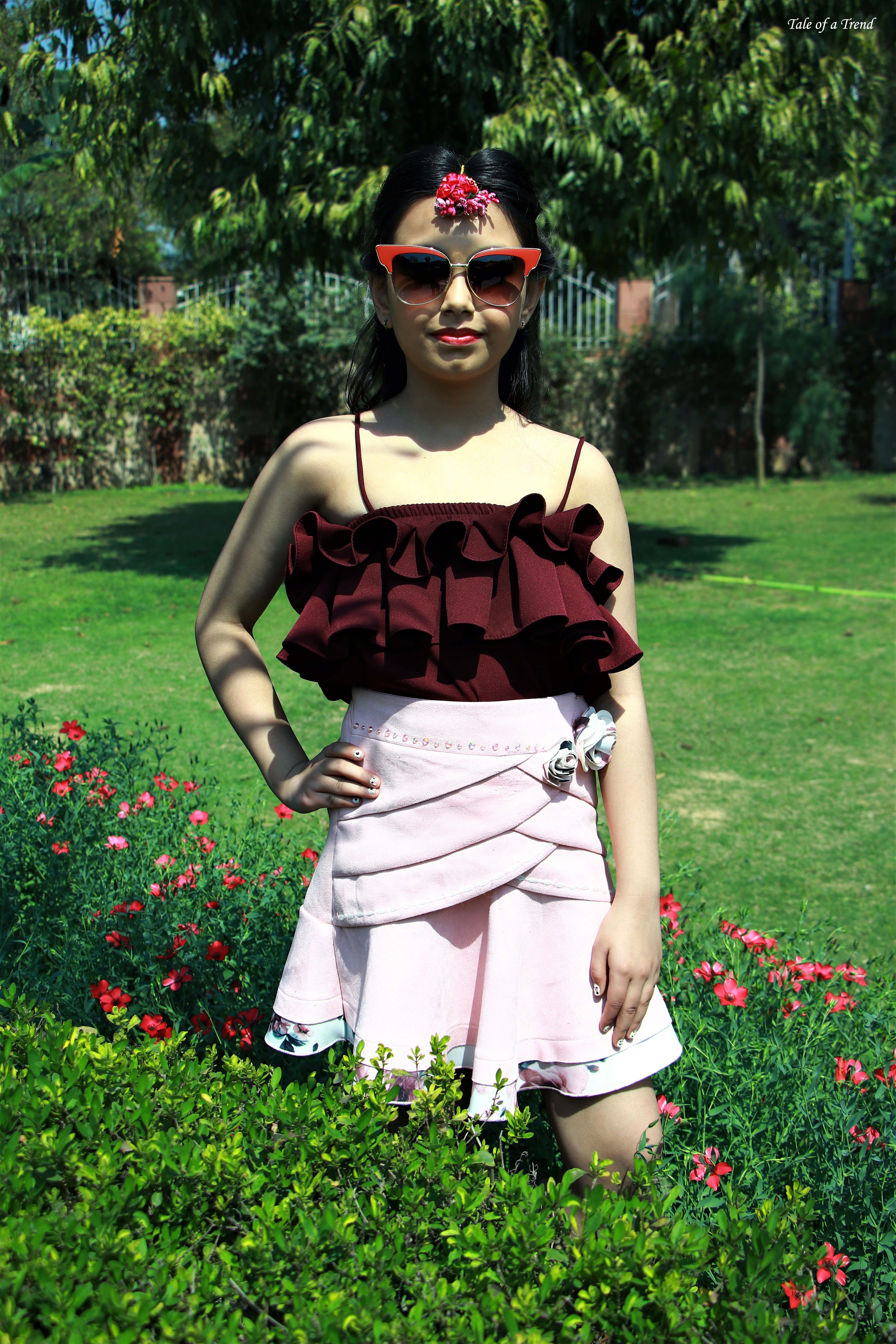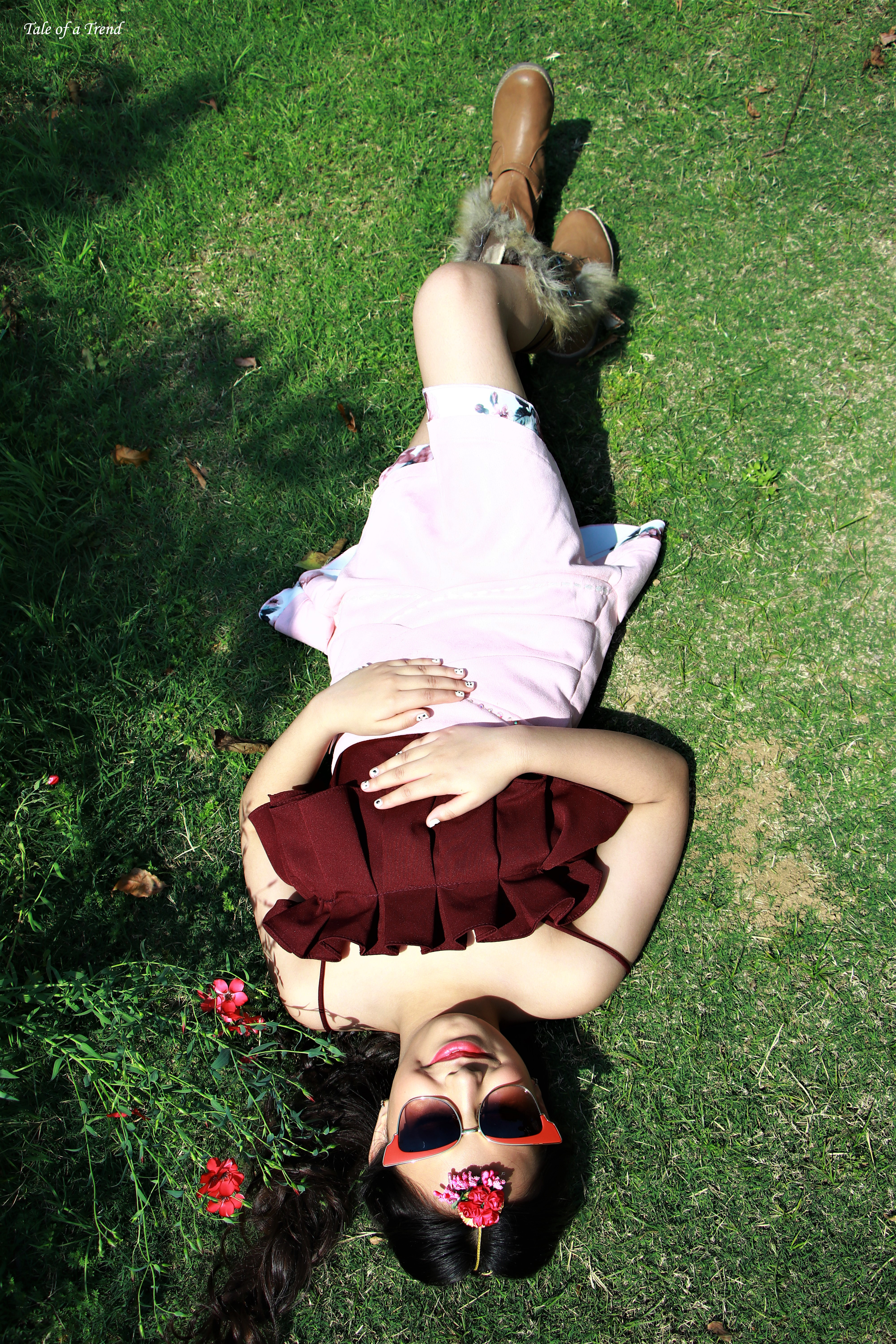 Tanmaey Malhotra Photography
2.5:- The serene-n-sensuous green:- Another sophisticated yet stylish ensemble could be a plain off shoulder short one piece. To glam up this festival of joy, you can pair it with oxidised gold neck piece.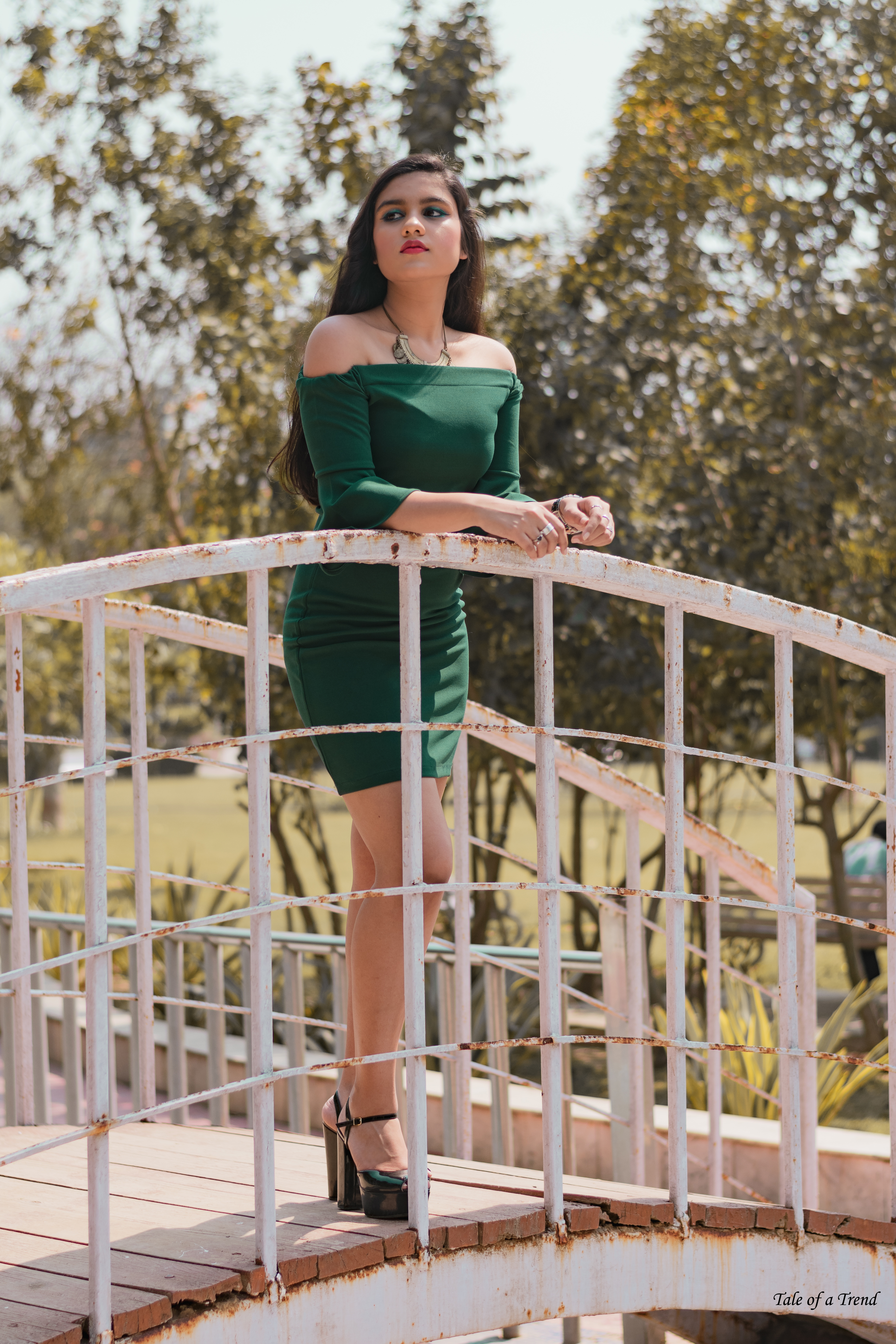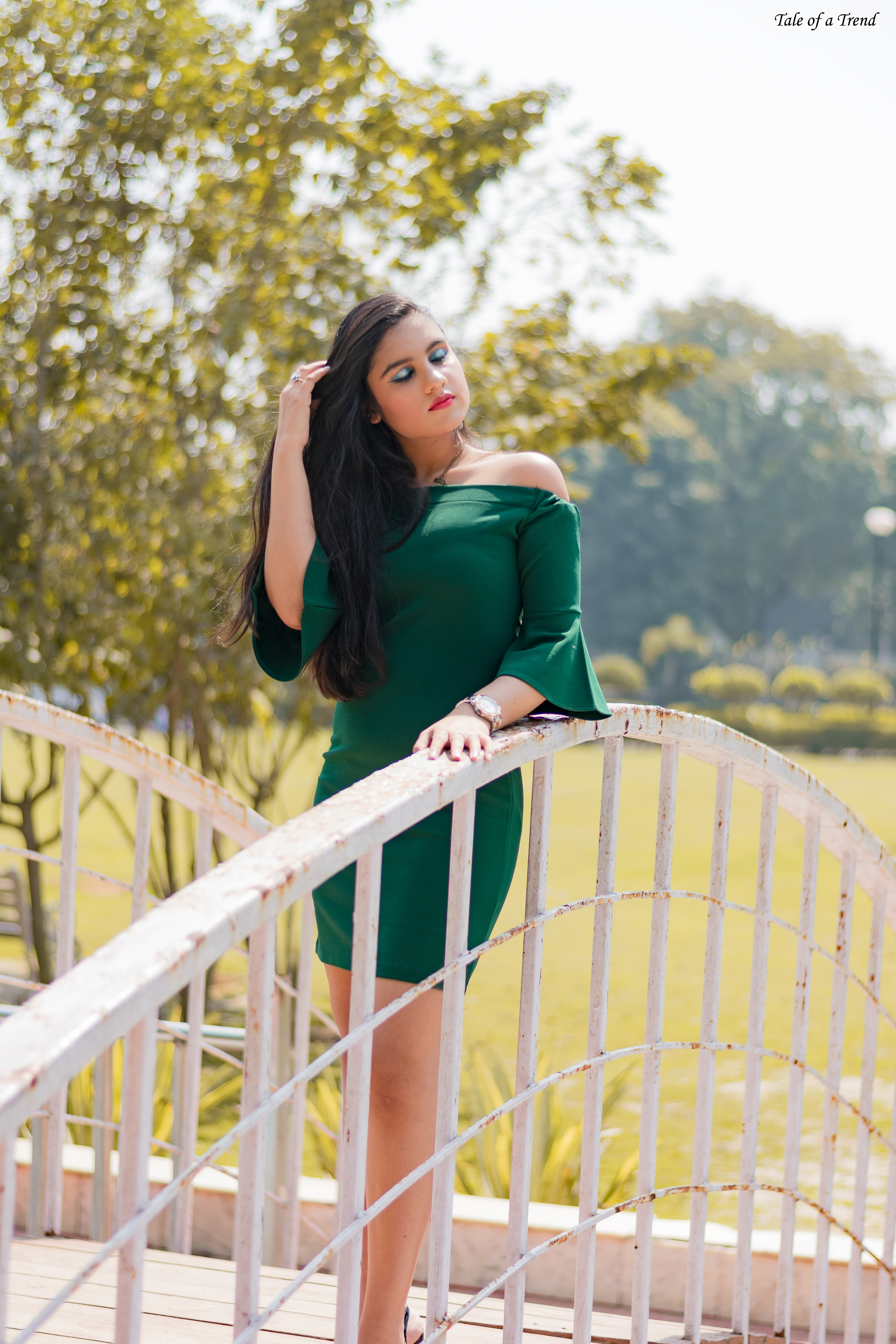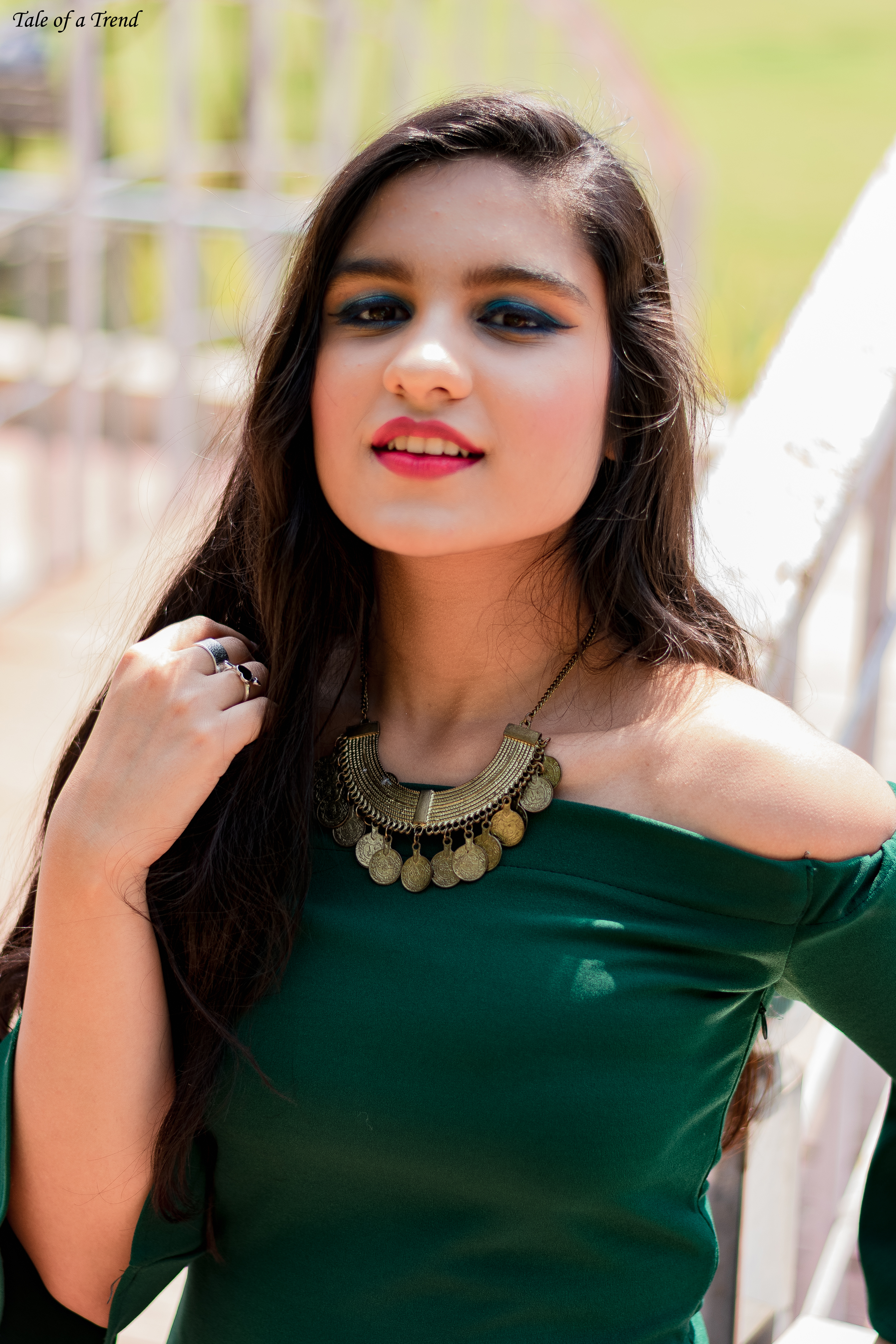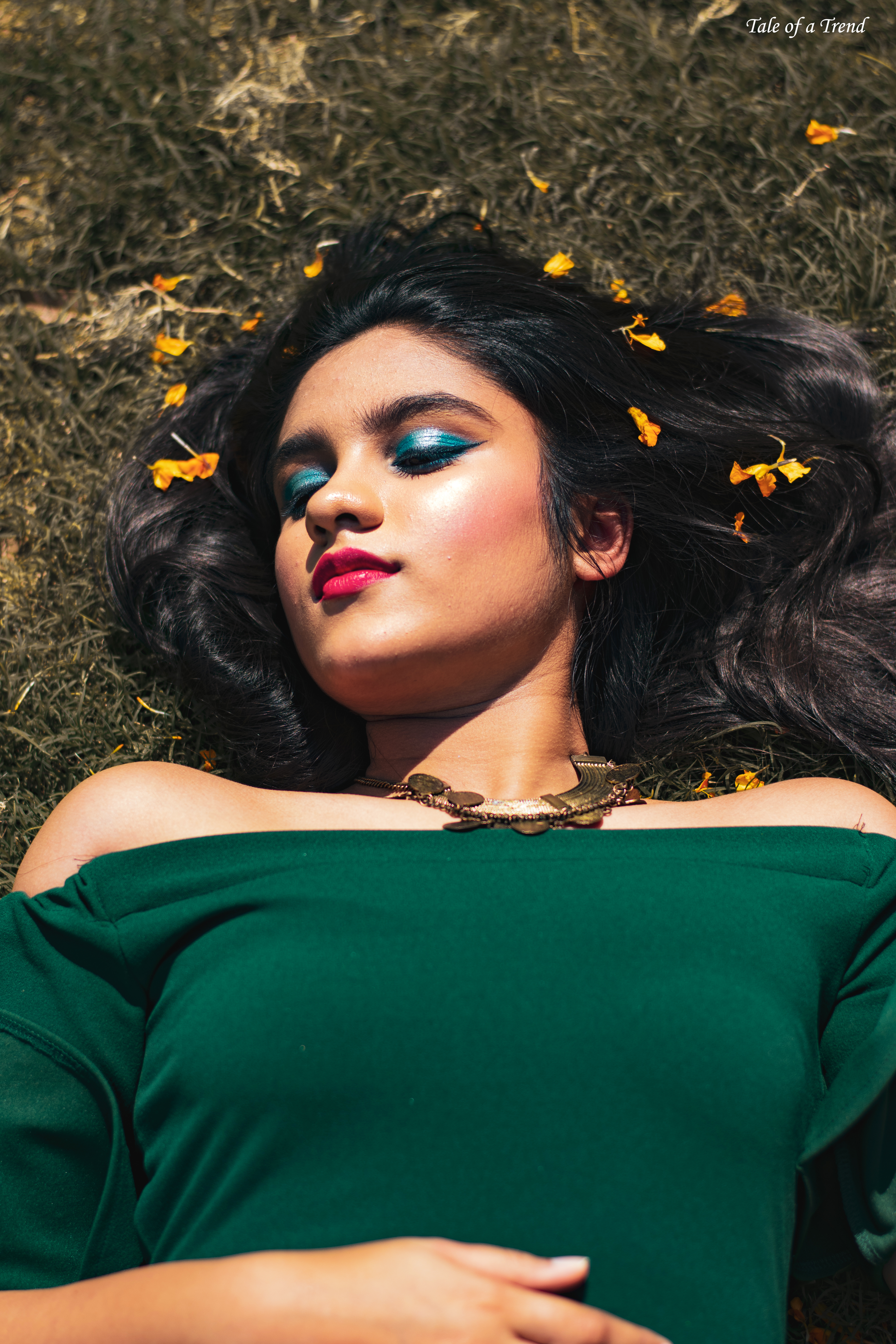 Ujjval Kalkal Photography
3. White is my love and colours are my favourite:- Well, if you also want to sail in two boats at a single time, try our fusion look-book which showcases union of eternal white and cheerful colours. Scroll a bit to get a glimpse!
3.1: Dress and Dupatta combination: Try teaming up a white flared short one piece dress with multi-hued dupatta and accessories to rock the 'holi-runway'. Have you thought that these wardrobe staples can create such super-stylish indo-western combinations?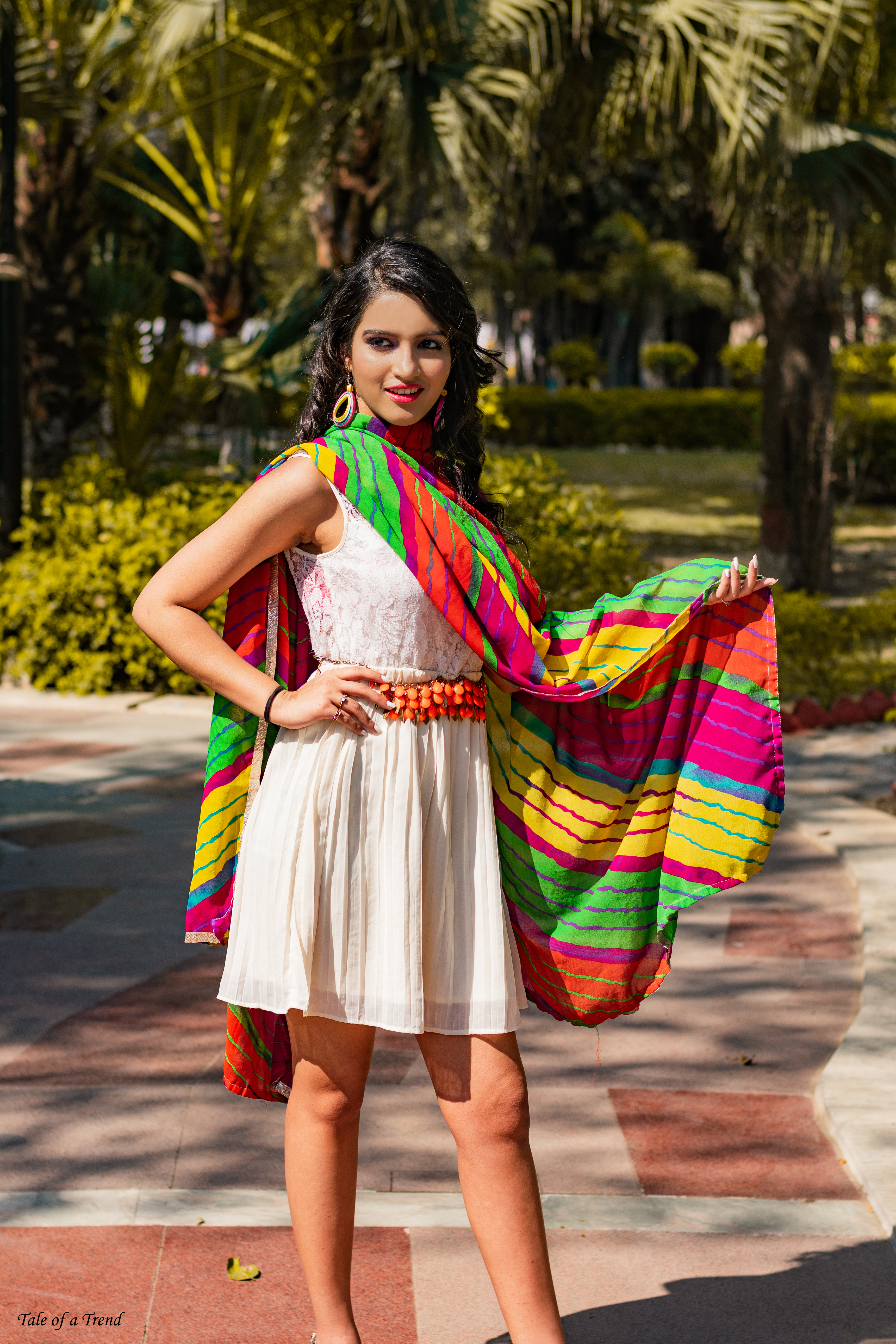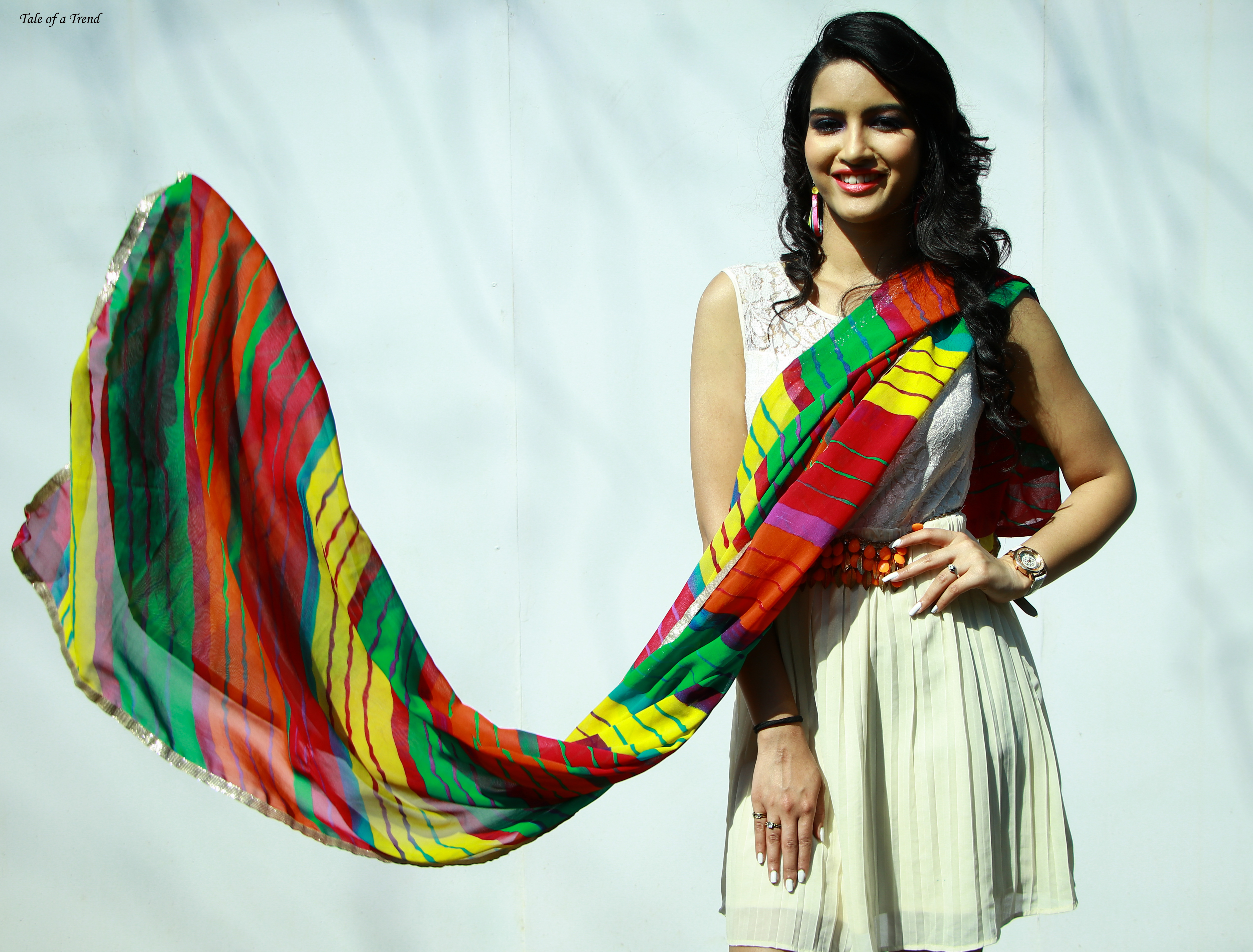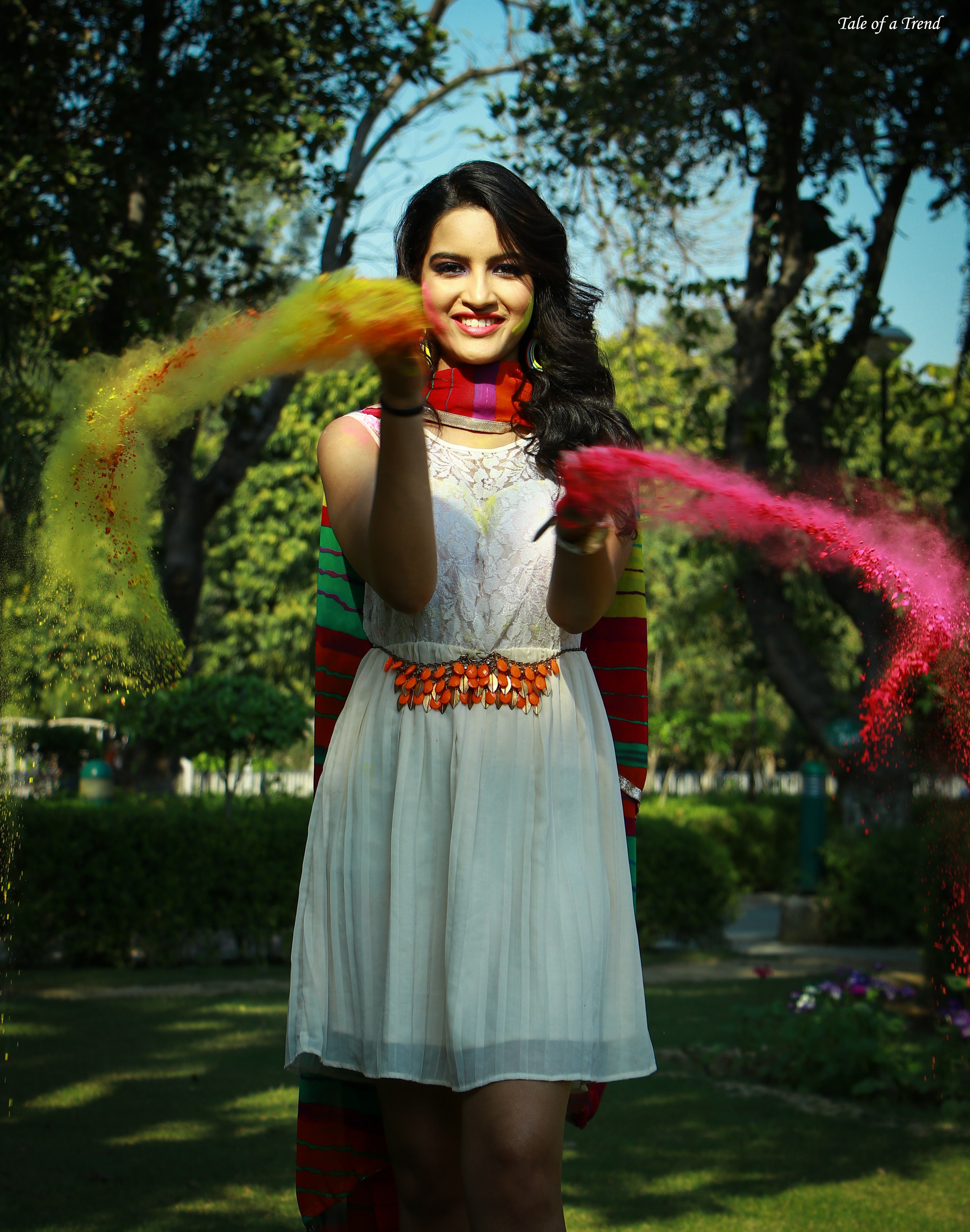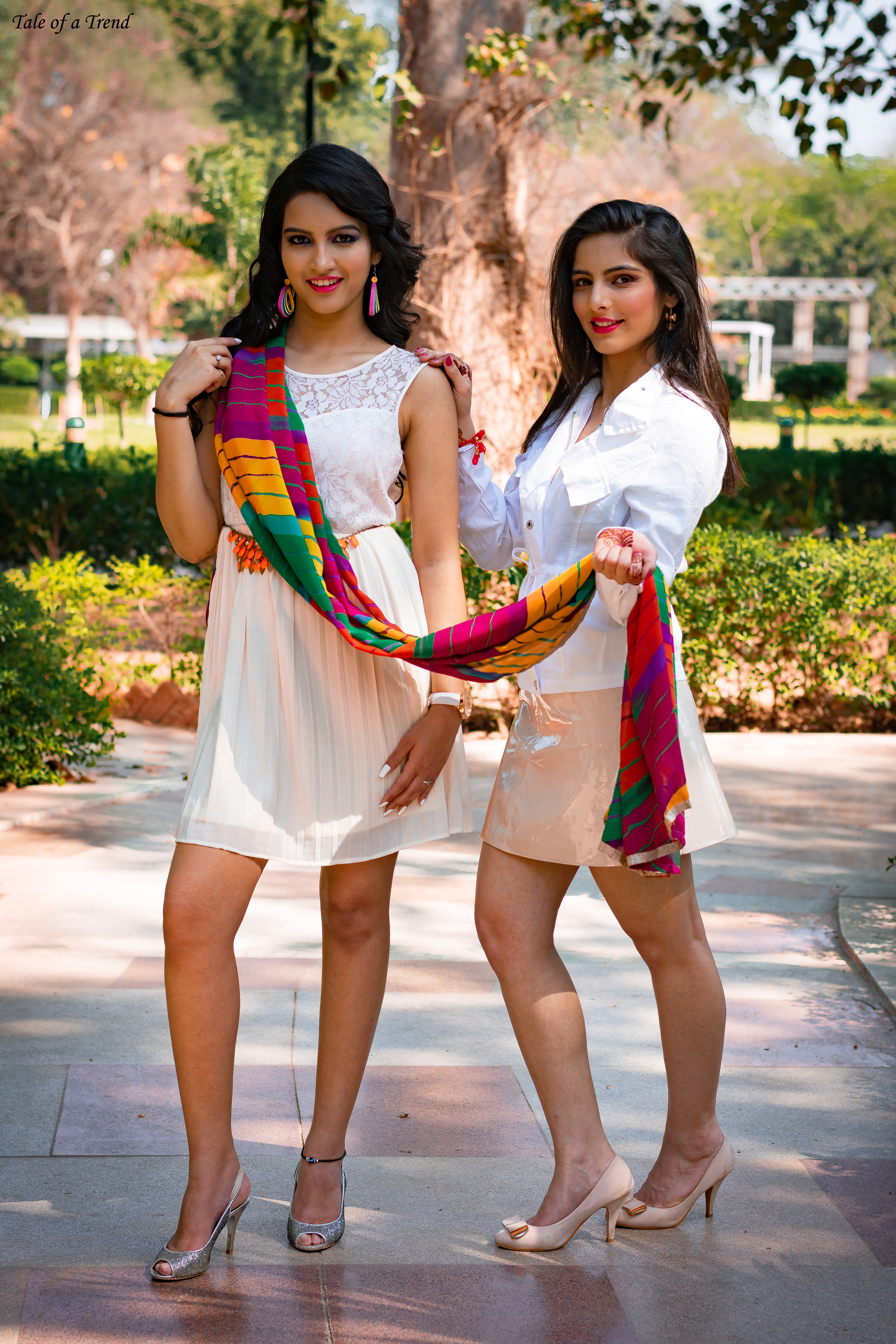 Ujjval Kalkal and Tanmaey Malhotra Photography
3.2: Jacket and skirt combo: You can have a super chic and comfy look by teaming a white jacket with a pastel hued short slim skirt. For the love colours, grab a red floral necklace and flaunt it under the jacket.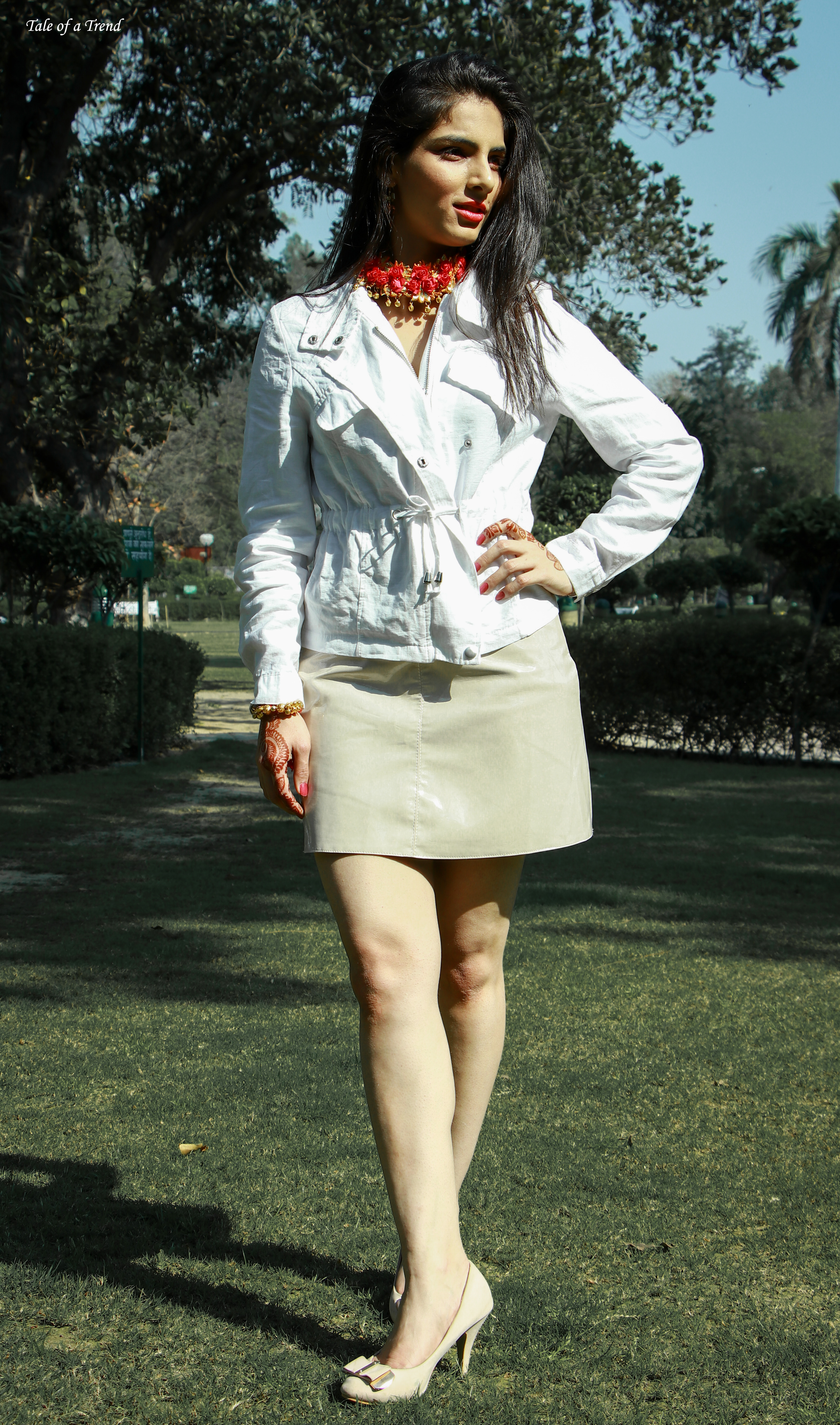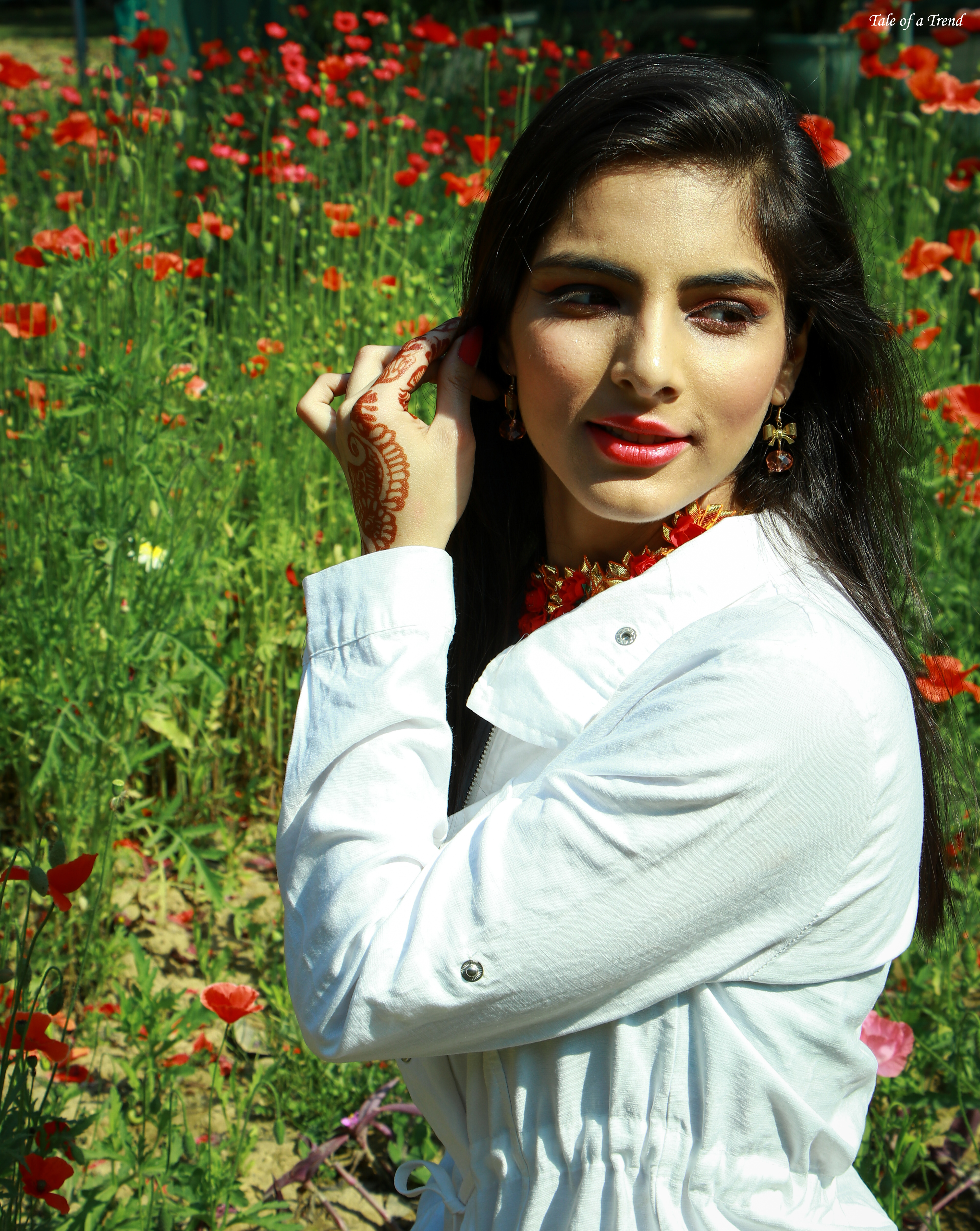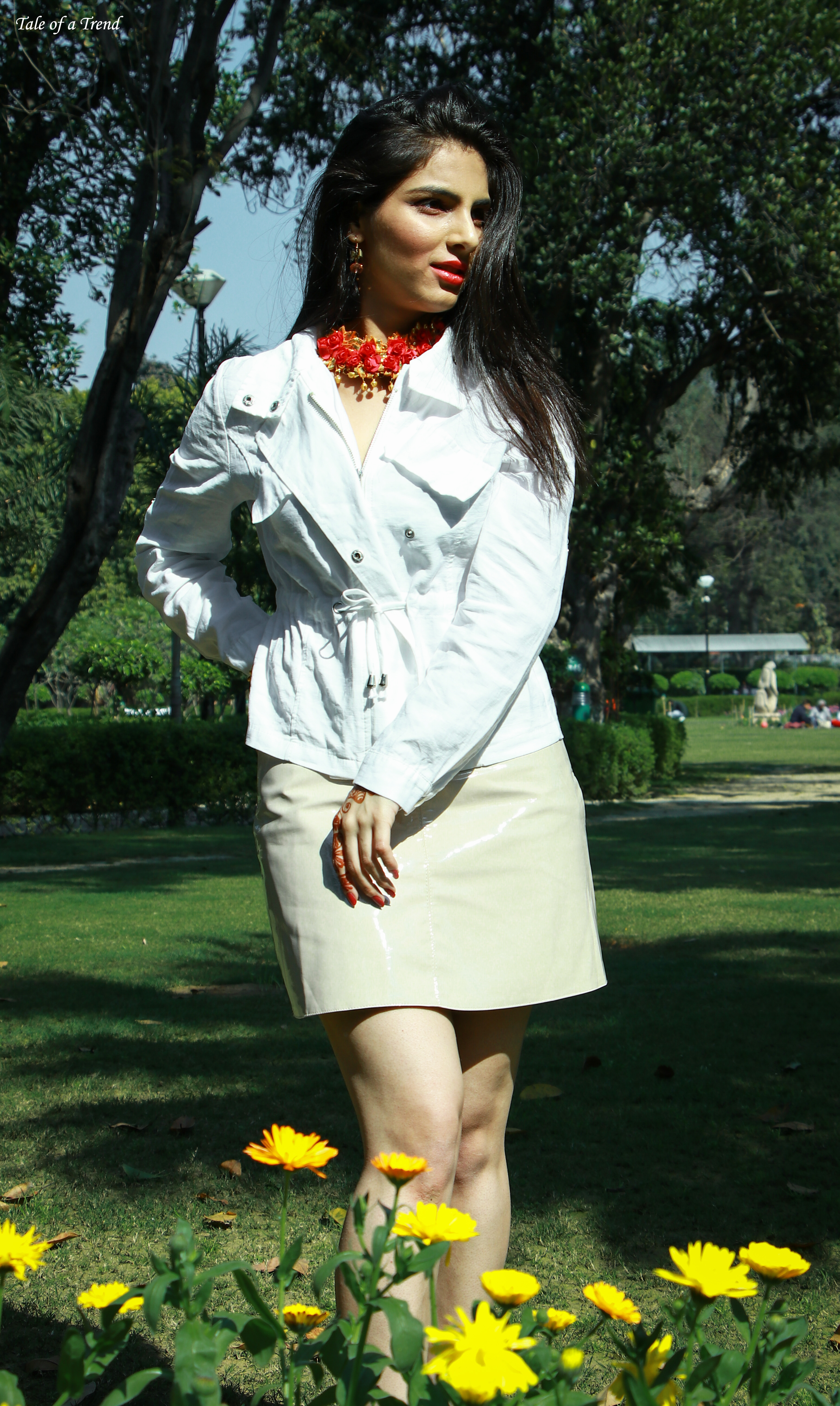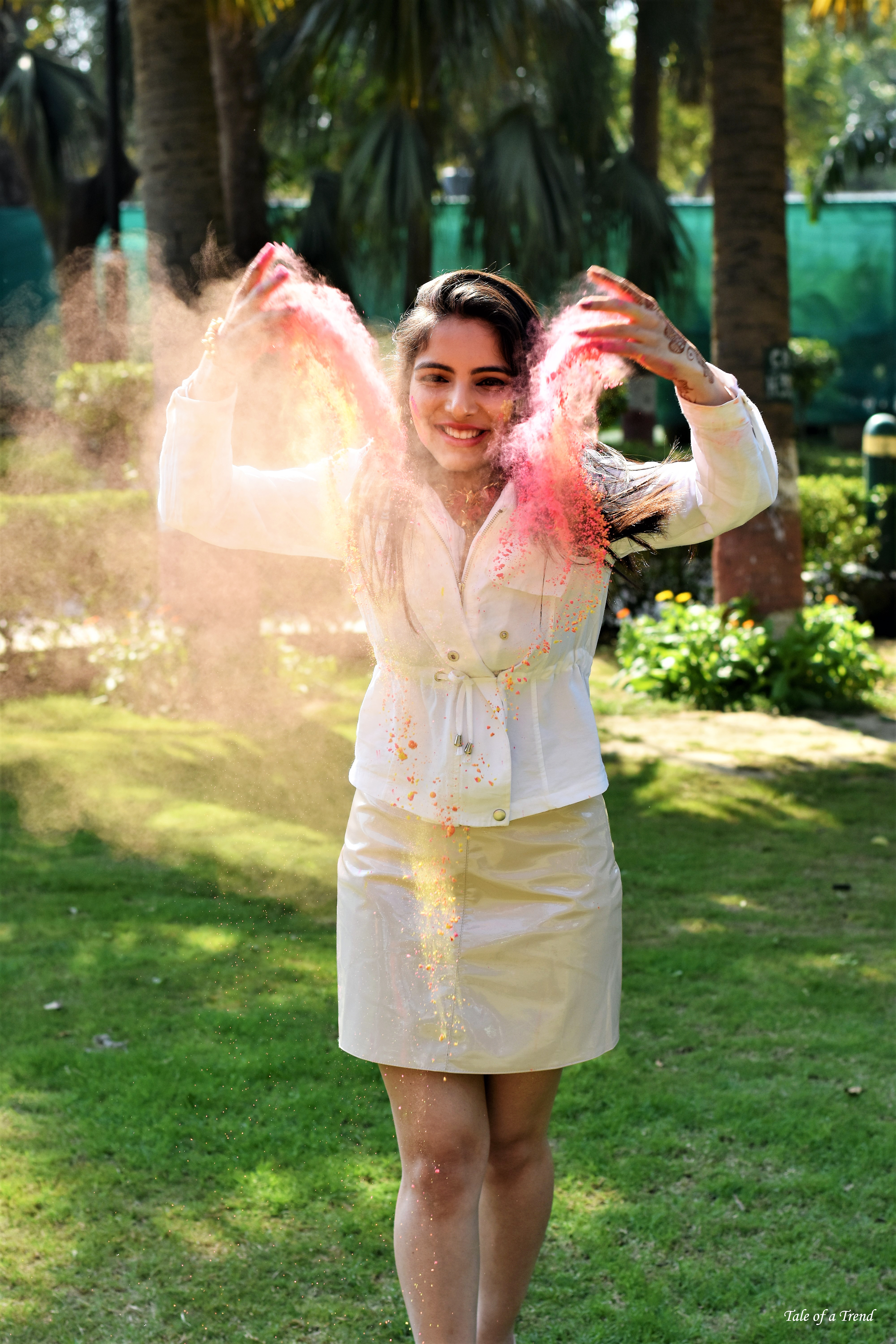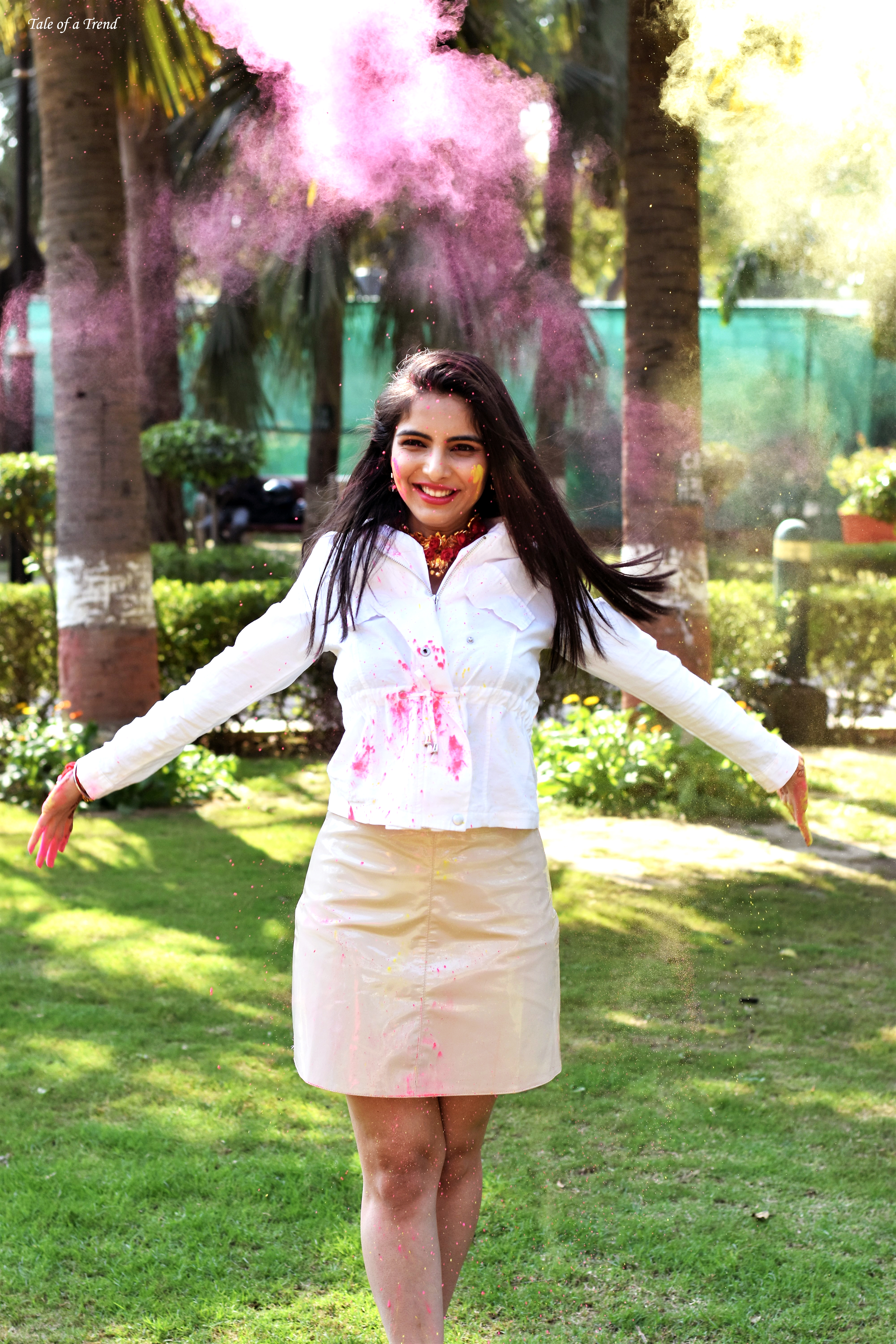 Tanmaey Malhotra  and Ujjval Kalkal Photography
3.3: Formal shirt and Dupatta tie-up:- You can give a fashionable twist to your white shirts. Pair them with white churidaar or pants and complete the look by wearing Bandhni dupatta and catch with your friends and family!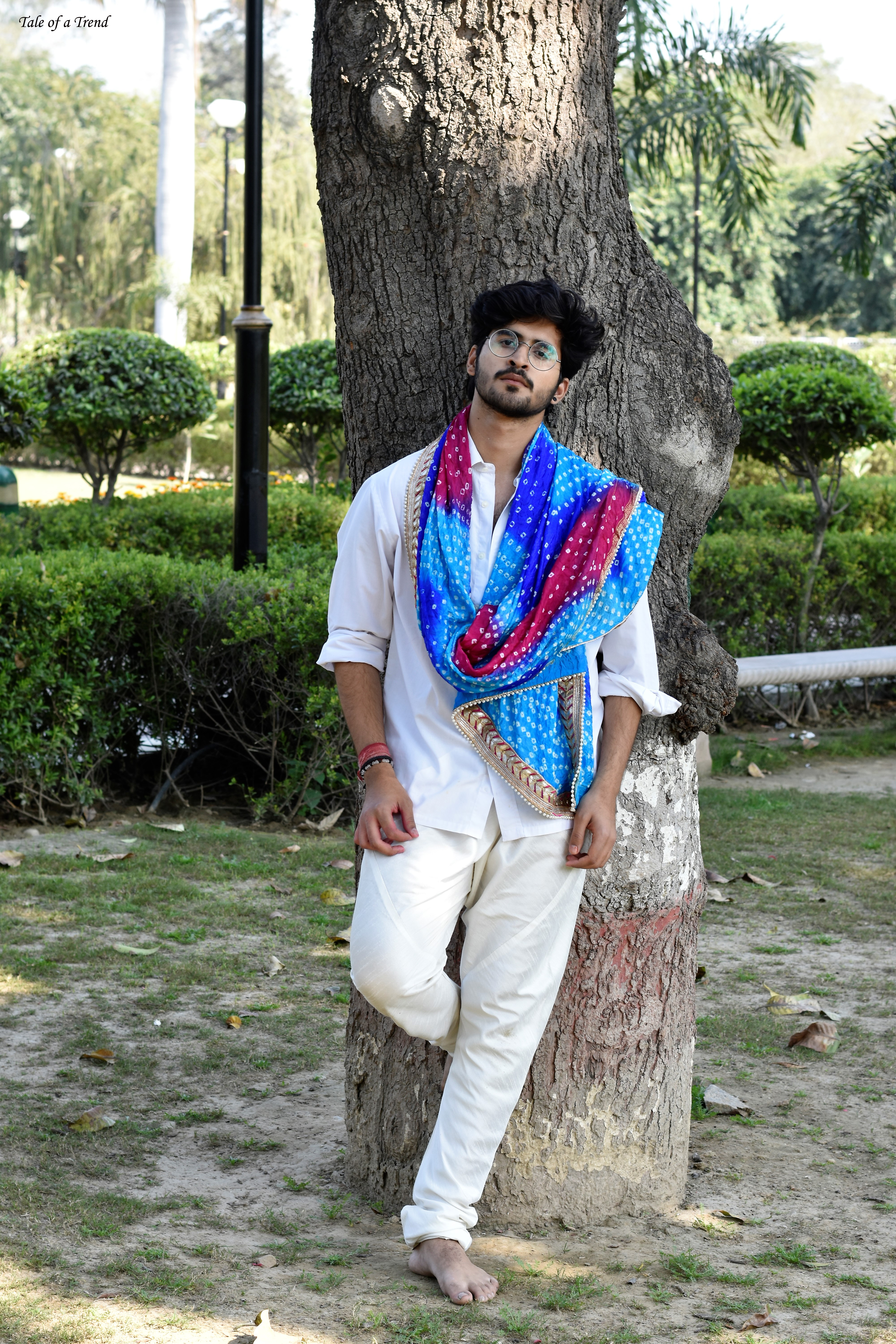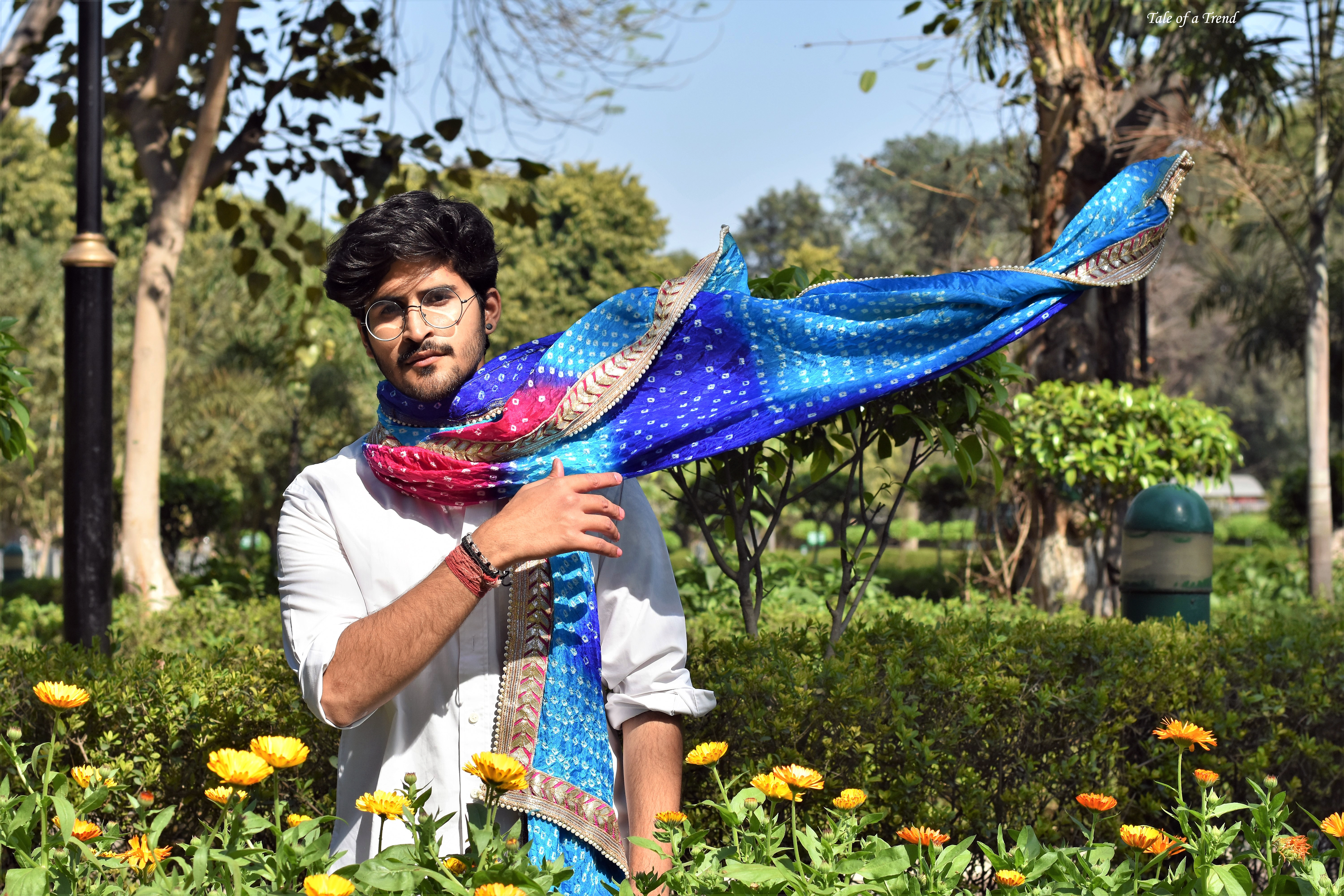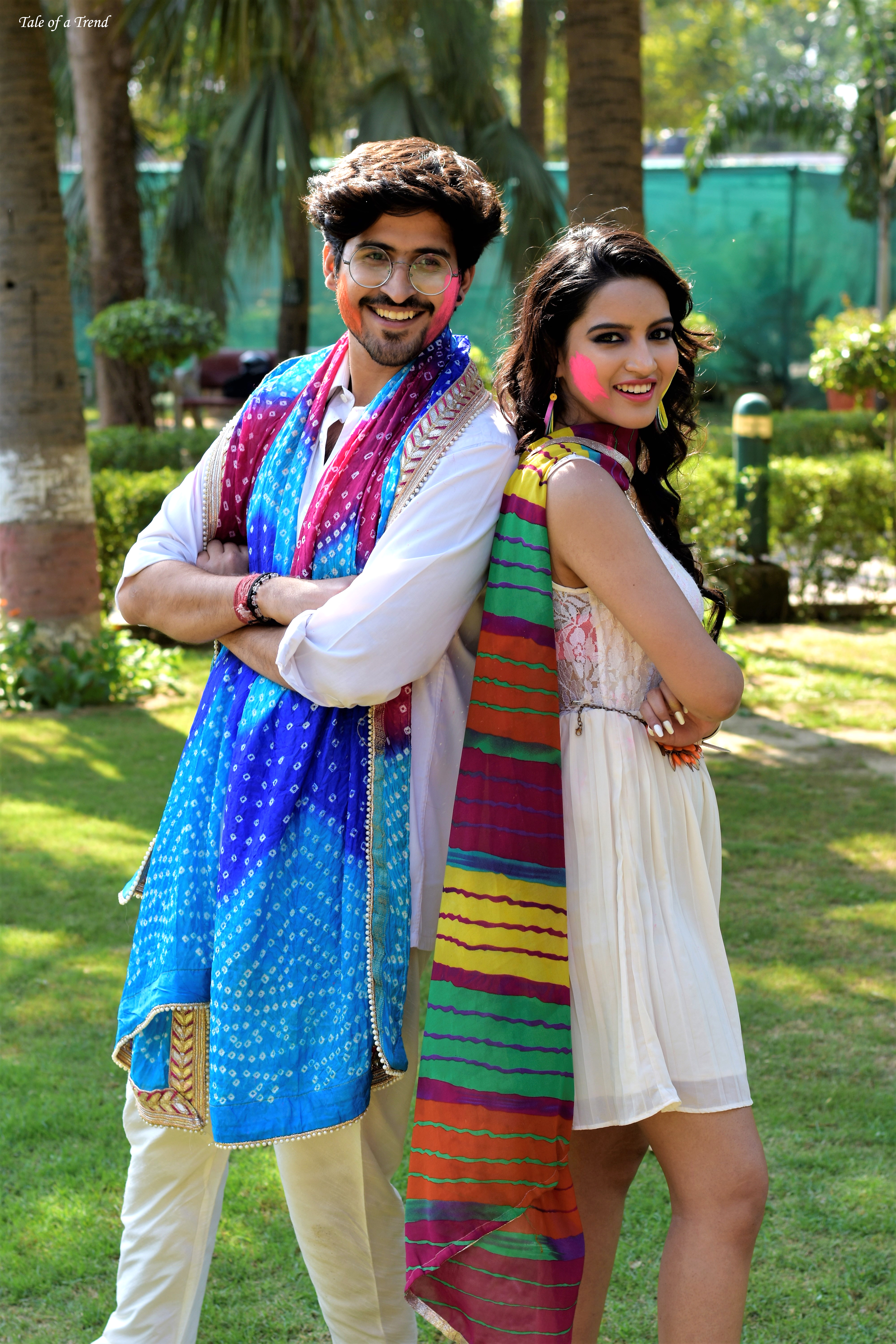 Ujjval Kalkal Photography
The Trendy Team
Costume and Styling: Mehak Gulati
Models: Yashika Jatav, Mansi Chhabra, Laranya Rajpal, Sanya Surana and Naman Issar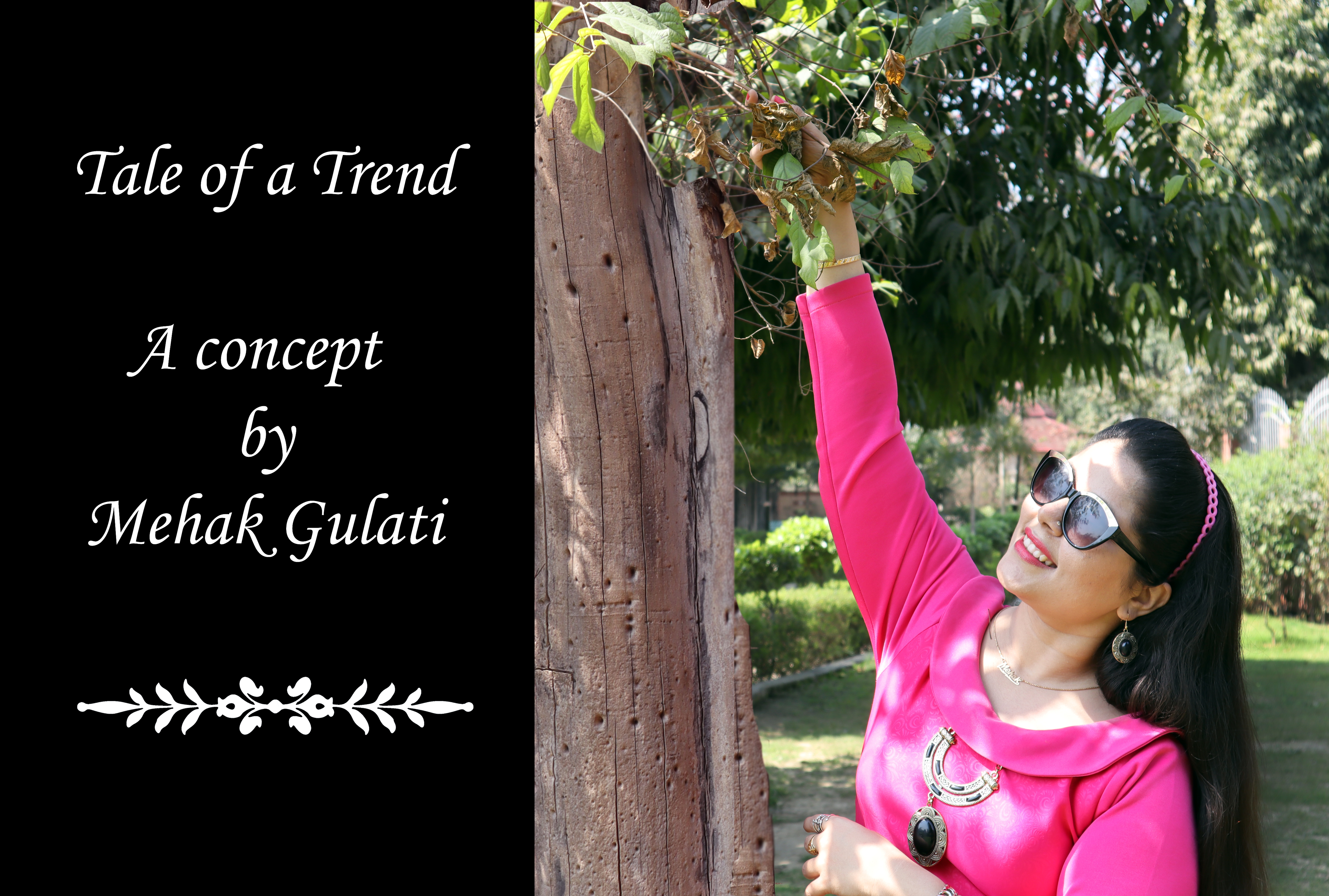 Wish you all a very happy, joyous and fashionable Holi !